When hearing such descriptions, surely many people will not believe that they exist or think that this is a cold-blooded animal. But in fact they really did exist on Earth, not only that, they were also a mammal, but their fate was a bit merciless, they quickly became extinct after contact with humans.
They are endemic to the Balearic Islands in Spain, their name is Myotragus balearicus, also known as the Balearic island cave goat – a species of mountain goat of the Caprinae subfamily that inhabits the Rocky caves in the islands of Majorca and Minorca. This species belongs to a single monotypic genus, Myotragus.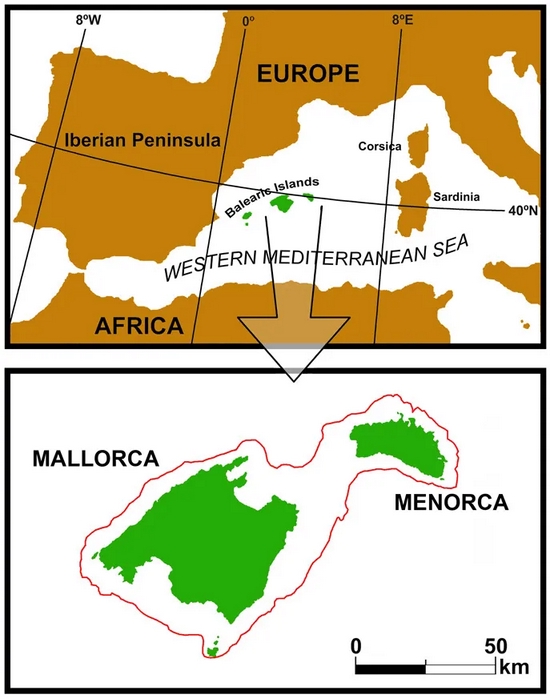 The Balearic Islands are located in the western Mediterranean, the Balearic island cave goat mainly lives on the islands of Mallorca and Menorca, in the Balearic Islands. They were first studied academically in 1909. The earliest discoverer of the Balearic Island cave goat was paleontologist Dorothea Bate of London's Natural History Museum, and he was the same person. named this goat
Although the Balearic Island goat was discovered by humans more than 100 years ago, this does not mean that humans understand the nature of this strange animal.
First of all, although the creature looks like a sheep and has ruminant features, such as horns, its eyes are shaped like a human's forward.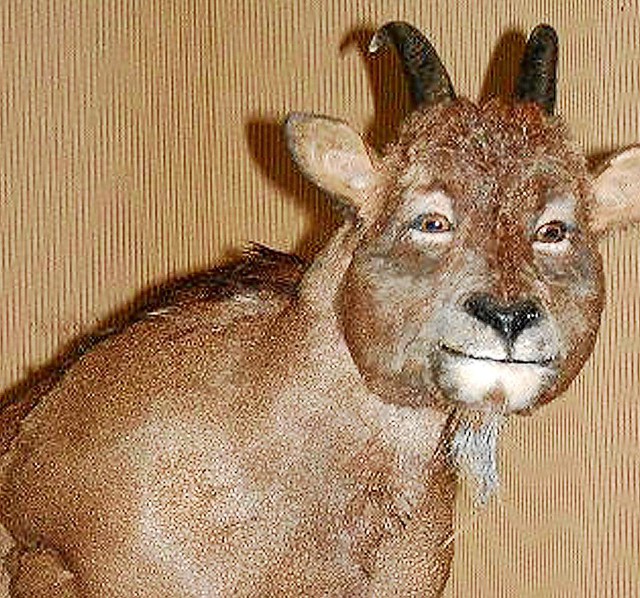 In fact, only the eyes of carnivores, humans, and primates are directed forward. Looking forward has many advantages, for example, it can create floating vision and help determine the position of prey ahead.
In contrast, herbivores are prey, are often chased and have to run away, so a wider angle of view is important for stereoscopic effects, so their eyes are often positioned on either side of the head. . But the Balearic Island cave goat breaks this evolutionary convention.
Although they have predatory eyes, the Balearic Island cave goat is actually a vegetarian. However, the singularity of this animal does not stop there. Through fossil analysis, it can be seen that their teeth are quite similar to those of mice – their lower front teeth grow and grow throughout life – this is characteristic of rodents. rodents rather than as a feature in ungulates. In addition, their noses are also shorter than those of other ungulates, more like rabbits than cows and sheep.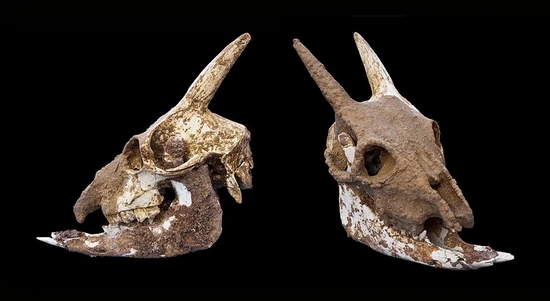 What is even more strange is that the lower teeth of the Balearic goat have only 2 incisors, while the upper teeth have no incisors, only molars.
A study published in the journal Proceedings of the Royal Society B in 2012 found that Balearic Island cave goats can live up to 27 years. It is almost twice as large as herbivores of the same size on land.
Another study published in Proceedings of the National Academy of Sciences (PNAS) in 2009 found even more strange, the body of the Balearic Island goat does not resemble a mammal, but a species. more reptilian.
It is well known that mammals are endothermic animals and need a lot of food to maintain body temperature and grow, so they thrive best in an environment with enough food.
But reptiles are different, they are thermogenic animals, can adjust their growth rate according to the amount of food and do not need much food to maintain their body temperature. Therefore, in places where resources are scarce, such as on deserted islands, often only reptiles and low-energy-consuming vertebrates survive.
Like most islands, the Balearic Islands are also a place of scarce resources and animal fossils on the island often show signs of malnutrition. This study suggests that, perhaps to adapt to this "innate deficiency," the Balearic Island cave goat, was forced by its environment to adopt reptile-like adaptive traits.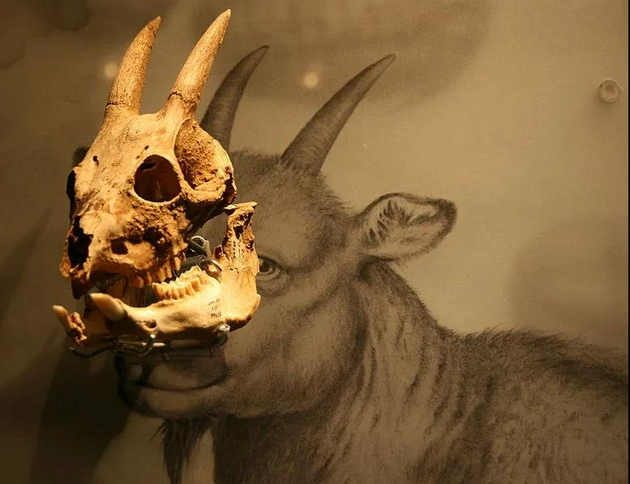 This study shows that this creature is different from any other mammal that has ever existed on Earth, especially that its bones have features and structures similar to those of crocodiles and lizards.
As ectothermic animals, the bones of reptiles are a bit like wood, they have growth rings similar to the annual growth rings in woody plants, because their growth is also cyclical and uneven. But this feature does not appear in the bones of warm-blooded animals, because mammals develop at a uniform rate. Before the Balearic Island cave goat was discovered, these growth rings were considered an important feature and also a key sign to distinguish between reptiles and warm-blooded animals.
However, the bones of the Balearic Island cave goat have a characteristic reptilian growth ring, so the Balearic Island cave goat is the first mammal in the world discovered to have reptile characteristics.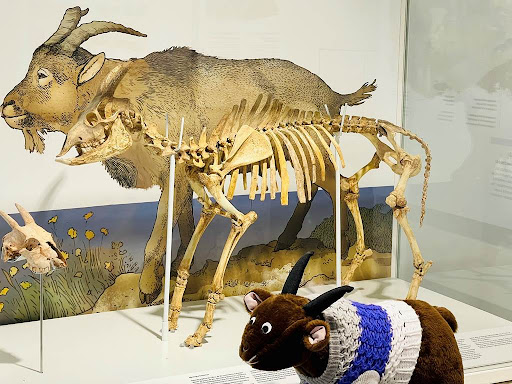 Like many creatures on the island, Balearic goats are very short, they are only half a meter tall, and their young are probably the size of an adult mouse when born. However, before the arrival of humans, the Balearic goat was the largest mammal on the island of Mallorca, because other mammals present on the island were the giant chipmunk Hypnomys and the giant shrew. Asoriculus.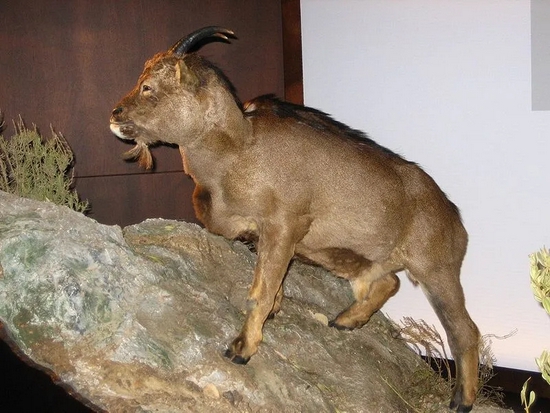 These Balearic goats lived happily on the Balearic Islands for 5.2 million years, and by about 3,000 BC they had "evaporated" from the Earth, leaving only a few skeletons in some of them. Caves in the Balearic Islands. And this is also the time when all three mammals on the island of Majorca, namely the Balearic goat, the giant chipmunk and the giant shrew become extinct – This time coincides with the time when humans landed on the island.
After the arrival of humans, the Balearic Islands entered the Neolithic period. Archaeologists found several animal bones carved in human caves, including Balearic goats. This means that goats and humans on the Balearic Islands have coexisted for some time.
Some archaeological studies have also found that the horns on the skulls of some Balearic goats have also been removed, which means that humans may have attempted to domesticate them.
Based on this, some researchers suggest that humans were the direct cause of the extinction of the Balearic Island cave goat and other characteristic mammals. However, some researchers disagree with this view, arguing that climate change is the main cause of the mass extinction of mystical creatures on the Balearic Islands.
.