Generation Z (Generation Z / GenZ) – born between the mid 90s and early 2000s – is considered a radical generation. Unlike previous generations, who had to save a small amount of money to feed pigs, waiting for years to "beat pigs" to buy their favorite items; GenZ with better conditions and opportunities are willing to spend, even use financial tools to "unbox" their favorite items right away. The habit of being liberal has greatly influenced the spending and investment of young people.
Young people succeed early
Growing up in the boom of social media and new technologies, GenZ is proving to be a nimble and daring generation. Many young successful people soon dare to go beyond the boundaries to have the success that many people dream of. Among them are Helly Tong, a girl who has just turned 20 years old who has succeeded with a coffee chain and The Yen Concept – a tree business model that helps people change their green living habits to protect the environment; or Bui Huu Nghia, a famous young man born in 1999 who started a business with 11 million VND and reached the top revenue of Lazada 250 million/month after only 1 year.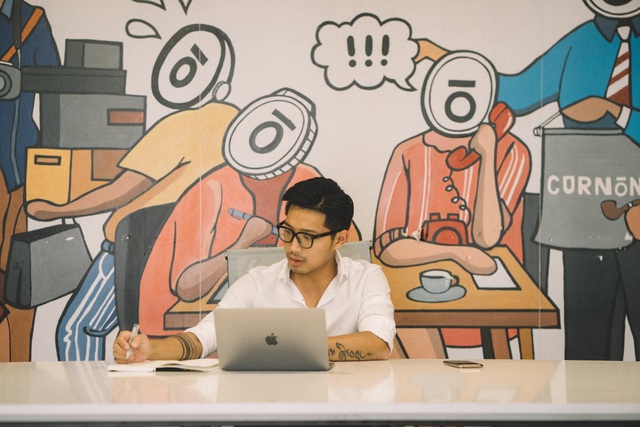 Nguyen Quang Thai is an early successful businessman with 3 brands Curnon, Weehours and Inkaholic.
One of the prominent GenZs is Nguyen Quang Thai, the founder of the Curnon watch brand. Conquering young people's dreams with the spirit of dare to think, dare to do is the message that 9X guy wants to convey when building the first watch brand in Vietnam at the age of 26. After 4 years, CEO 9X has made Curnon the Vietnamese watch brand with the best recognition in the market with a wide online distribution system. After the success of Curnon, Quang Thai continued to expand his "ecosystem" with eyewear brand WeeHours and temporary tattoo startup Inkaholic.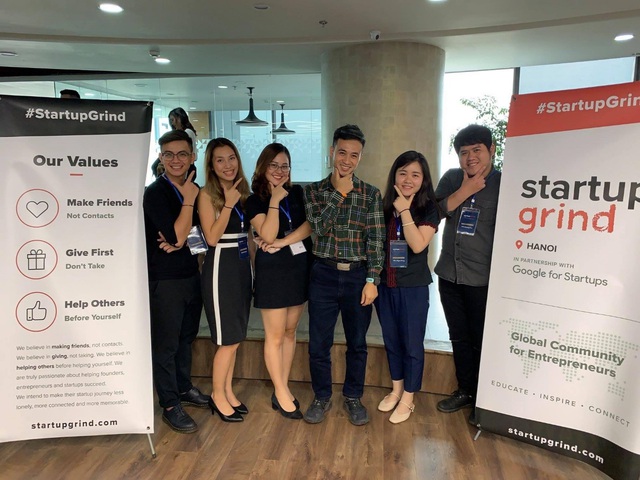 Hachi Bui Cam Van (3rd from left) is famous for becoming a bridge between Vietnamese startups and large technology corporations.
Talking about the successful Generation Z, it is impossible not to mention Hachi Bui Cam Van, who since 2016 has helped Vietnamese start-up businesses reach global companies and organizations such as Facebook, Google, Investment Fund. Singapore Investment, Ramatex LaunchPad, Global Shapers… Hachi Bui Cam Van is currently Branch Manager of Startup Grind Hanoi – Startup community rooted in Silicon Valley, who inspires & connects the Vietnamese startup community.
GenZ entrepreneurs succeed early because they are willing to give up empiricism, choose to do things differently, step out of their comfort zone, "unbox" to "think outside the box".
Pioneering a lifestyle of experience and enjoyment
Nielsen's "Generation Z – Future Consumers" research shows that GenZ has a certain influence on future consumption trends. It is estimated that by 2024, Vietnam will have 15 million people belonging to Generation Z – a force contributing 21% to the labor force and accounting for 30% of Vietnam's consumption force.
The appearance of GenZ has been changing the orientation of many business lines, including real estate. Generation Z, with a lifestyle of enjoyment, tends to choose their own spaces to comfortably create and enjoy life.
GenZ's order of priority on where to live is completely different from previous generations. If Generation X (1960-1979) preferred housing, Millenials (1980-1994) gradually got used to apartments, Generation Z towards completely different places to live: it is a large house beyond 4 years old. the wall, with the full ecosystem, where one can find a part for one's ego.
Due to growing up in the "dot com" era, where they live will be boldly separate, ensuring modern elements and a smart living standard. It is the combination of technology in life to save time, save energy and cost. Smart here means "profitable": profit in time, profit in health, profit in money.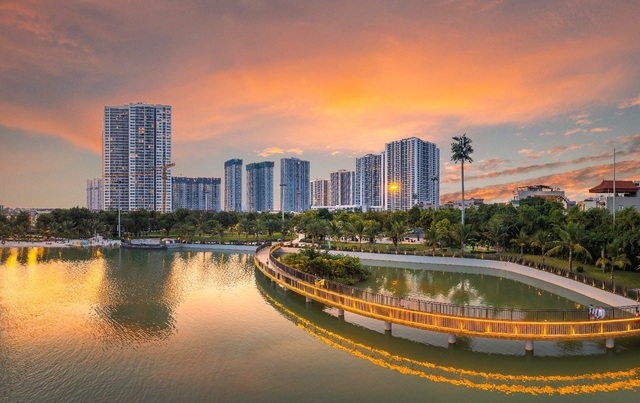 Smart, fully-equipped megacities are the first choice of successful young people.
In addition, because soon under a lot of pressure, GenZ is also changing compared to previous generations with a home resort style to find a balance for life. It is GenZ's shift in tastes that also pushes real estate developers to change to "satisfy" the growing needs of this young customer.
So how did GenZ pioneer to create a new standard in the Vietnamese real estate market? What breakthrough financial solutions will investors offer to help young people approach their dream home more easily? This will be explained in episode 5 of the talk show series "Pioneers" with the theme "Gen Z – Breaking limits, Successfully breaking through" broadcast live at 8 pm on November 21, 2021 on the official Fanpage. by Vinhomes.
With the guests were two typical representatives of early successful Gen Zs: Nguyen Quang Thai – Founder of Curnon, Weehours, Inkaholic and Hachi Bui Cam Van – Director of Startup Grind Vietnam, and Ms. Pham Thi Lan Phuong – Area 2 Sales Director of Vinhomes Joint Stock Company will suggest to viewers new perspectives on a true settlement for successful young people and market trends to keep up with that shift.
The program is broadcast online at the official Vinhomes Fanpage: https://www.facebook.com/vinhomes.vn at 8 pm, Sunday, November 21, 2021.
.