When the Kilauea volcano erupted on Hawaii's Big Island in 2018, scientists determined the lava flow had a temperature of up to 1100 degrees Celsius. This temperature is higher than the surface of Venus. , capable of melting many different types of rock, and also equivalent to current waste incinerators (usually operating in the temperature range of 1000 – 1200 degrees Celsius).
However, why can't we take advantage of this heat to burn all kinds of everyday human waste? Why can't we just dump the trash on the volcano and solve so many of today's burning environmental problems?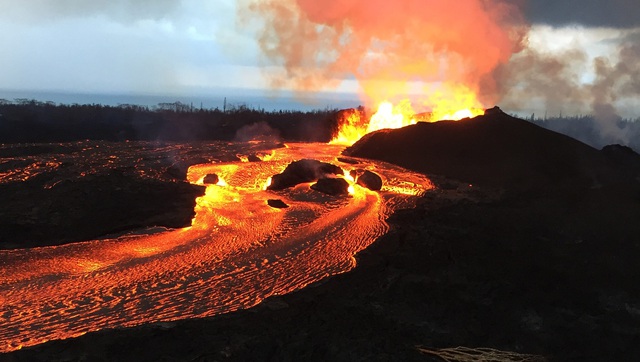 Not all types of lava have the same temperature. The Hawaiian eruption mentioned above created lava called basalt. It is hotter and more liquid than any other type of lava in other volcanoes, such as the dacite lava that erupted from Mount St. Helens in Washington, USA, for example. Between 2004 and 2008, this mountain created a giant lava dome, but its surface temperature fell to just over 700 degrees Celsius.
In addition to the temperature factor, there are many other reasons why we cannot destroy waste using volcanoes. First, even though the heat of 1100 degrees Celsius can melt a variety of materials, including leftovers, paper, plastic, glass and some metals, lava still succumbs to the elements. more stubborn materials such as steel, nickel and iron.
Second, in the world today, there are not many volcanoes that have lava lakes large enough, hot enough for us to comfortably dump garbage into it. Of the thousands of craters, scientists have only discovered eight mountains with active lava lakes, including Mount Kilauea, Mount Erebus in Antarctica and Mount Nyiragongo in the Democratic Republic of Congo. Meanwhile, most active volcanoes today have craters filled with cooled rock and lava (like Mount Helens) or filled with water (like Crater Lake).
Third, directly dumping waste into an active lava lake is an extremely risky business. Lava lakes are usually covered with a crust of cooled lava. But just beneath that crust, lava exists in a molten and dangerous form. If rock or other material falls to the surface of the lava lake, the upper envelope will be broken, impacting the lava below and possibly causing a large explosion.
This happened at Mount Kilauea in 2015. The giant rocks on the rim of the crater when falling into the lava lake below caused a severe eruption, continuously shooting lava and rocks. heat to the outside. Therefore, anyone who intends to throw garbage inside the crater, they will have to immediately run away after that and dodge the molten lava blocks that shoot towards them.
Toxic emissions from the eruption of La Palma volcano have severely affected the surrounding area.
Suppose, when technology develops to a certain extent that we can safely dump trash into the lava lake, what will happen to that garbage? When plastic, garbage and metal burn, they will create a lot of toxic gases, which mix with toxic gases released from volcanoes such as sulfur, chlorine, and CO2 and discharge directly into the environment.
Sulfur gas can cause acid fog, which can destroy plants and make it difficult for people to breathe if inhaled. Mixing these inherently dangerous volcanic gases with other emissions from garbage incineration will have unpredictable consequences, extremely negative effects on the creatures living around that volcanic area. .
Finally, many indigenous people often consider the volcanoes in their area to be sacred. For example, the Halema'uma'u crater at Kilauea is considered the home of Pele, the Hawaiian goddess of fire. Throwing trash into the lava lake would be considered a huge insult to their culture.
According to Inverse

https://genk.vn/tai-sao-chung-ta-khong-the-tieu-huy-rac-bang-cach-vut-vao-nui-lua-20220306085357938.chn