Nasdaq Composite, an index famous for technology stocks, recorded its deepest drop on May 9 when it fell more than 4%. April was also the Nasdaq Composite's worst month since the 2008 financial crisis. A wave of sell-off in tech stocks wiped out trillions of dollars in market capitalization. Investors sell everything they can, from semiconductors to device manufacturers to social media.
As of mid-May 10, Amazon stock was trading 40% below its peak, a level not seen since February 2020. Apple shares have not escaped the general situation despite record business results when they are down nearly 15% since the beginning of January. Since September 2021, Meta shares, Facebook's parent company, have dropped 47%.
According to US Treasury Secretary Janet Yellen, she and top financial officials are not surprised to see the market volatile through the summer as the pandemic and the Russia-Ukraine conflict could increase pressure on the economy. global economy.
According to Time magazine, there are three biggest factors leading to the sell-off of technology stocks.
Disappointing business results
In just 3 trading sessions, Big Tech lost more than 1 trillion USD in market capitalization when the business results of many large enterprises did not meet expectations. Peloton, one of the companies that emerged strongly from the beginning of the epidemic, lost $ 757 million in the first three months of the year, much more than expected. Peloton stock fell nearly 13% on May 10, bringing the market capitalization to about $4 billion, down more than 90% from its peak of $47 billion in 2021.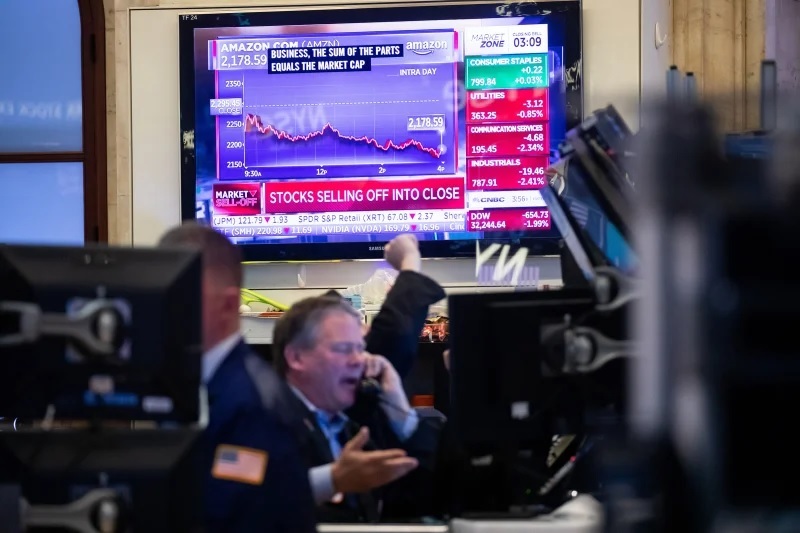 Netflix also watched helplessly as the stock fell 75% from its November 2021 peak after losing 200,000 subscribers in the first quarter and forecast to lose more than 2 million subscribers in the second quarter due to fierce competition. The capitalization of Zoom, the famous video conferencing company, is down $26 billion, lower than it was before the epidemic.
Falling business results are perhaps the biggest signal that the pandemic bubble has burst as more consumers move from the digital, online world to the real world, according to Emily Bowersock Hill, the management company CEO. Bowersock Finance. The persistent supply chain problem and the constantly escalating prices make the pockets of consumers increasingly tight.
Besides, retail investors started to lose interest in the market. During the pandemic, about 25% of stocks were traded by amateur investors thanks to the popularity of online trading platforms like Robinhood. However, about half of these have left the market as more and more technology businesses have made losses and the market has returned to reality. "This is an element that people don't talk about enough. Many buyers decide to stay out of the market for a while," commented Ms. Bowersock Hill.
As investors assess risk, Wall Street cast doubt on Big Tech's ability to sustain the momentum to keep stock prices high. Still, some analysts say the sell-off is irrational and has gone too far. Dan Ives, managing director at Wedbush Securities, believes shares of Apple and Microsoft could increase by 25-30% this year, while e-commerce and telecom companies continue to suffer. destroy.
Interest rates increase
When inflation was at a 50-year high, the US Federal Reserve (FED) started raising interest rates to bring prices back under control. Such moves will worry Wall Street, as investors fear it will become more expensive to borrow money for businesses and households, which in turn hampers economic growth and potentially leads to a recession.
However, the Fed is trying to prevent that scenario from happening. Their approach is to bring rates above 2% by the end of 2022 in a way that doesn't shake the market. However, analysts say the rapid rise in interest rates forces investors to rethink: Can stocks that thrive in low-interest rates succeed in high-interest environments? or not? Uncertainty and a flood of questions are the reasons investors don't "disburse" into tech stocks, which tend to underperform when interest rates rise.
Concerns about the direction of the economy
It is difficult to predict what the economy will look like in the next few months as some analysts worry that rising interest rates will send the economy into a recession due to reduced spending, especially with "niche" technology products. . Worries were exacerbated when the US Bureau of Economic Analysis released a report showing that the US economy unexpectedly contracted by 1.4% in the first three months of 2022 despite more than a year of rapid growth.
Last month, Deutsche Bank forecast a major recession in the US next year, when it is likely that the Fed will have to "slam on the brake" harder to control inflation. Peter Schiff, CEO and Chief Strategist at Euro Capital, has a similar view. Ms. Bowersock Hill concurs of a potential recession, but not as severe as people suggest. "Economic fundamentals remain very strong. We have an stellar workforce, good business results, and well-funded consumers."
As economists try to predict the overall direction of the economy, many seem to be viewing the recent drop in tech stocks as an early indicator of what might happen if a recession hits. .
According to Time