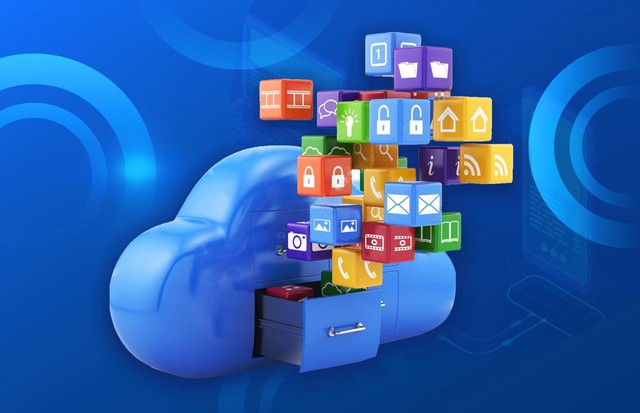 And businesses and organizations are still looking for the right solution to the problem of stable, safe and appropriate storage.
Cloud online storage and the plan to maximize storage capacity, reduce risks, save costs
In an age of cost reduction to combat inflation and strong integration to seek more opportunities, managing storage for redundant data is an enterprise requirement that is hard to ignore. In fact, companies have been grappling with this problem for over a decade. And so far, technology developments have outlined the core issues that make storage management difficult such as: unlimited data growth, data risks, and difficulties in cost management. fee.
When we delve into each specific issue, we can break down each difficulty in detail as follows:
In terms of cost, if businesses or organizations are using physical servers for storage, the system is only capable of storing a certain amount of data. Therefore, for more storage, there will always be detailed calculations about deleting or storing important data files. To expand the physical system (buy new, install machines) and store more, it takes a lot of money and effort to manage the storage system.
The common risks of data are usually the inability to respond when there is a problem with the data storage server system, leading to data loss and incompleteness.
The capacity limit is a common problem and probably the biggest one. The server does not have a configuration large enough to have enough hard drive space to store data. Expanding the system and ensuring enough storage space for many different types of files: docs, text, video images, etc. will require internal deployment capacity.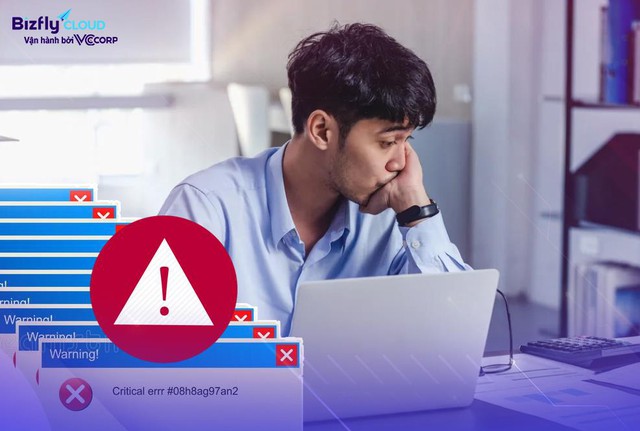 Let's take the online learning system as an example. Storage problems faced by such a system can include: There are many lectures with large file sizes, the number of users (learners) and lectures increases over time, the initial storage cost is small. , the system must scale as the number of users increases.
The most promising and newest technology today is cloud storage – cloud storage is being chosen by many businesses. But simply storing on tools like drive cannot solve all the overall storage problems of businesses and organizations.
Webinar "Simple Storage online data storage solution" optimal for businesses
Coming to the Bizfly Expert Talk #54 webinar: "Simple Storage online data storage solution" exclusively for businesses and organizations, readers will learn more about the most advanced data storage models. now with Bucket and Object storage; and Bizfly Simple Storage, an S3 API compatible object storage solution used to store or backup enterprise data with unlimited capacity, enhanced security and flexibility; actual hosting platform application cases.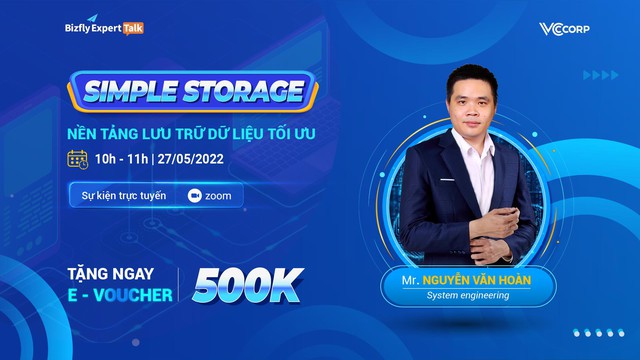 Register now at the link: https://bit.ly/3sT8CwI
Participating in the program, readers will immediately receive an e-voucher worth 500K!
Information & Events:
– Time: 10am – 11am, Friday, May 27, 2022
– Organization form: Online via Zoom, Fanpage Bizfly Cloud and Fanpage CafeF
– Bizfly Expert Talk is led by: Mr. Nguyen Van Hoan – System Engineering
The speaker will bring insights on solutions to help businesses find their way with an online data storage solution.
E-Voucher applies to all services at Bizfly Cloud – Deducted directly from the order – 100% free consultation.
Bizfly Cloud is operated by VCCorp – A pioneer in the field of technology and high technology in Vietnam. Bizfly Cloud has experienced in cooperating with many big domestic and foreign partners such as VinGroup, VTV, Adayroi, 7-Eleven, Dat Xanh Group, Zinnia Corp, Topica, Fahasa, Ahamove… Bizfly Cloud has been supporting a lot partners, customers create the right and efficient hosting model for their business.

https://genk.vn/webinar-nen-tang-luu-tru-va-quan-ly-truc-tuyen-moi-loai-du-lieu-doanh-nghiep-toi-uu-ve-chi-phi- dung-luong-dap-ung-nhu-cau-tang-truong-du-lieu-khong-ngung-20220524164711871.chn