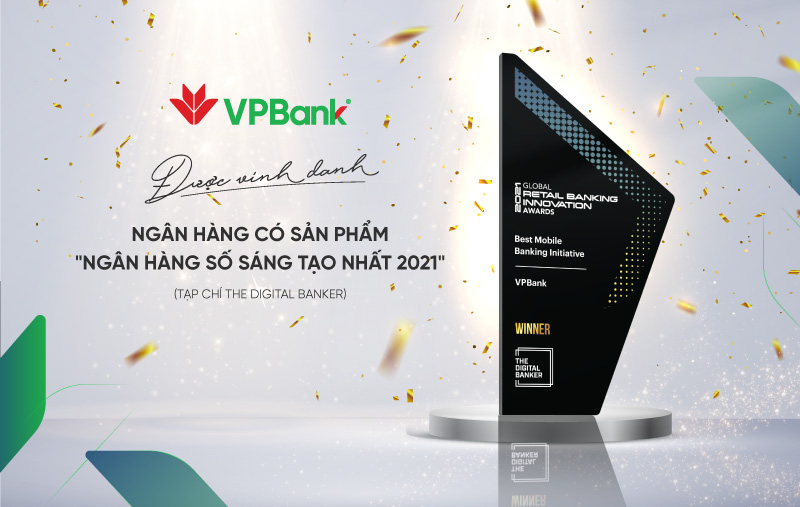 The Digital Banker is a reputable international news agency in the financial services sector worldwide. The appraisal panel includes prestigious multinational organizations such as KPMG, EY, PWC, Deloitte, Forrester and experts from around the world to evaluate and select. This award is within the framework of the Global Retail Banking Innovation Awards 2021 and is held annually to honor financial institutions with outstanding achievements in the development and application of digital technology.
According to The Digital Banker, the Covid-19 pandemic has contributed to accelerating the digital transformation process in the financial – banking industry, creating a new step with the introduction of many breakthrough products and services. In the first year of participating in this new award category, surpassing candidates from many continents, VPBank NEO won the top position convincingly thanks to a series of important initiatives to help meet all needs. customers' financial transactions, as well as pioneering the application of leading technologies in the future.
This is reflected in factors such as a large number of users and high ratings on app stores. As of October 2021 (about 4 months after launch), more than 2.6 million people have registered to use VPBank NEO with a rating on the App Store (iOS) and Google Play (Android). level of nearly 4.9/5 * – the highest level among digital banking applications today. About more than 95 million transactions have been performed on VPBank's digital platform with an average transaction processing frequency of more than 100,000 transactions per hour.
Next is the youthful and modern interface, diverse and easy-to-implement transaction features, rich ecosystem and maximum connection support. Products and services that can be registered and completed right on VPBank NEO cover most of the financial needs of users, from opening an eKYC account, opening a virtual card to applying for a loan and disbursing online.
The rich ecosystem is a plus point that is especially appreciated by the Voting Council at VPBank NEO with partners from many fields such as transportation (Be Group, Ahamove), e-wallets (Momo, ShopeePay, ZaloPay). …), airlines (Vietnam Airlines, Vietjet…), telecommunications (Vinaphone, Mobilefone…), securities (VPS, Mirae Asset, KS Securities…), to payment for public services, buying Vietlot…
Not only that, customers can completely schedule automatic periodic payments for essential consumer bills such as electricity, water, internet, phone, and most recently, schedule transactions at the branch to receive payment. Priority does not have to wait in line.
Another plus point of VPBank NEO that has attracted the attention of the Voting Council is that the highest multi-layer and multi-layer security methods are applied to both help customers facilitate transactions and ensure safety. safety – the two most difficult factors to combine in every technology application. As a result, every login, every financial transaction, every connection to the ecosystem, is maximally secure, giving customers complete peace of mind when using.
A representative of VPBank said that, in order to bring customers the above-mentioned advantages, VPBank has focused on investing and developing VPBank NEO based on many modern technologies in the world such as the "NEO-bank" model and the "NEO-bank" model. "Open banking". Thereby, VPBank NEO has become a vast platform, providing a seamless user experience at every touch point, far beyond the scale of a pure digital banking product with payment functions.
"The Digital Banker's "Most Innovative Digital Bank Award 2021″ has recognized our efforts during the past time. This is the driving force for VPBank NEO to constantly upgrade, innovate and deploy more. many new features and new utilities, worthy of being a reliable companion of users in modern life in the 4.0 era", this representative affirmed.
The Digital Banker is a prestigious magazine in the field of finance and banking based in Singapore, highly appreciated by experts for its accuracy, objectivity and timeliness. In addition to providing consulting services, every year, this Magazine also builds a Global Retail Banking Innovation Awards system to honor financial institutions, global technology companies with outstanding initiatives and achievements. in bringing benefits to users.
This year, together with VPBank, the "Best Mobile Banking Initiatives" category was awarded along with two other famous financial institutions, Standard Charted and Bank of Ayudhya (Krungsri).
For more information, visit: www.vpbank.com.vn or contact the hotline 1900 545415 for registration and consultation.
.