On December 16, 2021, the VinBigData Research Institute of Big Data (Vingroup) announced that it had completed the project "Building a database of genetic variation for the Vietnamese population". With a scale of more than 1,000 genomes sequenced, more than 40 million genetic variants discovered, the research not only opens up a valuable database for the community but also creates a premise for the development of research. biomedical and precision medicine, contributing to early treatment warning for each Vietnamese individual in the future.
This is the first Vietnamese genome-wide dataset to ensure representativeness and universality of the population, consistent with the geographical population distribution (North: 37%; Central 22%; South: 41 %) and gender (balanced ratio of men and women). In particular, the gene data set is fully annotated on biological function as well as pathological risk.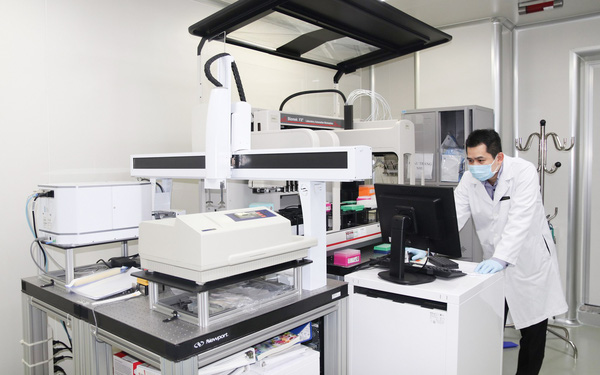 The project "Building a database of genetic variation for the Vietnamese population" has been started by VinBigData since December 2018 with the participation of more than 40 scientists including experienced experts from VinBigData, Senior consultants from leading research institutions such as Harvard University, University of Chicago, MD Anderson Cancer Center… and hundreds of experts and volunteers in Vietnam and around the world.
Over three years, the research team sequenced the entire genomes of more than 1,000 healthy adults, aged 35-55 years, who were not related by blood and had sufficient phenotypic and demographic information; partial genomic analysis of more than 4,000 cases related to common diseases and drug response. The results detected more than 40 million genetic variants, of which there were nearly 2 million common gene variants specific to the Vietnamese population.
The process of analyzing gene data and annotating gene variants by VinBigData is considered the world's most advanced. Sample processing is carried out at a laboratory that meets the international standard ISO 15189 (the standard that regulates the requirements for competence and quality for medical laboratories) of Vinmec International General Hospital. Huge amounts of data are processed by modern technology of Google, Illumina (the world's leading technology company in gene sequencing), and NVIDIA (American multinational technology corporation). In addition, VinBigData also cooperates with about 20 leading domestic and foreign research organizations and hospitals such as John Hopkins University (USA), The GoldenHelix Foundation (UK), Hanoi Medical University , Military Central Hospital 108…
Prof. Vu Ha Van – Scientific Director of VinBigData (Vingroup) said: "Most of the research and clinical practice in Vietnam is relying on genetic databases of other populations around the world. This affects the results of scientific publications as well as the quality of medical examination and treatment on Vietnamese people.With the premise of being a genetic variation database exclusively for Vietnamese people, VinBigData is expected to open the way. new, contributing to the development of precision medicine in Vietnam."
With a total investment to complete over 4.5 million USD, Vingroup's gene decoding project is considered the largest scale in Vietnam up to the present time. VinBigData has become the pioneer in Vietnam to sequence the entire Vietnamese genome.
Assessing the significance of the study, Prof. Dr. Ta Thanh Van (Chairman of the Council of Hanoi Medical University) shared: "Currently, doctors mainly rely on clinical, biochemical tests or medical history to examine and make treatment decisions. If more genomic data is available, this will be valuable information, helping to increase the accuracy and efficiency of disease diagnosis and treatment. It is expected to be a premise to promote the development of preventive medicine and the practice of precision medicine, thereby contributing to improving public health."
Once completed, part of the project's data was opened for public access through the Biomedical Data Sharing, Analysis and Management System (MASH Portal) (https://genome.vinbigdata.org) ). Users can look up for reference purposes, serving biomedical research. The system also provides testing of several high-speed analytical tools (from 30 minutes to 1 hour) for whole human genome data.
The project results will be directly applied by VinBigData to gene decoding products, with outstanding accuracy and speed, exclusively for Vietnamese people. Research will create a premise to support the discovery of physiological – psychological characteristics of individuals, as well as predict the risk of common diseases, recessive genetic diseases, and assess the level of drug response in the future.
The MASH portal is storing more than 2500 Terabytes of annotated Vietnamese genomic data, including demographic and laboratory data, in accordance with National Institutes of Health (NIH) standards. In the world, currently only a few developed countries such as the United States, United Kingdom, France, Japan, China… have the potential to decode the entire human genome on a large scale. The promotion of genome mining of populations is expected to contribute to the establishment of the basic foundations of anthropology, pathology, and promotion of preventive medicine and personalized treatment.
.