Power #1: Be productive all day long

Understanding that laptops are the most productive tools, VivoBook 13 Slate OLED was created to be a laptop with full utilities to give users a productive work experience.
For maximum comfort, the VivoBook 13 Slate OLED features a full-size keyboard, 1.4mm key travel, and a trackpad that's up to 50% larger than standard. In addition, the touch screen allows users to perform actions such as scrolling pages or zooming images naturally.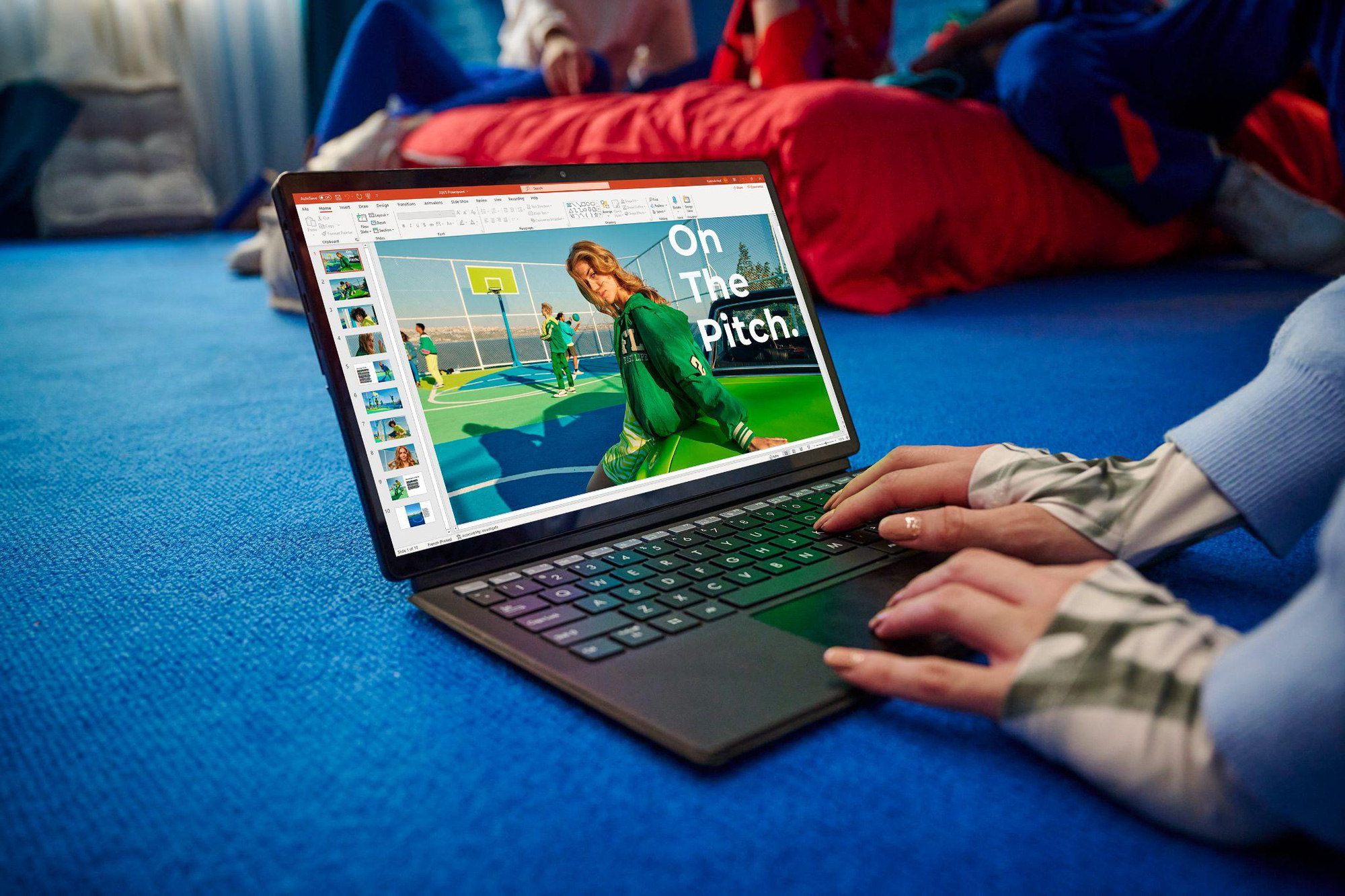 VivoBook 13 Slate OLED easily handles office tasks thanks to its quad-core Intel chip, high-speed 8GB LPDDR4 RAM, and blazing-fast 256GB PCI-e SSD. And yet, the convenience of work is also enhanced by two versatile USB-C ports and the copyrighted Windows 11 operating system, which opens up perfect compatibility with all devices and applications at work, including even the most specific jobs. This is also a reliable machine at work thanks to the super-sensitive one-touch fingerprint sensor, which absolutely protects all user data.
The power of VivoBook 13 Slate OLED is maintained all day long thanks to a 50Wh battery for up to 9.5 hours of use. Even when the battery is about to run out, users do not have to worry because of the fast charging technology of 60% in just 39 minutes and the ability to charge with a backup battery, extremely convenient for those who are on the go.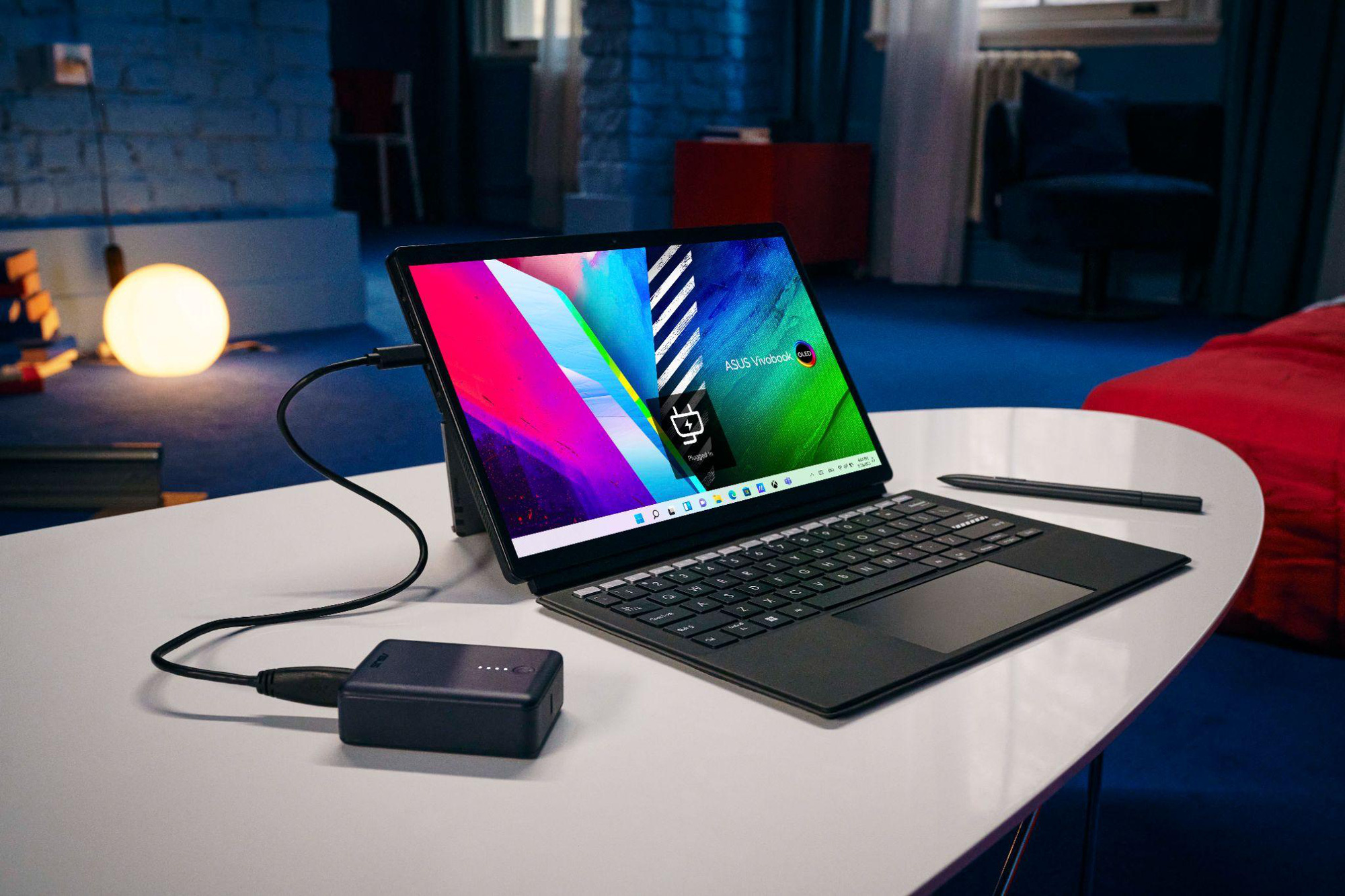 Webcam is the factor that users are most interested in in the time of teleworking. VivoBook 13 Slate OLED with 5MP front camera has 5 times more pixels than most laptops, giving you a professional look in online meetings. Combined with industry-leading Wi-Fi 6 and an ultra-slim design, the VivoBook 13 Slate OLED is perfect for wherever you go.
The second power: Ultimate entertainment with OLED screen
Not only a good assistant at work, VivoBook 13 Slate OLED is also a great entertainment machine. VivoBook 13 Slate OLED's ultra-portable design allows the keyboard to be disassembled in seconds and transforms it into a tablet. Super light weight of 785g and impressive thinness of only 7.9mm opens up the lightness and relaxation for users, when they can lean back to surf the web or social networks instead of restrained sitting posture.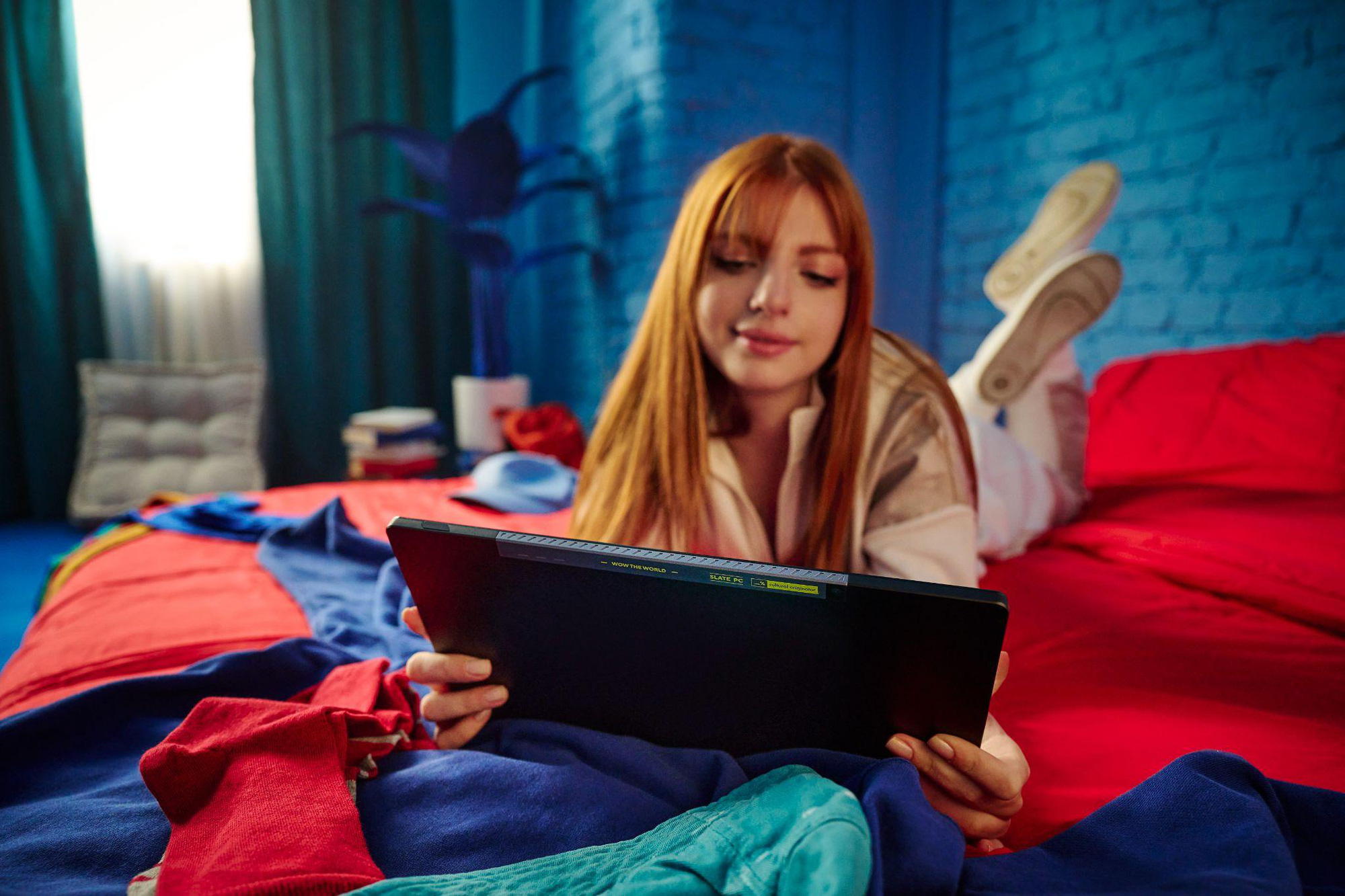 According to the survey, watching videos is the most popular form of entertainment on PC with a rate of up to 61%. This motivates ASUS to give VivoBook 13 Slate OLED the ultimate audio-visual experience, as it is the first Windows tablet with a 13.3-inch OLED display. OLED is the most advanced technology, delivering superb picture quality thanks to absolute contrast, up to 550 nits of brightness and DCI-P3 cinematic true color reproduction.
Not only images, VivoBook 13 Slate OLED also immerses users in the rhythm of each song and the context of each movie thanks to the 4-speaker system of Dolby Atmos surround sound with vivid detail and separation. . The smart amplifier helps the sound to cover the room space while keeping the original definition and without distortion.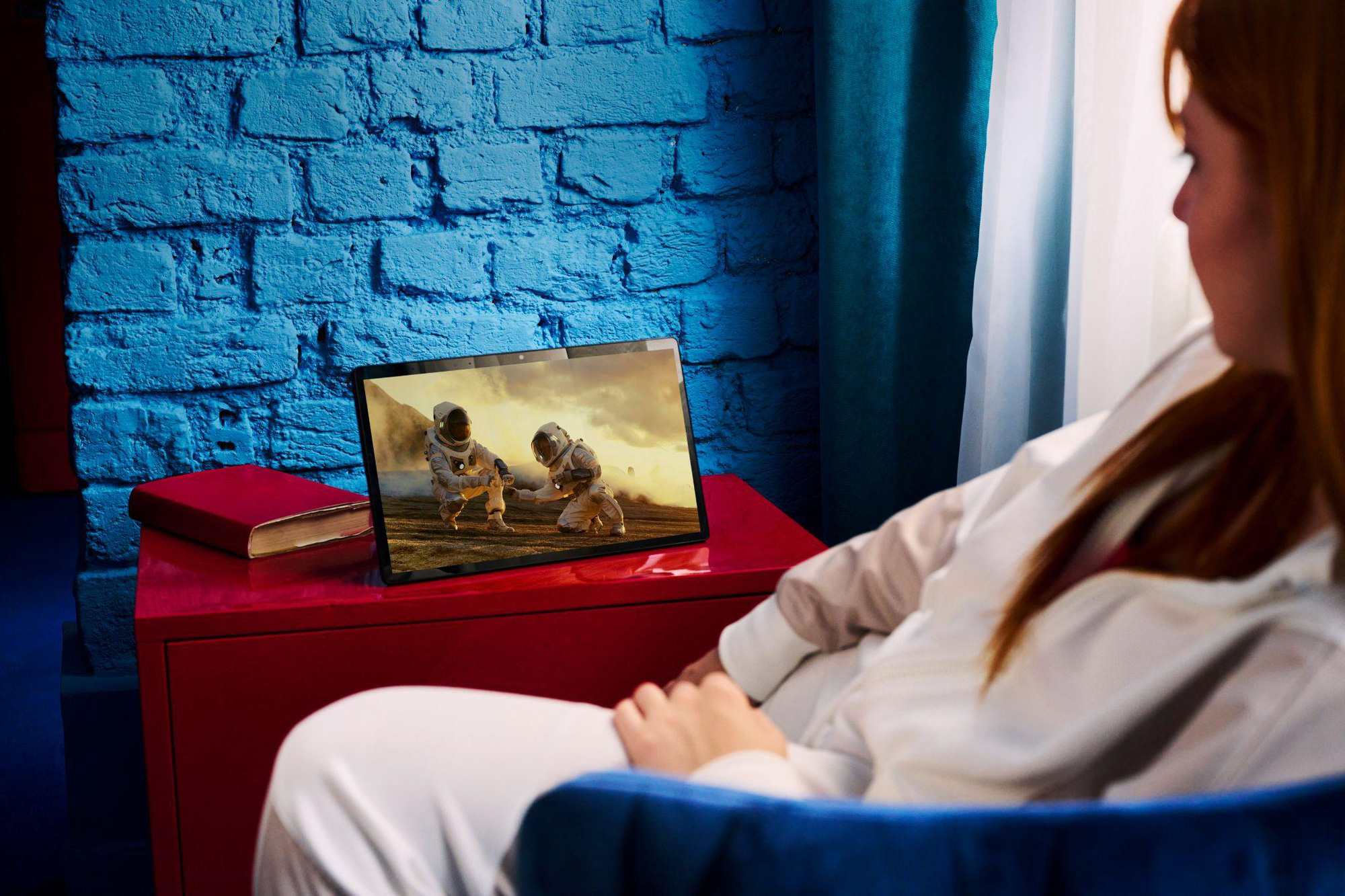 In order to maximize relaxation, VivoBook 13 Slate OLED has a built-in kickstand and makes users no longer have to bother holding the device. With a cinematic OLED screen, 4-speaker surround sound and a convenient stand, VivoBook 13 Slate OLED is truly a "portable OLED TV" to help you relax anytime, anywhere.
The third power: Study effectively with a series of useful equipment
Taking notes is the most important activity in the learning process of students. But when taking notes with a laptop, not all ideas can be expressed in simple characters, but in visual illustrations.
Therefore, ASUS has brought VivoBook 13 Slate OLED "miracle pen" ASUS Pen 2.0. With the ability to recognize up to 4096 pressures, 266Hz sampling rate, and 4 standard 2H/H/HB/B pen tips, ASUS Pen offers a smooth, accurate writing/drawing experience that's not inferior to other pens. traditional.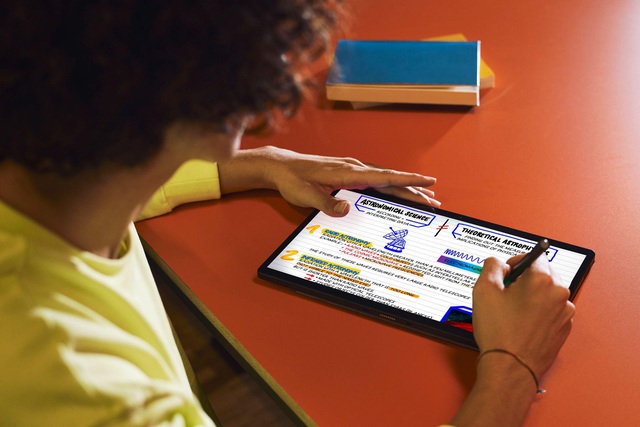 And yet, VivoBook 13 Slate OLED also brings another great tool to support learning, which is the rear camera. An equipment that no traditional laptop has, the 13MP camera helps users to record lectures or documents in a sharp way, then freely take notes with the ASUS Pen. This is a fast, convenient and effective way of learning.
Finally, the VivoBook 13 Slate OLED's OLED screen not only provides sharpness, but it also helps protect users' eyes during long-term learning thanks to its extremely effective blocking of harmful blue light. .

https://genk.vn/quyen-nang-3-trong-1-cua-asus-vivobook-13-slate-oled-hoc-tap-lam-viec-va-giai-tri-da-nang-20220305160019615. chn