Most of today's gamepad models are designed to work most effectively when players use both of their hands. However, if you want to free one hand during the experience of your favorite games, it is not impossible. Recently, YouTuber Akaki Kuumeri decided to use 3D printing technology to create special PlayStation 5 (PS5) DualSense controller accessories that can still be "battled" with just one hand. .
In fact, this version of the controller is Akaki's entry in the online event PrusaPrinters, with the aim of designing convenient gaming controllers for people with disabilities.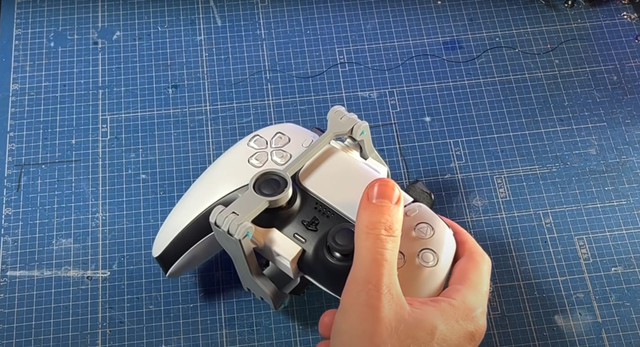 In his video, Akaki demonstrated how to use the DualSense controller that he made himself through experiencing hit series such as Rocket League, Yakuza 0 or Grand Theft Auto V. More specifically, the YouTuber guy attached the left analog stick onto a special adapter, and then press that adapter down onto a flat surface like a table, chair, or even a player's lap. Then, just move the handle and the adapter will follow and help the character on the screen move. The right function keys are still used as usual.
Just describing in words would probably be difficult to imagine how this handle works, not to mention other keys such as the left trigger, the D-pad navigation key. For a more intuitive look, please watch the video below:
[Vietsub] The process of assembling accessories that support the process of using the PS5's DualSense controller with one hand.
Akaki shared: "With this controller model, you can play your favorite games with just one hand. I usually use it when playing It Takes Two". (It Takes Two requires 2 people to play together to "break" the game). The male YouTuber said his main inspiration came from Ben Heckendorn, a professional electronics repairman. In addition, he also shared his own experiences in the process of 3D printing this product, and emphasized that left-handed people only need to print a reverse version of the accessory parts.
Compared to Sony, Microsoft has achieved certain successes in this area thanks to the Xbox Adaptive Controller product suite. This is a device that makes it easier for people with disabilities to experience games on Xbox One and Windows, with only 2 customizable buttons and lots of ports to connect to joysticks and other keys.
According to Kotaku
.