While the aftermath of the brutal short-selling attack that brought down the UST stablecoin and the Terra project's LUNA isn't over yet, another well-known stablecoin may be becoming the new target of this type of currency attack. .
A few hours ago, the famous stablecoin USDT seemed to be the next victim when it sold out massively on Curve's 3pool – this is also the largest stablecoin pool in the world, including USDT, USDC and DAI, once having a total value reached 3.2 billion USD. A huge amount of USDT is being converted to the other two stablecoins USDC and DAI at an unprecedented rate.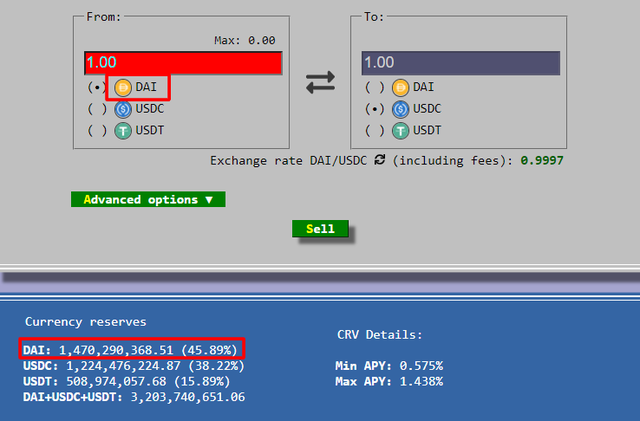 Typically, the stablecoins in these 3 pools will be roughly equal, around 33% for each cryptocurrency. At the beginning of April, this 3pool's liquidity reached a total value of about $3.2 billion, of which DAI accounted for 45.89%, USDC accounted for 38.22% and USDT accounted for 15.89%.
But now the balance of this ratio is completely skewed towards USDT when accounting for 83.05% of the total value of this 3pool. The rest is DAI with 8.74% and USDC only 8.21%. More significantly, the total value of 3pool has dropped to only $ 1.913 billion – down more than 40% compared to the beginning of April.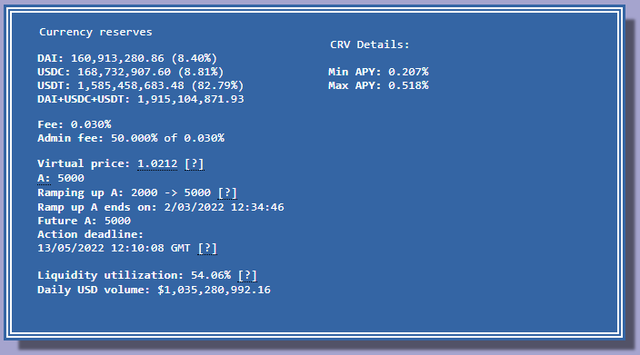 This means that USDT is being sold massively to swap to USDC and DAI and also withdraw from this 3pool. The flooding of USDT in this 3pool is causing the USDT-USD rate to drop, sometimes falling to $0.992 (now recovering at $0.996), instead of a 1:1 ratio.
A similar situation happened for UST a few days ago when a large amount of UST was injected into the Curve exchange and drained the stablecoin's counterpart funds. That pulled the UST-USD rate down sharply to 0.97 and stimulated holders of this stablecoin to rush to sell on major exchanges, further dragging the price of this coin down even further. .
But unlike UST – an algorithmically stablecoin – USDT is backed by fiat USD. However, for years, there have been rumors that Tether, the organization behind this stablecoin, does not have enough assets to guarantee the market capitalization of more than 80 billion USD of USDT. So if Tether's assets aren't enough to secure USDT, currency attacks like this could eventually bring down the world's most popular stablecoin.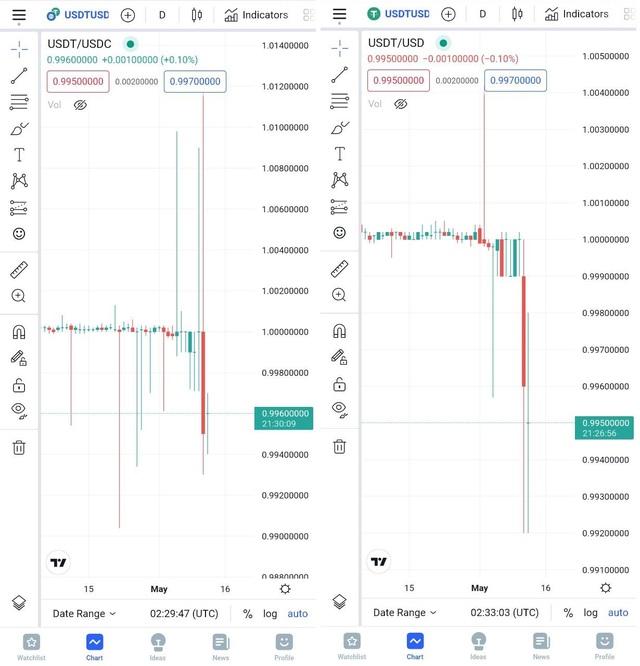 In contrast, all eyes are now on USDC, the world's second most popular stablecoin after USDT. While USDC's market capitalization has grown 370% since the beginning of last year, from $10.82 billion to nearly $50 billion today, it's still far behind the leader USDT.
However, USDC has powerful backers, including BlackRock, a hedge fund with about $10 trillion in assets under management, and Fidelity, a financial conglomerate with $4.2 trillion in assets under management. . In April of this year, these two Wall Street sharks and many other financial institutions invested $400 million in technology firm Circle, one of the two founding organizations of USDC (along with Coinbase exchange).
In addition to raising capital for the founding company of USDC, BlackRock also has a strategic partnership with the company to become an asset manager for USDC reserves and explore its applications in the crypto world. .
The attack that is targeting USDT has brought more attention to the relationship between USDC and BlackRock when rumors have emerged that the giant hedge fund is behind the attack a few days ago that brought down the stablecoin UST. as well as LUNA, the native coin of the Terra project.
Will BlackRock be the one to attack USDT with the aim of knocking out stablecoin and bringing his pet to the position of dominating the stablecoin playing field in today's crypto world?

https://genk.vn/du-am-cuoc-khung-hoang-ust-usdt-stablecoin-lon-nhat-the-gioi-sap-tro-thanh-nan-nhan-tiep-theo-2022051212150264.chn