It can be said that the mid-range segment is one of the fertile lands for phone companies to continuously produce to compete with each other. Everyone claims to be the 'best' when equipped with a series of 'same same' features, making users seem to be 'overwhelmed' by reading too much information and wondering which device will be the best. among them.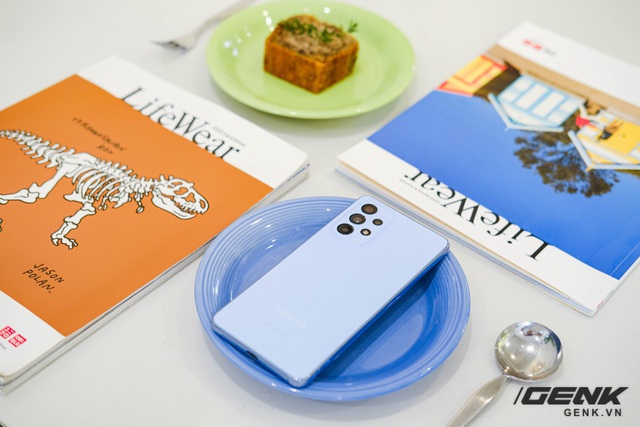 Having the opportunity to interact with quite a few mid-range smartphones of different brands today. Wait, let's talk about things that are deep and complicated, from the perspective of an ordinary user, don't put too much weight or lose a few numbers in the configuration. I stopped at Galaxy A53 5G when this device seems to possess all the criteria that I need in a smartphone under 10 million.
Luxury – fine – smooth design
Although there are not many changes compared to its predecessor, the design of the Galaxy A53 5G has not been outdated or outdated, the device still has many youthful and personality features. Along with the rise of pastel colors, one of the mainstream colors of the upcoming fashion world has been quickly applied by Samsung on the Galaxy A53 5G with colors such as attractive Peach Orange and Mysterious Blue, in addition. This device will still own the classic Pearl White and Black tones, giving a feeling of 'luxury' in the hand when considering this smartphone as an everyday accessory.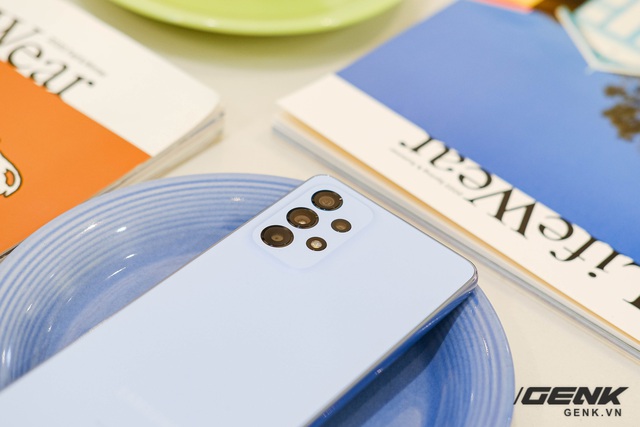 No longer too dry and separate, the camera cluster on the A53 5G owns the lines from the Ambient Edge design language of the 'genuine' Galaxy S series, creating a much smoother and softer visual effect.
Neither glossy nor emulsified, the back of the Galaxy A53 5G, although made from hard plastic, still feels 'soft' and comfortable to hold and use, limiting fingerprints when not using the case. back. With a compact design and light weight, the A53 5G is easy for everyday use regardless of rain or shine thanks to its IP67 dust resistance and Gorilla Glass 5 protection.
The screen is absolutely beautiful.
Samsung Galaxy A53 5G is equipped with a 6.5-inch Super AMOLED screen with Full HD + resolution that brings an extremely vivid color palette along with very good contrast and high brightness from the screen, so the Outdoor use becomes easier. The screen border is relatively thin, but the 'chin' in my opinion is still quite thick but does not cause too many obstacles in terms of visibility. Comes with the familiar Infinity-O "mole" design.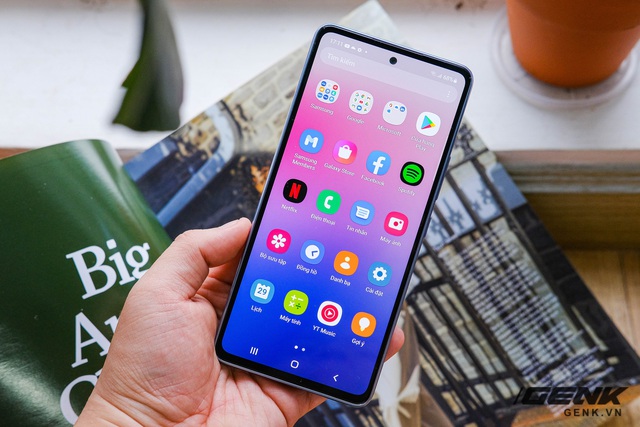 An important upgrade point is that the screen has been upgraded from 90Hz to 120Hz, which will provide a smooth experience that is convenient for all swipes and touches even when using one hand.
Cameras of all types
Galaxy A53 5G has a cluster of 4 rear cameras including: 64 MP wide-angle camera (equipped with OIS optical stabilization), 12 MP ultra-wide camera, 5 MP macro camera and 5 MP depth sensor for more shooting angles. for users. As can be seen, the camera parameters on the A53 5G are quite similar to the A52, but thanks to the improvement of the algorithms and support software, the resulting images will be more beautiful, with higher detail.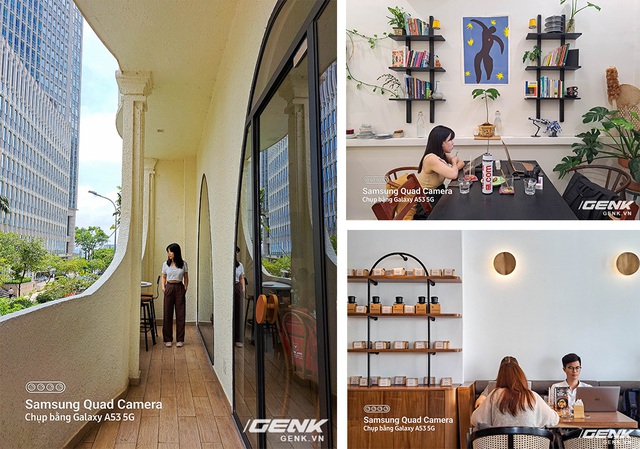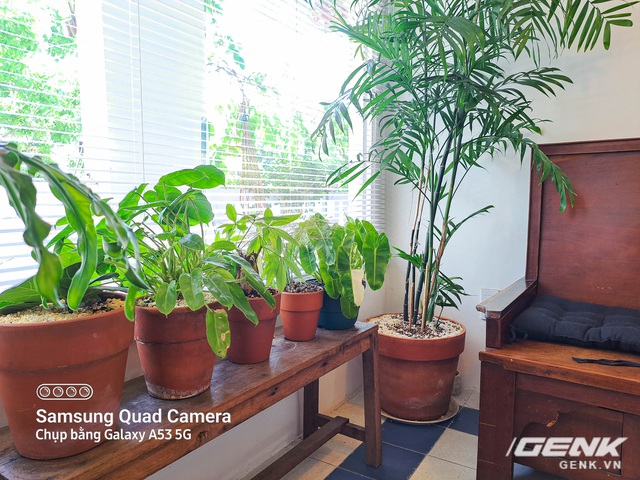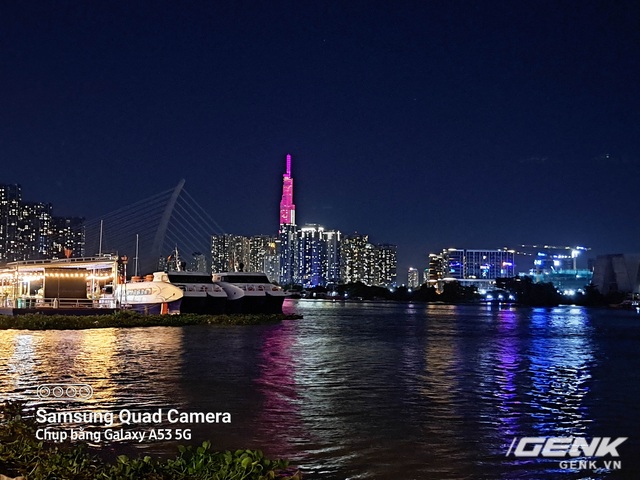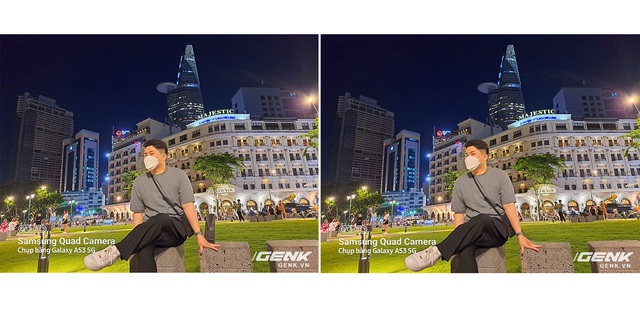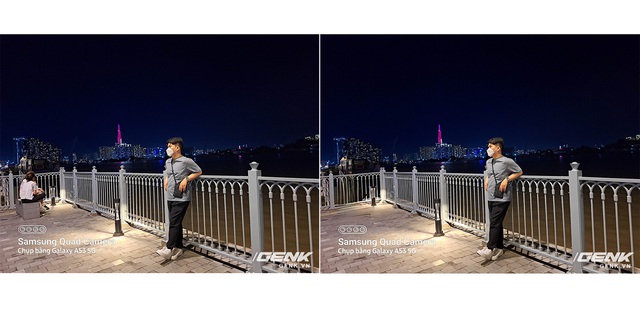 Impressive performance, still the same Exynos chip but this time it's weird.

The return of the Exynos chip on the Galaxy A53 5G instead of the Snapdragon made many people "sold and skeptical", but the results were completely unexpected. Try testing popular games like PUBG, upgrade the configuration at high graphics HD +, the machine still runs quite well, FPS fluctuates at about 28-30. Similar to Mobile Union, FPS remains stable at 58-60 even though it is at high graphics level, but there are times when the FPS moves a bit but not too significantly, the combat is still smooth and quiet.
For the first time, a 5nm chip is equipped on the Galaxy A series, bringing increased CPU and graphics processing performance, combined with other advantages. Overall, this will definitely be a bright choice in the mid-range segment.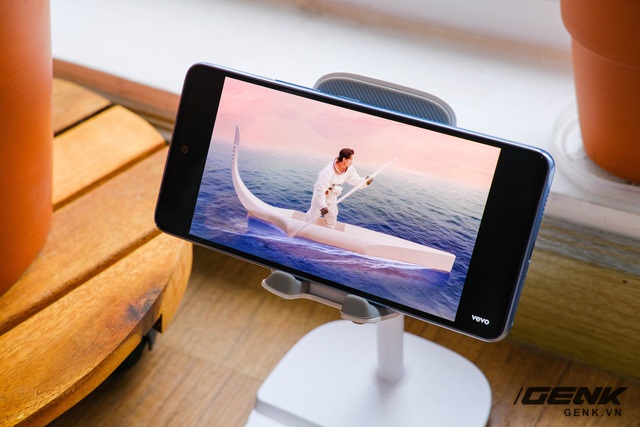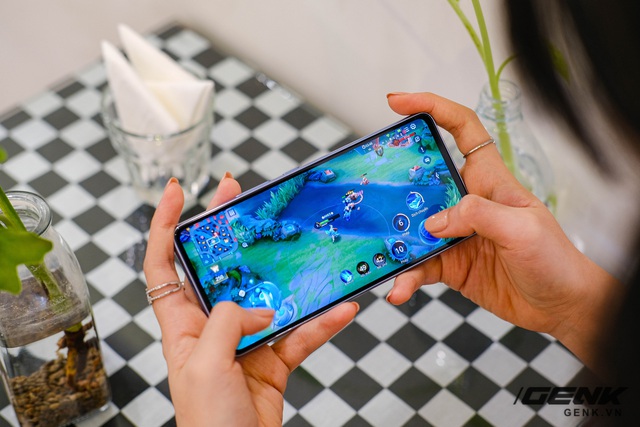 Galaxy A53 5G has an impressive memory with 8GB of RAM and 2 options of 128GB and 256GB inside, and can be expanded to 1 TB via memory card. The RAM expansion is to ensure smooth operation when multitasking, watching movies, playing popular games PUBG Mobile or Lien Quan Mobile lightly and limiting lag.
This smartphone comes with a battery of up to 5,000mAh with support for 25W fast charging. If used continuously for entertainment and gaming, the battery capacity will last for 1 day, but with just listening to calls or surfing the web lightly, the A53 5G can last up to 2 days.
Unsatisfactory points in Galaxy A53 5G
-The 'chin' edge is still a bit thick
-The device does not come with a charger
Ending
From the perspective of an ordinary user, do not put too much weight or lose a few numbers in the configuration, want to own a phone with a terrible camera, buffalo battery as well as stable performance, with a price below. 10 million, the Galaxy A53 5G is an extremely worthy choice in the middle of the crowded mid-range market today.
https://genk.vn/trai-nghiem-galaxy-a53-5g-duoi-10-trieu-chup-hinh-tot-camera-cho-phep-xoa-vat-thua-chipset-exynos-nhung-ma- no-la-lam-20220402200313033.chn