Mobile World Investment Joint Stock Company (MWG) has just announced the opening of TopZone APR (Apple Premium Reseller) store in Ho Chi Minh City. This is the second high-end TopZone store (after Hanoi) and the 32nd store of the whole system.
Notably, the new store is located in District 4 with an area of ​​265m2, much larger than the first TopZone APR in Hanoi (180m2). Accordingly, this is also the TopZone store with the largest area according to Apple's mono brand model in Vietnam.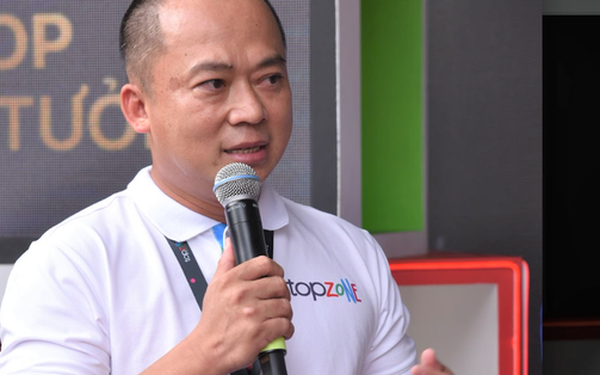 With a larger area, TopZone Khanh Hoi will display many products with all types and versions of Apple products such as: iPhone, iPad, iMac, Macbook and accessories… The number of experience tables has also increased. significantly up to 16 tables to bring unlimited experience to users. Moreover, TopZone Khanh Hoi also has a Service Room area to handle complaints, exchange, install machines…
Currently, MWG is operating two versions of Mono brand, AAR (Apple Authorized Reseller) with a small area of ​​about 100 – 120 m2 and APR with an area of ​​180 – 220 m2.
Mr. Doan Van Hieu Em said: "Participating in the Apple market, by far the biggest barrier is to make a store that meets its standards. Therefore, even if you want to go fast, you can't. Standing at this shop, we see everything as normal but Going into details, from the design to the items such as tables, boards… must be imported from the US".
To achieve the highest standard of Apple authorized reseller, it is necessary to go through strict processes to ensure everything is as neat and as close to the Apple Store as possible, that's why most of the Apple Mono Store chains in Vietnam has just stopped with 1 high-end store.
Not to mention, Ho Chi Minh City is considered a large and vibrant market, so MWG has high expectations for this opening with the goal of revenue reaching VND 10 billion on the opening day and VND 18 billion in revenue in the first month. .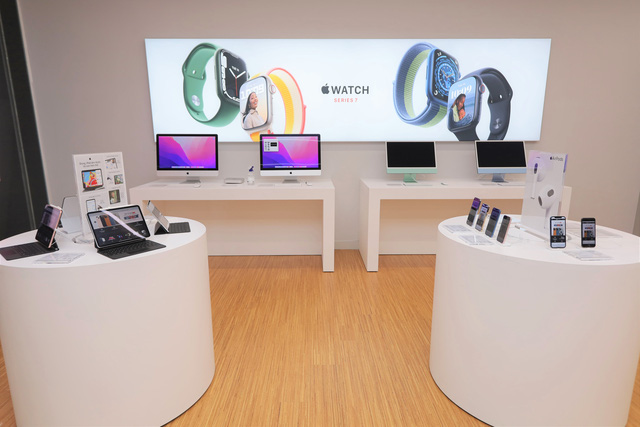 TopZone APR (Apple Premium Reseller) store in HCMC.
According to the plan, by June 2022, there will be 50 TopZone stores. Currently, MWG is operating 30 stores with 2 APR stores, revenue is about 10-15 billion VND/month. The remaining 28 stores in the model (AAR) have a revenue of about 6 billion VND/month.
Optimistic assessment of the potential of Apple Vietnam market, not only based on consumer spending needs but also shrinking opportunities for portable goods, MWG sets a target to collect 1 billion USD in revenue. unique number of this product line. Correspondingly, Apple will contribute more than 14% of the Group's total revenue (as planned, MWG is expected to reach $7 billion in revenue by 2023).
Not to mention, now the time to import Apple products from Vietnam has been shortened, if it was 2 months ago, it is only 30 days ago, which also promotes this market to grow fast. In the not too distant future, when Apple officially brings Vietnam to the tier 1 market (currently tier 3), MWG expects to create a complete change in the face of this market: a typical consumer place once established. If you are an Apple follower, you will have the need to change the series continuously and it will be difficult to change to another label.
Officially jumping into deep exploitation of the Apple line when launching the TopZone chain in October 2021, MWG expects the Company's Apple revenue to increase by 40% compared to 2021. In fact, currently nearly 3,000 Mobile World stores All activities have Apple sales, but due to limited sales, Topzone should be opened to promote the remaining growth room.
Talking about the current model of TopZone, the MWG representative confirmed that 100% of Apple's standards were met. Although this is not the Apple Story model like in the US or Singapore, it is directly operated by Apple itself. In Vietnam as well as a few other countries, the Apple model exploited is Mono, with Apple's standards and not much different from Apple Story.
https://cafef.vn/ceo-the-gioi-di-dong-rao-can-lon-nhat-cua-topzone-la-lam-ra-duoc-cua-hang-dat-chuan-du-kien- revenue-tu-apple-se-dat-1-ty-usd-vao-nam-2023-20220412203421444.chn
https://cafebiz.vn/ceo-the-gioi-di-dong-rao-can-lon-nhat-cua-topzone-la-lam-ra-duoc-cua-hang-dat-chuan-du-kien- revenue-tu-apple-se-dat-1-ty-usd-vao-nam-2023-20220413083739704.chn