What kind of ceiling is called a low ceiling?

Ceiling heights below 2.8m are generally considered low ceilings. Meanwhile, the minimum distance from the bottom of the fan to the floor must reach 2.3m. Therefore, if you are planning to install a ceiling fan for a ceiling below 2.8m high, the height of the fan should be lower than 30cm. And only ceiling fans close to the ceiling meet this criterion.
Here, Kaiyokukan would like to introduce to readers 3 models of ceiling fans that are chosen by many families for their home space.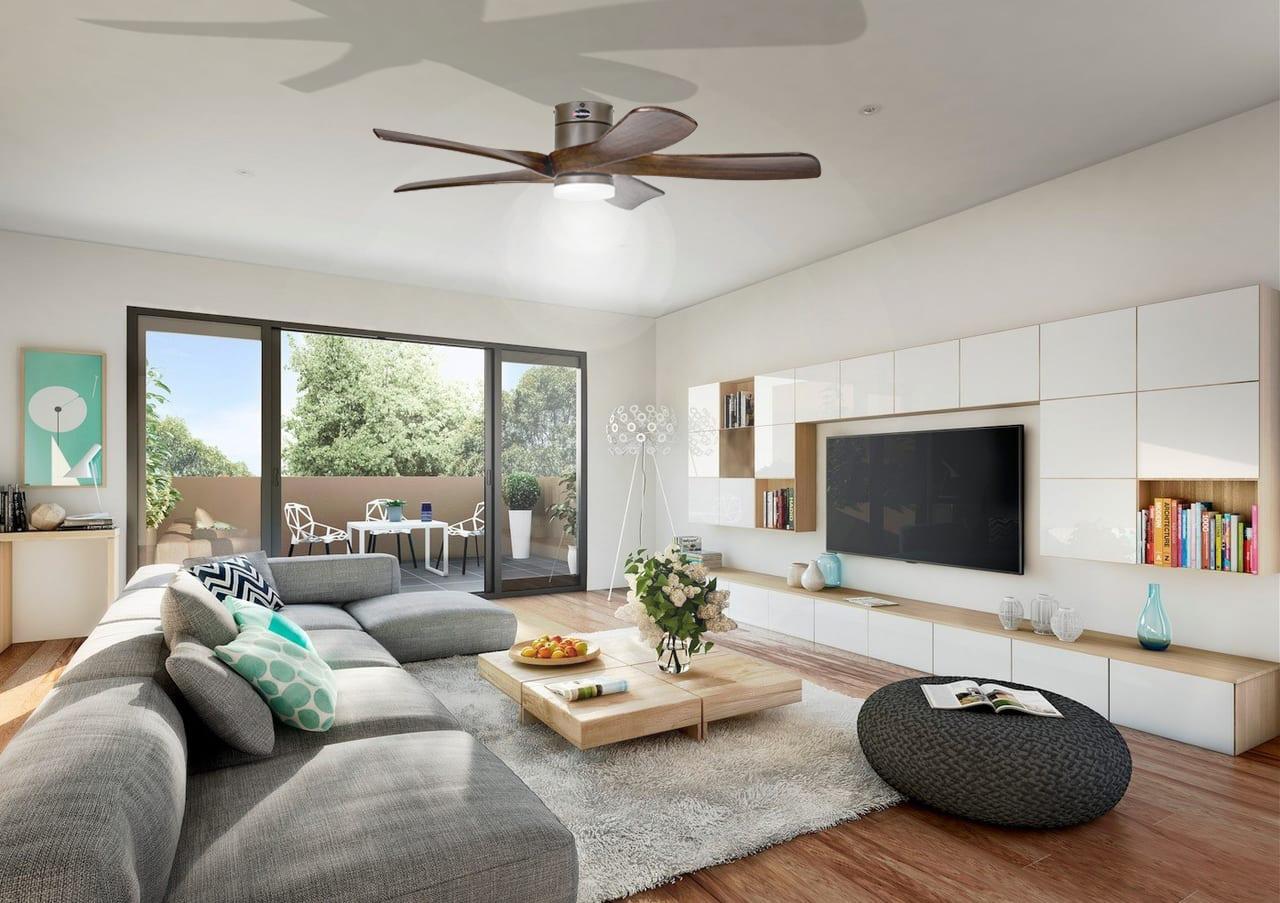 KaiyoKukan KUKAN 211 Ceiling Fan
KaiyoKukan KUKAN 211 is a 5-blade ceiling fan made of solid natural wood. The blades are treated with extreme care to prevent warping, termites and steam penetration. The propeller design is simple but elegant and delicate, helping to create a unique highlight in all different architectural spaces.
The height from the fan to the ceiling is only 30cm, so this is a ceiling fan model that is often chosen by interior design experts for luxury apartments and low-ceiling spaces. Attached to the fan is also a super bright LED disc light with 3 different color changing modes: white, yellow and neutral light.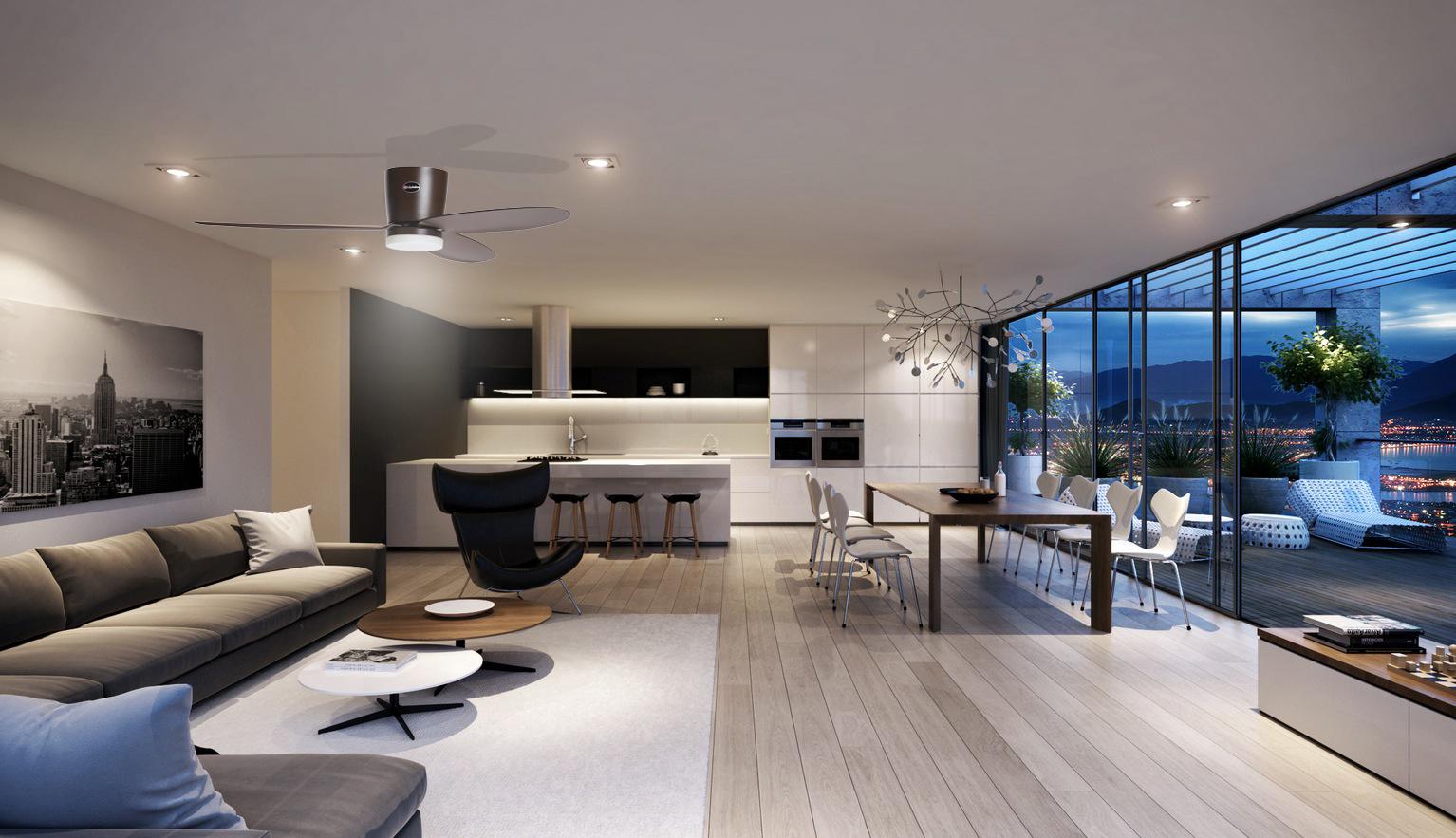 KaiyoKukan SAITA 102 ORB Ceiling Fan
This KaiyoKukan SAITA 102 3-blade ceiling fan has a height of only 23cm from fan to ceiling, so it is designed specifically for low-ceiling houses. The fan blade is made of high-quality ABS plastic, so it is extremely durable and helps the fan run super quiet even at the highest gear.
The fan body is made of stainless steel, coated with anti-dust and anti-steam paint, so it has high durability. The ceiling fan is also equipped with a powerful DC motor block, reaching a rotation speed of up to 230 rpm.
With a simple but equally sophisticated design, the KaiyoKukan SAITA 102 ceiling fan has both high aesthetic value and helps users to easily clean when needed.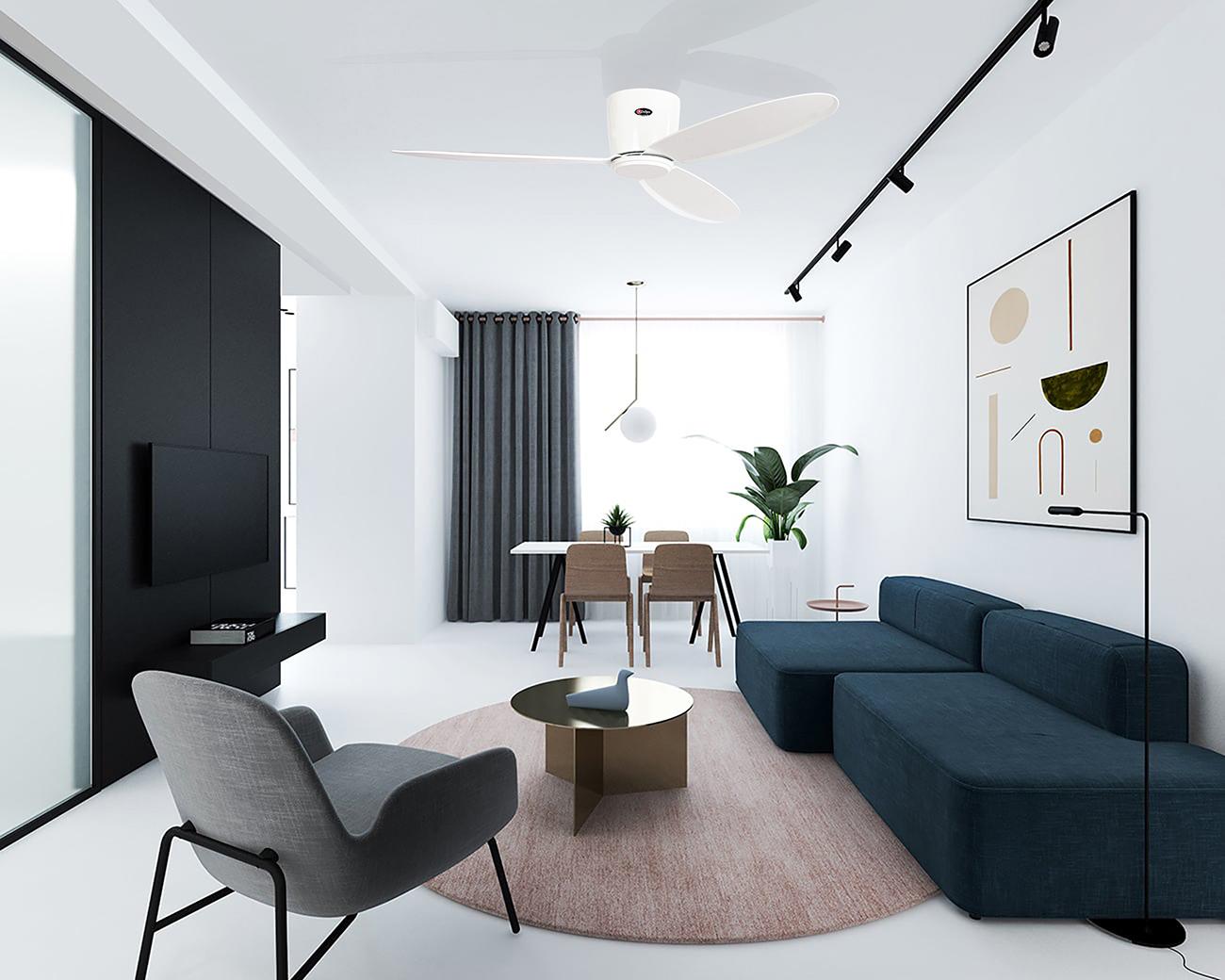 KaiyoKukan SAITA 102 WHITE Ceiling Fan
KaiyoKukan SAITA 102 is designed with 3 blades made of super light and durable ABS plastic, allowing the device to operate with the highest air flow up to 222.98m3/min.
KaiyoKukan SAITA 102 has a height of 23cm and a diameter of 1.32m, suitable for offices or apartments with a height of 2.5 or more. The ceiling fan is installed with a DC motor with a capacity of only 36W, achieving the 5-star energy label granted by the Ministry of Industry and Trade.
This ceiling fan model is also designed with a smart reversing feature, helping to warm the room in winter. Comes with the ceiling fan, there is also a convenient remote control with many functions such as changing the wind mode, changing the light color, reversing the fan and natural wind.
Currently, all of Kaiyokukan's ceiling fans are on display in the showroom at 15BT-16, Dai Kim urban area, Hoang Mai, Hanoi. We invite you to come to experience the fresh shopping space and choose the best ceiling fans for your family.
KaiyoKukan ceiling fan production place is a factory located in Taiwan, with modern technology lines and meeting strict Japanese standards.
All 100% of KaiyoKukan products are installed with a 10-year warranty DC motor, capable of saving power up to 70% compared to AC motors. With this motor, the ceiling fan can reach the highest air flow rate of 333m3/min.
With DC motor, Kaiyokukan ceiling fan achieves 5-star energy label certified by Quatest 1 quality inspection department.
Currently, An Khang Group Vietnam Co., Ltd is a unit trusted by KaiyoKukan Japan to be the exclusive distributor of genuine KaiyoKuKan ceiling fan products.
With the slogan "Japanese Ceiling Fan – True Class", An Khang Group has been distributing ceiling fans to all regions of the country through a nationwide dealer system.
Certificate of distribution of Kaiyokukan ceiling fans of An Khang Group in Vietnam
The KaiyoKukan ceiling fans will definitely become the perfect artistic highlight for the interior space of every Vietnamese home. When shopping for genuine KaiyoKukan ceiling fans distributed by An Khang Group, customers will be completely exempted from shipping and installation fees. The products have full anti-counterfeiting stamps and are warranted at home for Hanoi and Ho Chi Minh City areas.
Readers who are doing business in fields such as lights, electricity, water, kitchen equipment, … and have the ceiling of their store is still vacant, if they have a need to cooperate in the business of Japanese ceiling fans with Kaiyokukan please contact :
Website: https://kaiyokukan.vn
Hotline: 094.369.73.33
Showroom : 15BT-16 Dai Kim urban area, Hoang Mai, Hanoi

https://genk.vn/top-3-quat-tran-sat-tran-tuyet-dep-cho-tran-nha-thap-cua-kaiyokukan-20220421163433976.chn