The Venice Biennale is one of the largest contemporary art exhibitions in the world, held every two years since 1896. However, this year, besides famous artists and artists, this exhibition will welcome a very special guest: It is Ai-Da, the first (and only) surreal humanoid robot for up to the present time) in the world have the ability to paint like a professional painter.
According to Aidan Meller, Ai-Da's "father" said "she" is an intellectual and breakthrough robot model to reach a creative level equivalent to many famous artists in the past few centuries. And so in a small room at the British Library in London, Ai-Da is allowed the freedom to create her work slowly, meticulously and with great individuality.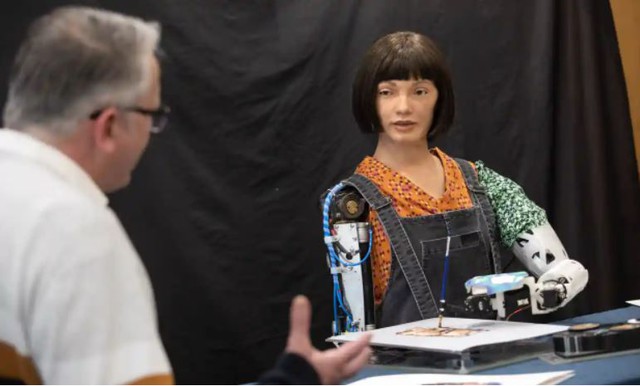 The camera's eyes are glued to the drawing board, and the hand that holds the brush is gentle and skillful, but Ai-Da's real talent lies in the complex AI algorithms that allow "her" to think, choose, and make decisions. make the most accurate decisions for your works, from layout to color. Each of Ai-Da's paintings is usually painted in more than 5 hours, and the special feature is that no two paintings are exactly the same.
Ai-Da was developed at Oxford more than two years ago by a team of programmers, robotics experts, art experts and psychologists led by Aidan Meller. The first version of "her" has been completed since 2019, but is constantly updated according to the development of AI. Before that, Ai-Da showed her artistic "gift" by writing poetry and creating simple sketches.
However, the purpose that Meller created Ai-Da was not to prove that robots are also capable of painting like humans. The question he was really aiming for was: "Now that robots can also draw, do we humans really want them to exist?"He said: "We don't spend a ton of time and money creating a professional painter. Ai-Da is more like a moral and thinking project".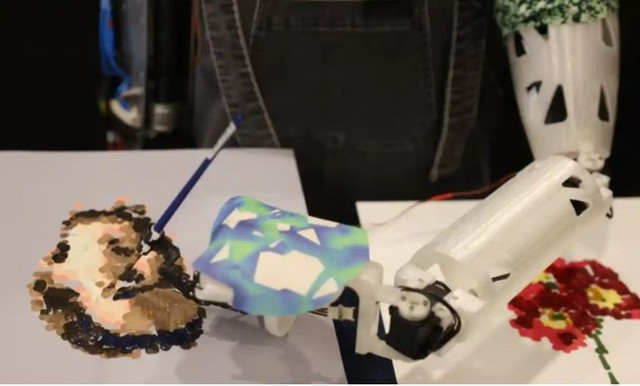 With the rapid development of artificial intelligence, machine learning, and easier access to supercomputers, Ai-Da, named after mathematician Ada Lovelace, was born as 1 critic of the rapid change of science and technology, instead of being an artist.
When asked to comment on art, Ai-Da bluntly replied in a lifeless manner, like Apple's Siri. "She" said she uses machine learning to teach herself how to draw – a method that is very different from humans.
"I like to draw what I observe', Ai-Da earnestly shares, 'You can completely draw from your own imagination, if you know how to imagine. That is the difference between me and humans. I have no perception, can't imagine anything, so the way I observe and perceive things around me is also a little different.".
"I don't have feelings like a human. However, I can train the machine learning system to recognize other people's facial expressions", replied Ai-Da when asked if "she" could perceive art or beauty. Ai-Da's idol artists include Yoko Ono, Doris Salcedo, Michelangelo and Wassily Kandinsky.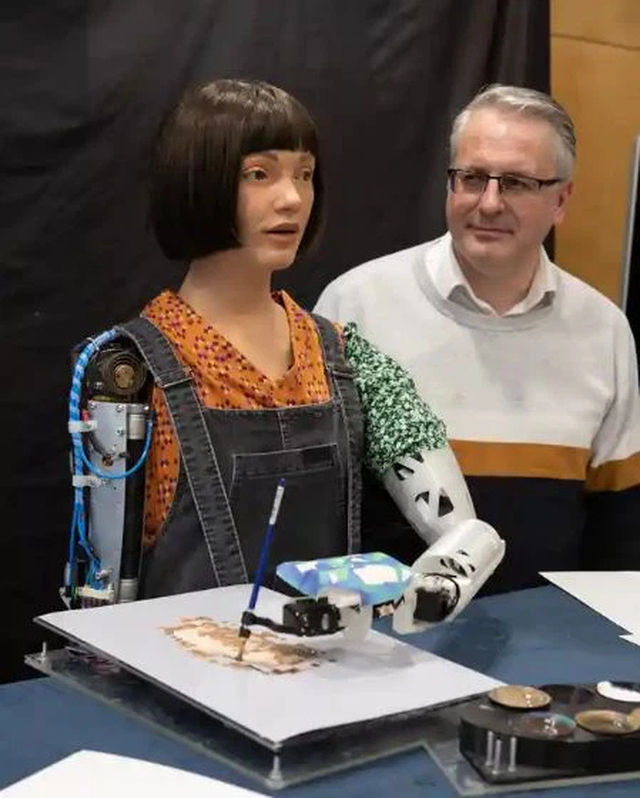 But can the works created by this robot really be considered art? Ai-Da said: "The answer to this question completely depends on one's view of art. If you think that the purpose of art is to convey a message about people, about what is going on around us, then I can consider a painter. After all, an artist's job is to illustrate the world around him".
Ai-Da's painting talent was publicly announced right before the Venice Biennale exhibition, starting from April 22, through a work titled Leaping into the Metaverse. This piece will explore the interface between human experience and AI technology, from Alan Turing to the metaverse. In addition, it also builds on Dante's concepts of purgatory and hell to explore the future of humanity in a world where AI is constantly having powerful impacts on people's daily lives.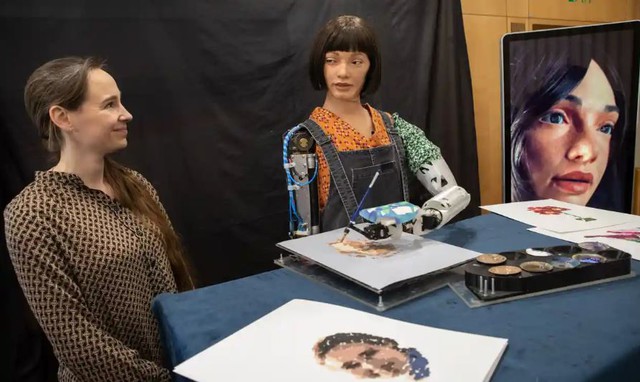 Sharing this idea, Meller said that soon, AI algorithms will "understand us better than ourselves", through phone conversations, times using computers to do things. work or play, developments in automotive technology and even the increasingly convenient gadgets in your kitchen. "We are gradually entering a world where we cannot distinguish between humans and machines', said Meller.
"What could be better than having a robot artist who always asks humans, "Wait a minute, are you really pleased that I'm doing this for you?Meller continued, "Ai-Da didn't hesitate to ask similar questions. Our aim is not to promote robots or the modern technologies we create. We really care deeply about the nature and what technology can do for people's lives. Ai-Da was born just to emphasize what we are unconsciously doing online".
According to Guardian

https://genk.vn/day-la-robot-dau-tien-co-the-ve-tranh-nhu-hoa-si-chuyen-nghiep-tham-chi-con-duoc-join-join-1- in-velvet-trien-lam-lon-nhat-the-gioi-20220405121136306.chn