The two leading Mercedes-Benz sedans, the S Class and the EQS electric car, will soon offer the option of Level 3 self-driving technology in Germany. From May 17, a system called Drive Pilot will be applied on these two models, allowing completely replacing the driver in certain conditions.
The Stuttgart-based automaker was the first manufacturer to receive international certification for Level 3 self-driving technology in December 2021. Commercializing the technology is the next step, and Mercedes charges 5,000 euros ($5,260) for the Drive Pilot on the S-Class and 7,430 euros ($7,813) for the EQS. This is the fee for both hardware installation and software installation. Users do not have to pay a monthly subscription.
It should be noted that Level 3 self-driving technology is not yet fully autonomous. The Mercedes system allows the driver to leave all the driving work to the machines in heavy traffic or on suitable roads in Germany at speeds up to 60 km/h. In this condition, the vehicle can fully control its own speed, distance and lane. More importantly, the system can also react to unexpected traffic situations and avoid dangerous maneuvers.
"Mercedes-Benz is the first manufacturer to put a Level 3 autonomous system with international certification into mass production," said Britta Seeger, a member of the company's board of directors. "At an early stage, we will offer this technology in Germany, on the S-Class and EQS models. We also look forward to receiving certification in the US later this year."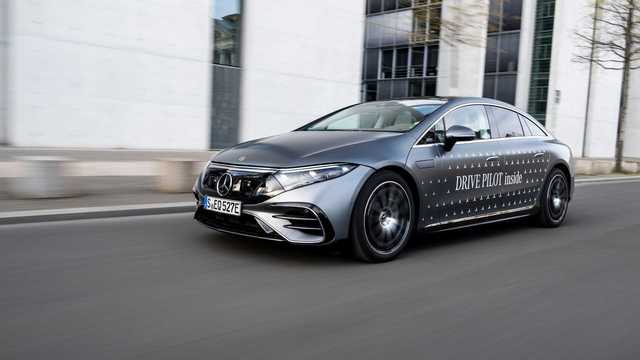 Obtaining international certification from December 2021 does not mean that Mercedes cars can drive themselves around the world. Many countries still have their own rules about autonomous technology in vehicles. Mercedes is currently working to receive certification in the US.
Self-driving technology is currently divided into 6 levels, of which level 0 is the lowest level and level 5 is the highest. Level 0 appears on popular car models today. At level 1, the car will support the driver at a basic level, such as equipped with an adaptive cruise control system – Adaptive Cruise Control or the LKA Lane Keeping Assist feature.
Meanwhile, many current models have been equipped with level 2 self-driving technology with ADAS system, self-driving assist, braking, etc. Many new models are launched today, especially electric cars are equipped. Level 2 self-driving technology.
https://cafef.vn/mercedes-mai-dinh-day-la-nha-san-xuat-o-to-dau-tien-thuong-mai-hoa-cong-nghe-tu-lai-cap-do- 3-xu-ly-moi-tinh-huong-thay-lai-xe-o-toc-do-duoi-60-km-h-20220506151809293.chn
https://autopro.com.vn/mercedes-mai-dinh-day-la-nha-san-xuat-o-to-dau-tien-thuong-mai-hoa-cong-nghe-tu-lai-cap- do-3-xu-ly-moi-tinh-huong-thay-lai-xe-o-toc-do-duoi-60-km-h-20220506161854537.chn