We live in an era where the sense of individual privacy is respected more than ever. That's why you can ask the other person not to point the camera at you. Many laptop manufacturers have to design more covers on webcams. And the corners out of sight in the cafe are always preferred by many people first.
However, wherever people go and whatever they do, humans will also leave a little trace of themselves on Earth: From a hair to a dead skin flake, saliva stuck on the rim of a coffee cup, residue chewing gum or cigarette butts. What information do you think these traces might reveal about you?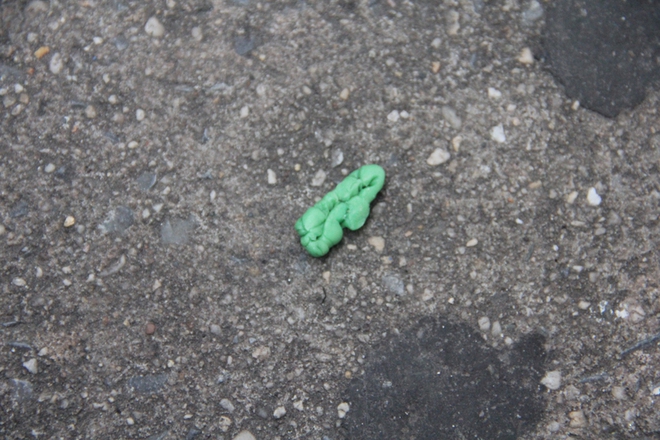 A wad of gum was dropped by someone on the corner of Wilson Ave. and Stanhope St, Brooklyn, New York.
In 2012, an American artist named Heather Dewey-Hagborg collected all of the above seemingly innocuous traces on a New York street corner. She then took them to Genspace, a community lab in Brooklyn.
Here, Heather personally isolated the DNA in the samples she found. She then resorted to a gene amplification method known as PCR (similar to how the SARS-CoV-2 virus is tested).
DNA samples amplified in certain regions revealed the gender, eye color, race, even the size of the nose of the person who left them. But it doesn't even stop there.
Heather continued to send samples for DNA sequencing to read each of its genetic letters. This allowed her to compare sequences with a library of DNA-linked genes with different facial phenotypes.
Finally, a mathematical model is used to generate the 3D face based on the matched phenotypic features. Heather then printed all of the faces out, hanging them up to form a famous work of art known as Stranger Visions.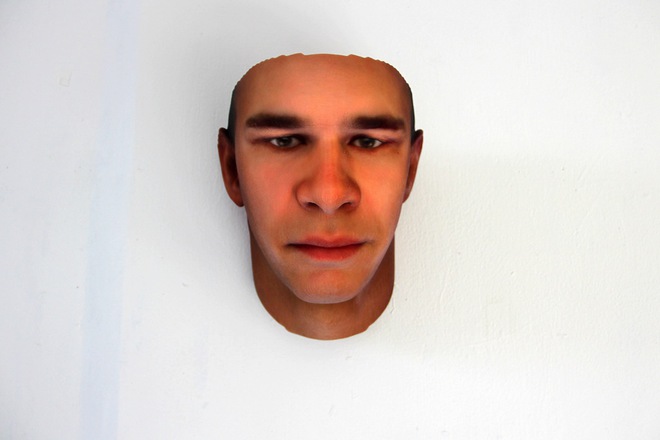 This could be the portrait of the man who spits gum on the street corner in the picture. His face was reconstructed by Heather Dewey-Hagborg using DNA technology.
In a surreal setting, it's clear that Stranger Visions has reimagined the people who were once on that New York street corner, momentarily leaving behind a single hair, gum or cigarette butts. mine.
This work is a testament to something that was previously only imagined. With tiny bits of DNA strewn about, what can an amateur scientist do now?
"I was really struck by the idea that the very things that make us who we are – from our hair, to our skin, to our saliva to our fingernails – now become a reality when we inadvertently give up our lives. them in public. Anyone can come and collect and exploit them for information", Heather said.
Reconstruction of an entire face from just DNA debris
The truth is that humans share 99.9% of the same DNA, so any difference between us lies in the remaining 0.1% of DNA. That number equates to 300 million base nucleotide pairs (AT, GX) in the genome. But scientists have only found about 200 genes that significantly affect a person's face.
These genes contain within them an element known as single-nucleotide polymorphisms (SNPs). They greatly determine your appearance. For example, simply changing the letter adenine gene (A) in an SNP to guanine (G), your eye color will change from brown to blue. There are SNPs that determine body mass index (BMI) that determine whether your face is fat or thin, there are SNPs that determine the color and curl of your hair, and there are SNPs that determine if you have a split chin.
However, relying on only about 200 SNPs to reconstruct your face from a single piece of DNA is quite risky. It's just like building a mold, and there's a lot of probability that different pieces of DNA produce the same face.
And this is where scientists need big databases.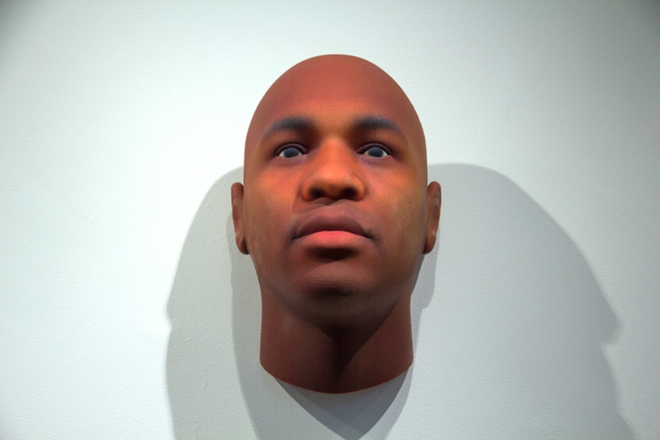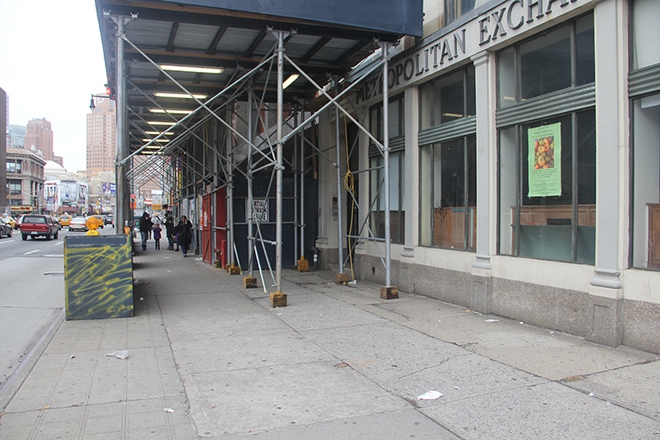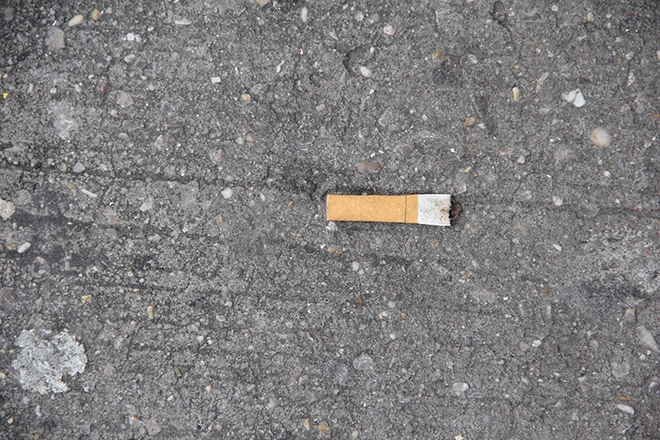 Another face rendered by Heather Dewey-Hagborg. He may be the one who released this cigarette butt in front of 33 Flatbush Street, Brooklyn.
The idea is very simple. If you can get 1 million people to upload their portraits with their DNA code, you can begin to sift through which facial features match which DNA. The database will then allow you to look up a DNA sample that is likely to produce each different facial segmentation.
The good news is that huge gene databases already exist, such as GEDMatch, a website that allows internet users to upload their genetic data to search for lost relatives, relatives, or simply a fun tool to know how much royal blood you have.
The GEDMatch tool is completely free and has attracted more than 1.4 million user genomes around the world. The data from genetic engineering companies like 23andMe is even larger. It's a service that lets you test your genome with just a saliva sample for as little as $99, and it has attracted at least 12 million individual customers.
But the difficulty is that the gene databases are protected. Unless the police require it, companies will not share their databases with anyone (or at least we must trust their promises). GEDMatch and 23andMe also do not require you to upload your personal images to the database.
So if you want to reconstruct a face from DNA, you have to build your own database. That's what Parabon NanoLabs really did.
A tool to help solve deadlock cases
Based in Virginia, Parabon is currently the most famous forensic genetics company on the planet. With genetic analysis, the company is helping US police solve hundreds of cases a year from DNA fragments they collect from the scene.
Normally, DNA fragments in the perpetrator's blood, saliva, semen or hair samples left at a crime scene only allow the police to match them with a database of DNA they have obtained previously from inmates. or the suspect has been classified.
But if the perpetrator commits a first crime and their DNA doesn't match anyone in the database, the case will come to a standstill. Now, Parabon is using DNA analyzes to determine the killer's genetic pedigree, which could allow police to know where to look for clues.
They can start locating people who appear to be relatives of the perpetrator, plus with other clues from the case, police can know what last name the perpetrator has, how old they are, what neighborhood they live in, even Who are his parents?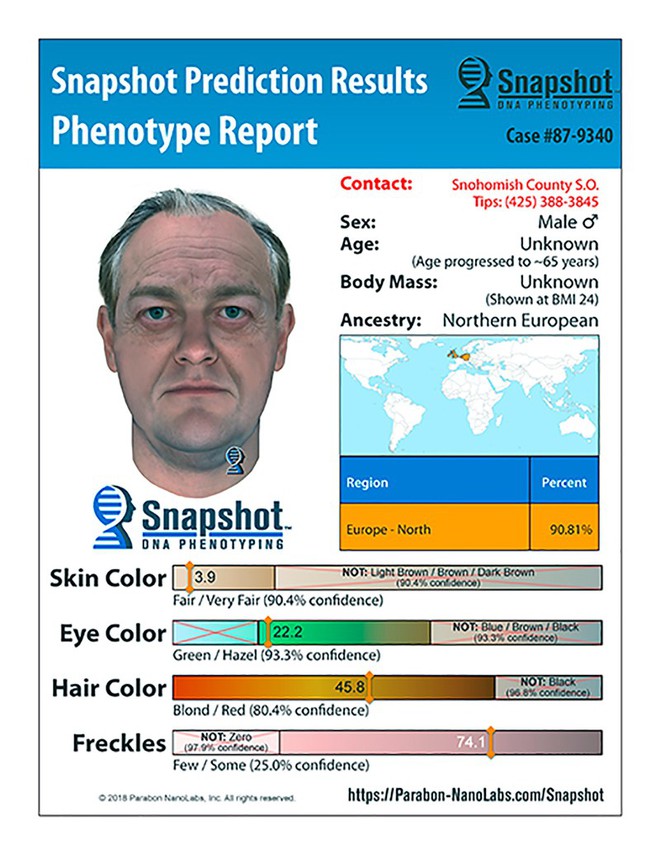 Parabon's Snapshot tool has helped capture this man on murder charges since 1987.
But Parabon's ambitions don't stop there. In 2014, they began developing a technology called Snapshot, which allows to reconstruct the entire face of a suspect based only on a DNA sample at the scene.
To do this, Parabon built its own database by recruiting 20,000 anonymous volunteers. The company asked them to provide a DNA sample and fill out detailed descriptions of themselves. A group of about 5,000 people were selected to go to the next round, taking portraits of their faces in 3D perspectives.
Parabon fed all the data into a machine learning algorithm that sifts out DNA that matches the phenotype of each facial region. In the end, they were able to create a Snapshot with the function of reconstructing the face from just a 1-nanogram piece of DNA.
The company says that since 2018, Parabon has helped US police solve more than 120 cases with the help of Snapshot and genetic pedigree. One of the most famous cases named "Golden State Killer", in which the same perpetrator committed 13 murders, 50 rapes, and 120 burglaries in California between 1974 and 1986 but is still outlawed more than 30 years later.
It was not until 2018, with the help of Parabon and GEDMatch's gene database, that police were able to use the killer's genome to reconstruct his face, a white, blue-eyed man. , has blonde hair. Snapshot technology has produced portraits of the suspect from when he was 25 years old to 45 and 65 years old.
GEDMatch's gene database traced the killer's family members. With all this evidence, the police arrested the Golden State Killer. He turned out to be a former police officer whose real name was Joseph James DeAngelo Jr of New York. With all that was done, DeAngelo finally pleaded guilty and was sentenced to life in prison at the age of 76.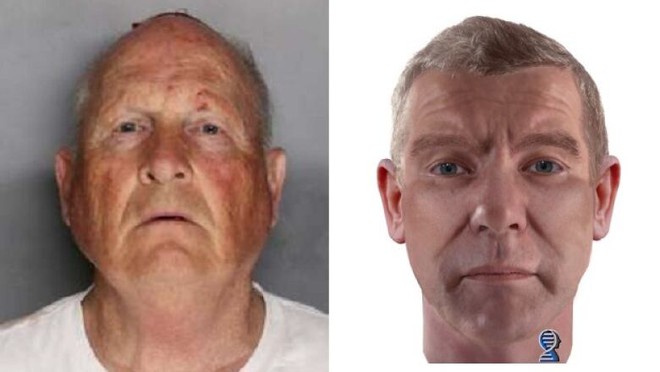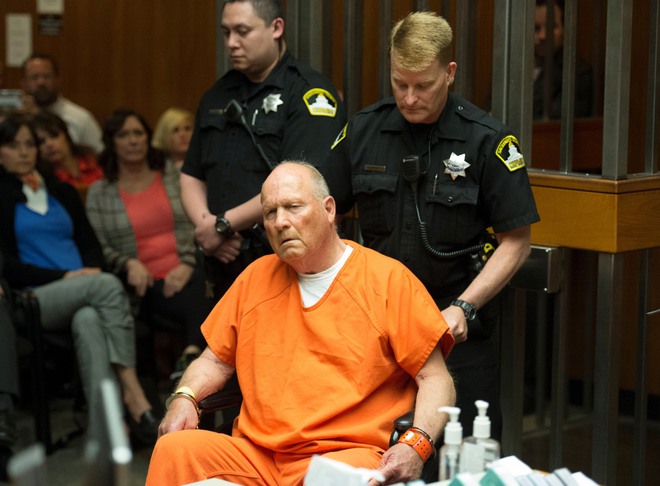 The serial killer in the Golden State Killer case was caught by DNA recognition technology.
In addition to identifying the perpetrator, Parabon's Snapshot technology also allows the identification of victims in cases where their bodies are not intact. It has also helped archaeologists reconstruct the faces of historical figures, such as Egyptian Pharaohs, from only their mummies or remains.
However, this technology inevitably raises some concerns about the privacy of not only the users of the gene service themselves, but also their loved ones. For example, when you upload your genome to GEDMatch, you are also revealing part of the identities and faces of your parents, of your children even before they are born, and of distant relatives who may not even be born. even you have never met.
For its part, GEDMatch says it has policies in place to protect users' privacy, even though they don't pay any fees for the service. However, the company will have to strike a balance between the privacy of its users and ensuring the safety of them and others in society.
"You have the right to privacy. But you also have the right not to be murdered or raped", emphasized Brett Williams, CEO of Verogen, owner of GEDMatch. So the company can still share its genetic database at least with the police to track down the culprit in complex cases. .
It's just that in an age where genomic databases are becoming a new treasure, companies like GEDMatch can also become targets for cyber-attackers. Last July, they were attacked by a group of hackers and GEDMatch immediately had to close its service.
Verogen representatives said they will do everything to ensure user data is protected against potential attacks. But on the user side, we should also be cautious about disclosing our genetic data.
Because this is no longer the era of CCTV security cameras, we live in an age of DNA data where a hair, cigarette butt or gum can reveal your identity.
Refer to Nature, Businessinsider, Forbes
.