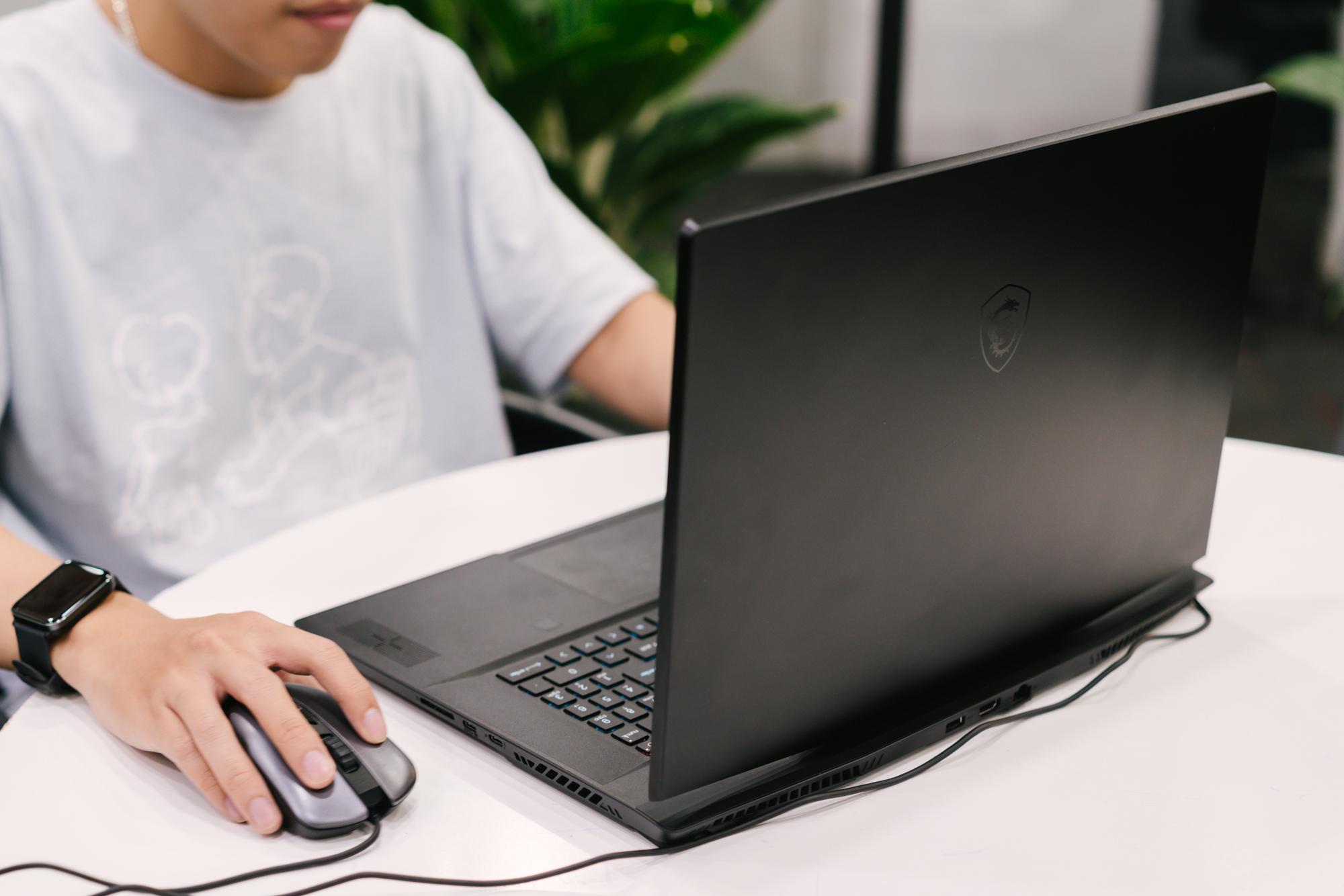 For a long time, the laptop market has been fragmented into two clear markets. Office laptops often have a beautiful design, high thinness so they can be taken everywhere, but will have to compromise on configuration power, which will only be used for light jobs. hand" when used in image, video, and graphic processing.
In contrast, gaming laptops that do not have heat dissipation limitations can use powerful top-of-the-line configurations, ready for any heaviest work, beautiful and vivid AAA games, but often The design is too aggressive and ostentatious, so it will be "out of place" in a professional environment. That is not to mention they are too large in size, often used as a "desktop replacement" product rather than a "portable" laptop in the true sense of the word.
In recent years, the boundary between these two product lines has not been so clear as before. There are products like the MSI Stealth GS77-12UX, which bring in "beast" hardware with a sophisticated, professional appearance.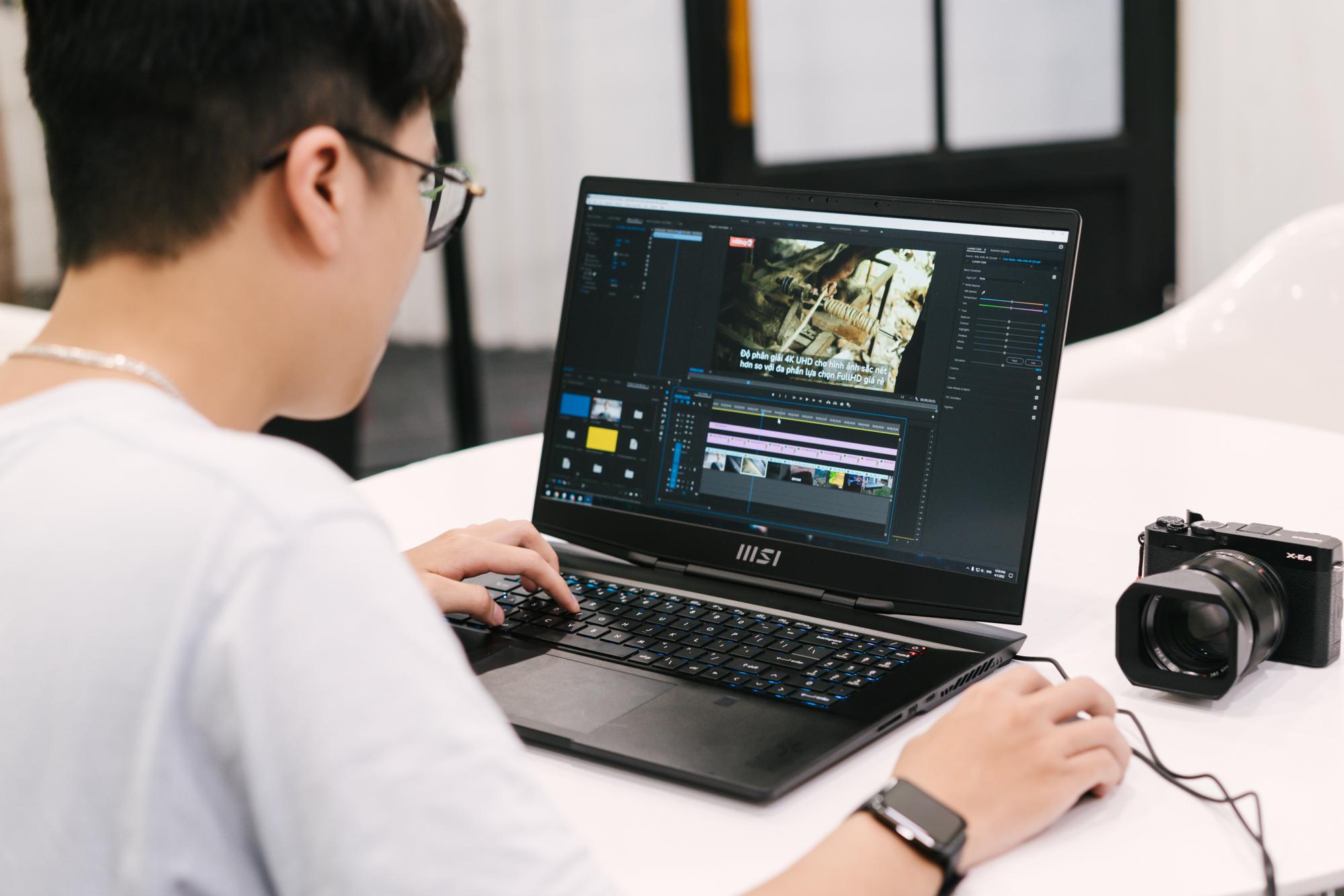 Powerful configuration hidden in elegant appearance
"Office work" is a very general phrase. There are people who just need a laptop to read, edit documents, check email. But for many young people today, office work has become photo editing, video editing, graphic editing, simulation … requiring superior hardware.
Mr. Bui Hoang Minh – a content creator shared: "I often work with Adobe Lightroom and Premiere Pro software, my old laptop often handles very slowly and overheats. Stealth GS77-12UX. solve this problem, speed up the process of processing work so that I have more leisure time."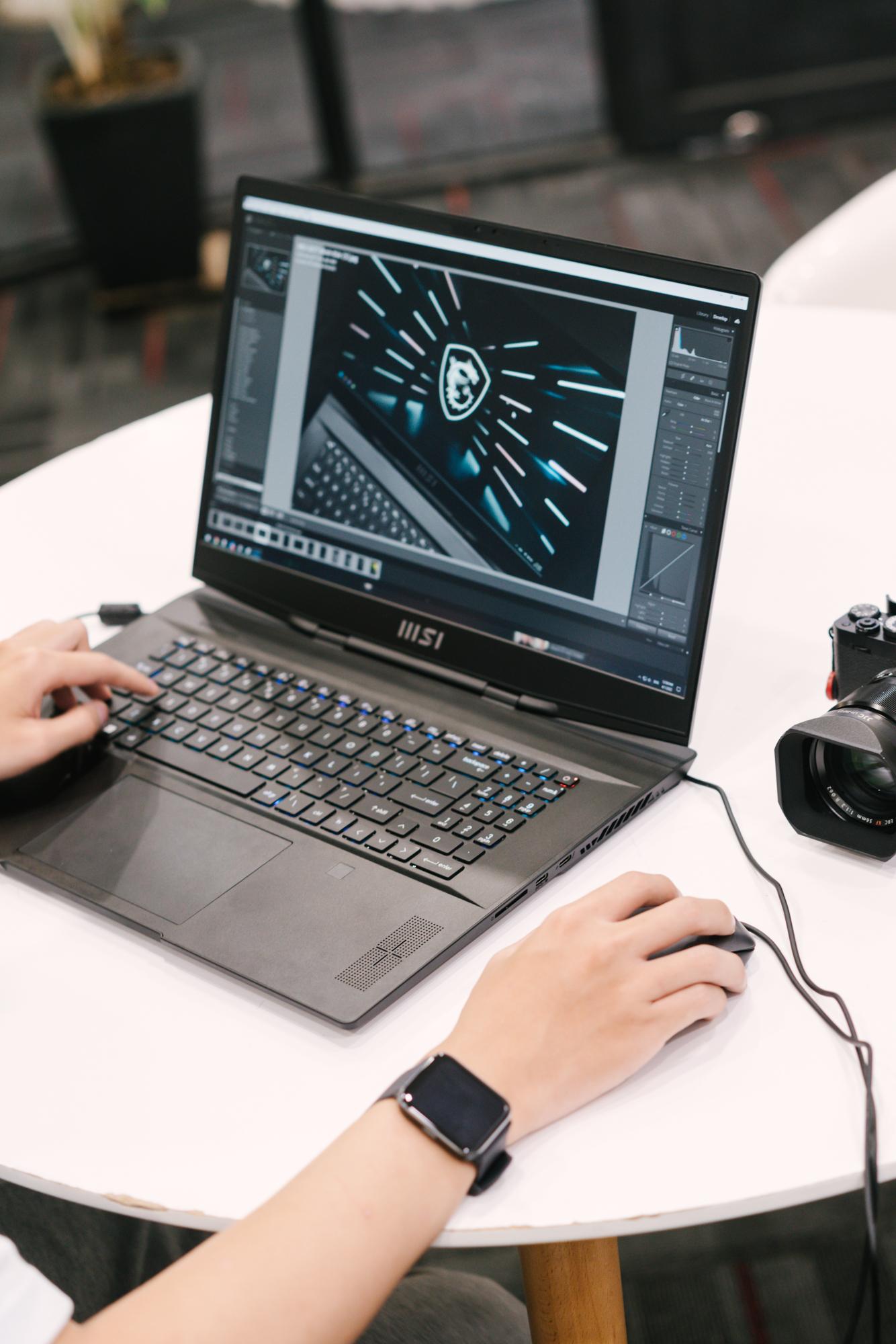 Inside this laptop is one of today's most powerful mobile processors – Intel Core i9-12900H, with up to 40% more performance than the previous generation, alongside an NVIDIA RTX 3080 graphics card. , is also one of the top products in the current time. This duo, when combined, will bring processing power on par with high-end desktop computers, not just compared to other laptops on the market.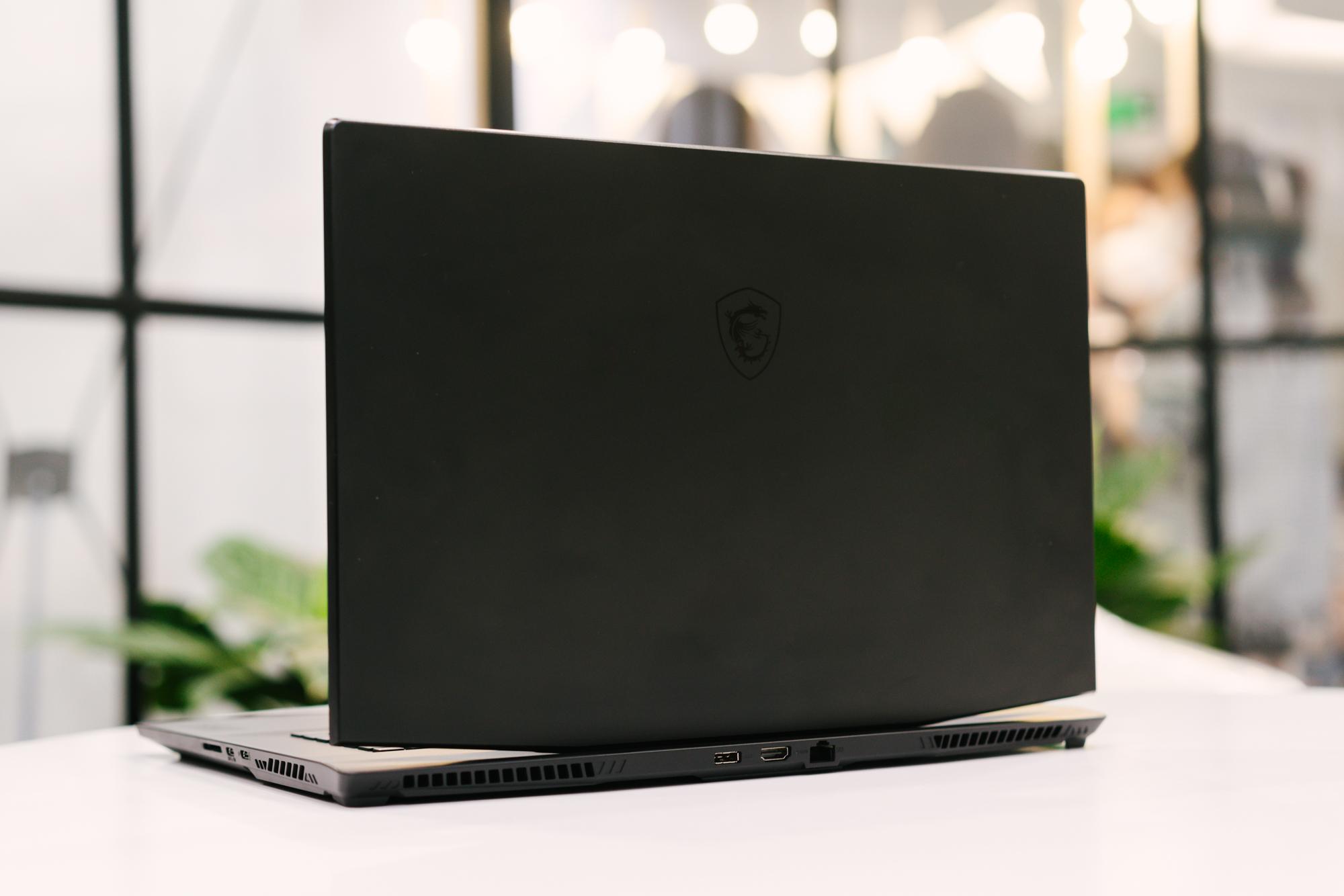 Talking about the configuration of the device, Minh shared: "I'm very happy to be able to edit high-resolution images and 4K videos smoothly. The additional effects are displayed immediately, not causing the image to be frozen like this. The speed of final product production is also significantly shortened, saving a lot of waiting time."
The advantage of the large screen will also be an attraction for content creators like Minh. Stealth GS77-12UX is equipped with a 17.3-inch QHD high-resolution screen, whatever content is displayed will have greater clarity and detail than other laptops on the market.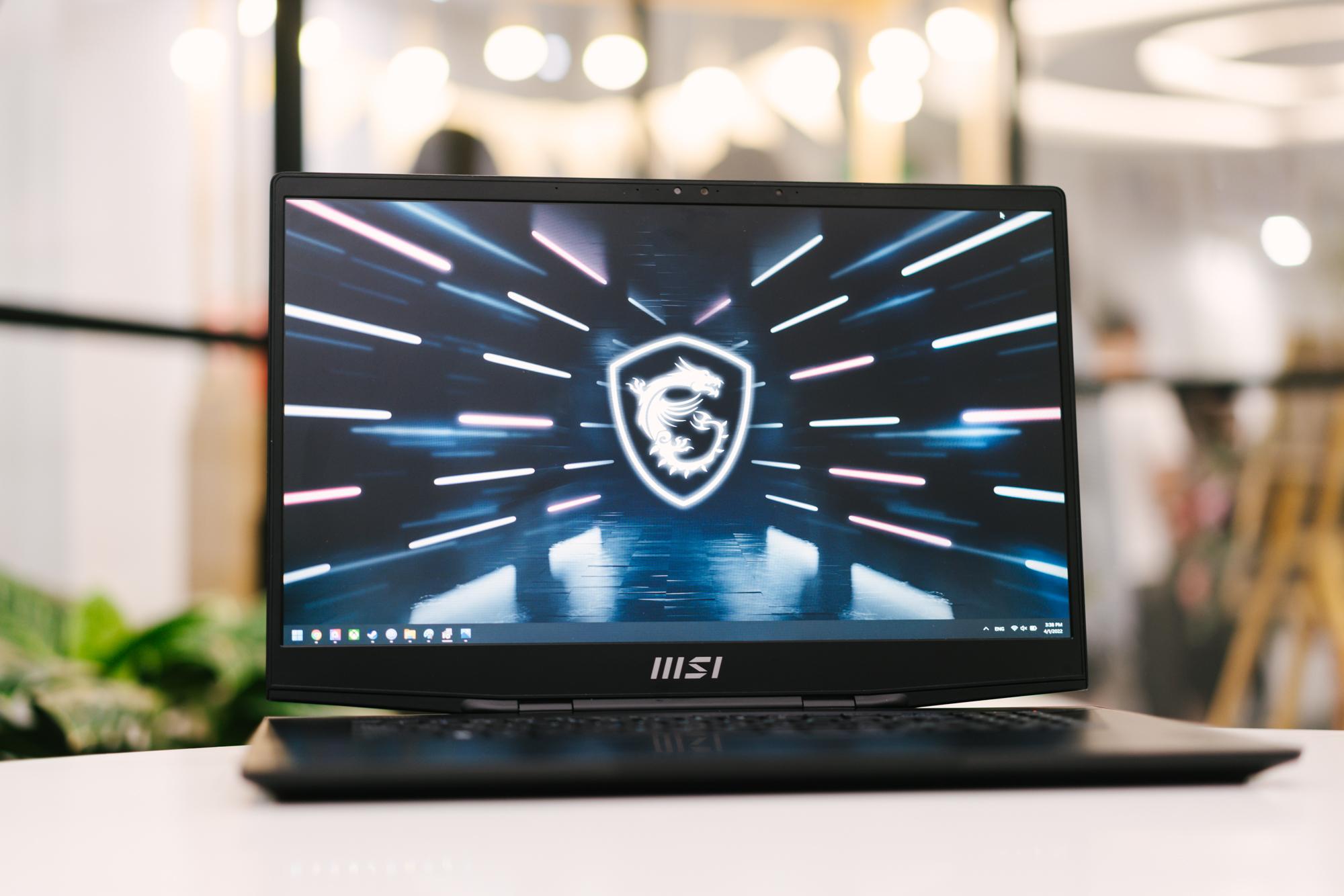 The device is also equipped with up to 2 Thunderbolt USB Type-C ports, 2 traditional USB A ports, a large SD card reader port, a wired network port, HDMI outputs images to an external monitor and high-speed Wifi 6E, without any shortage of anything. a wired and wireless connection does the job at all. We can "say goodbye" to bulky hubs and dongles.
As mentioned, the strength of the Stealth GS77-12UX also lies in the fact that the machine has a simple design so as not to become "out of tune" in the office environment. In addition to the RGB Per-key led keyboard that you can completely customize the lights to your liking through the SteelSeries GG software, the machine has no other lights, no "gaming" details around. . The entire body is made of black painted alloy, if viewed from afar, no one would think this is a gaming laptop.
Minh said that no matter what job he does, sometimes he will have to go to meetings with customers or superiors. A laptop with a polite, simple appearance will win people's goodwill more than a machine that is too ostentatious.
Work hard, play hard too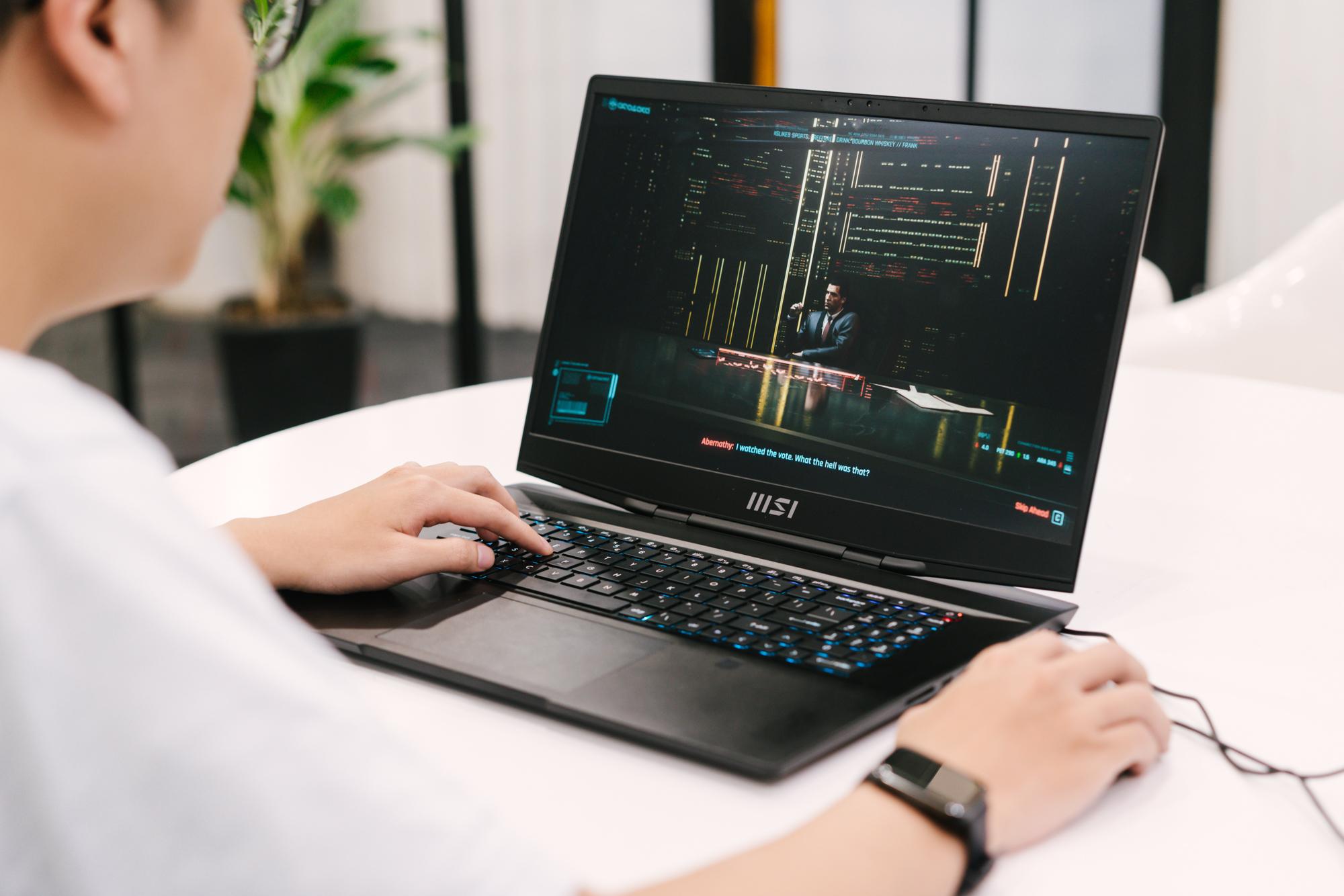 After days of hard work, Mr. Minh returned home to entertain himself, refueling his energy to continue his dedication tomorrow. And now, the MSI Stealth GS77-12UX continues to become his companion. With the advantage of a large 17.3-inch, high-resolution screen and a 6-component speaker system in cooperation with the famous DynAudio sound company from Denmark, this laptop offers an immersive movie entertainment experience, Immerse yourself.
Or even if necessary, this machine can completely expand up to 3 separate monitors through connections such as Thunderbolt 4, USB Type C supports Display Port output, and HDMI supports resolutions. up to 8K 60Hz.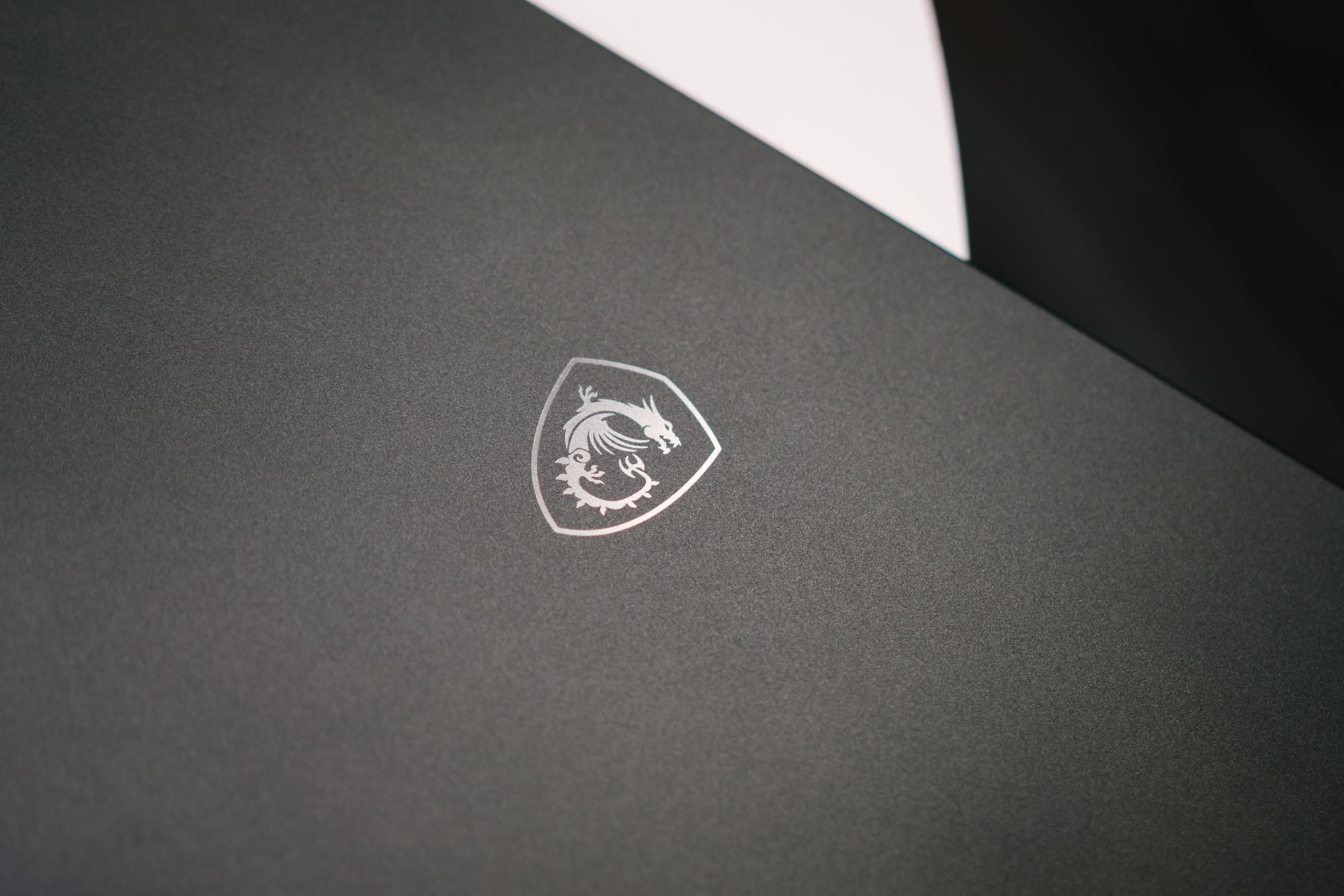 Of course, in essence, the Stealth GS77-12UX is still a gaming laptop, so it will "shine" the most when used for this purpose. The top configuration Core i9-12900H and Nvidia RTX 3080 during the day helps Minh handle the work, then at night it can meet all of today's heaviest games. Combined with that is Discrete Graphics or Nvidia Optimus technology, optimizing the full power of the graphics card for the game.
Whether it's Elden Ring, Rise of the Tomb Raider, Forza Horizon or Cyberpunk 2077, the Stealth GS77-12UX always holds the frame at high graphics levels. With even lighter eSport games than Dota 2, League of Legends or CS: GO, the device even achieves the screen's "dramatic" frame rates of 240Hz, giving Minh advantages compared to his competitors. player.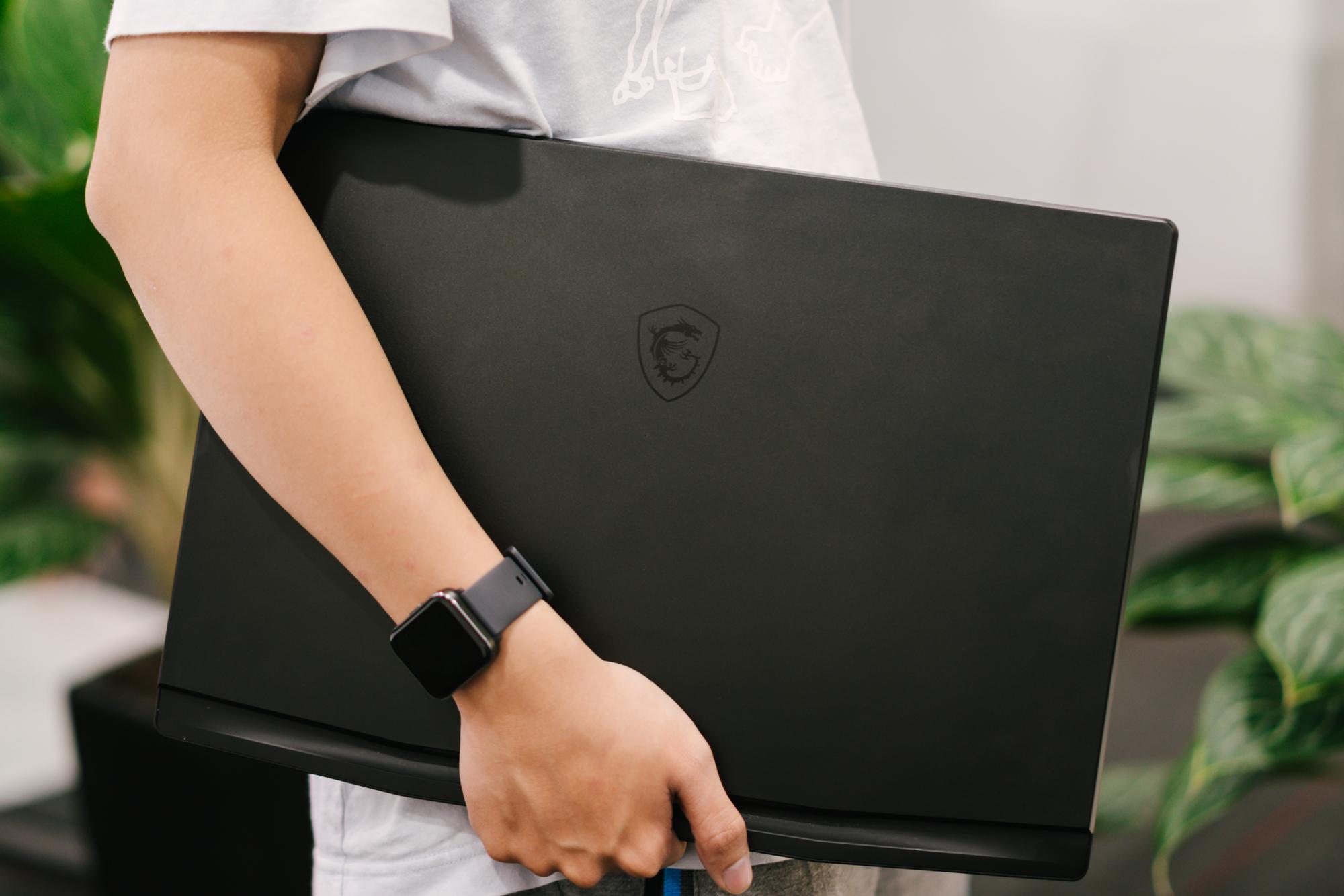 "The greater the power, the higher the heat", equipped with top-of-the-line hardware, the Stealth GS77-12UX must also have a commensurate cooling system. Inside the machine is MSI equipped with Cooler Booster 5 cooling system including 2 fans, 6 copper pipes to enhance airflow, ensuring the "beast" performance of the machine is maintained for a long time.
One laptop to do it all
After a week of experience, Mr. Hoang Minh shared his feelings: "Choosing the MSI Stealth GS77-12UX was a wise choice for me. Before buying the machine, I had to consider buying a separate computer. desk to handle work and a laptop to take everywhere. But now with the new laptop, I can comfortably do anything, anywhere."
The trend of powerful but increasingly thin and light laptops will certainly no longer stop with the Stealth GS77-12UX but will continue in the future.

https://genk.vn/day-la-nguoi-ban-dong-hanh-dac-luc-cua-chang-trai-da-tai-theo-chan-tu-van-phong-toi-khi-leo- rank-20220406151023176.chn