First, I would like to confirm that I am not a big fan of Xiaomi or any Android phone company. I simply love the features of this open operating system, such as easy data transfer and application settings, support for memory card slots, easy charging cable to share with many other devices. each other… And to this day, there's one more reason why I think it's right to "close them" persistently for Android products!
For example, yesterday, my air conditioner remote control suddenly ran out of battery at 2 am. Where can I find a battery to replace at this rate, my dormitory closes the gate from 12 o'clock. I tried to tell my heart to lie down and sleep, but in reality, Saigon's famously hot weather kept me tossing and turning.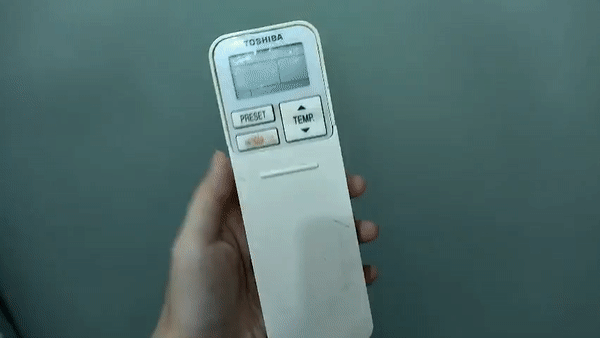 But perhaps it is true that the old saying "it's difficult to see the dry" of the old people, in the peak heat, I suddenly remembered that there was an app to replace the air conditioner control. After 1 hour of searching, the app results are many, but the problem is that the phone must have an infrared sensor to use it.
My hands trembled to search for information on google, thank goodness the type I am using is Redmi 9T – one of the Android smartphone lines with an infrared sensor. By the way, going through a few articles shared online, I just discovered that the iPhone does not have this function at all. Cheers!
After installing the app, I just need to choose 1 of 4 favorite controls on the app, head towards the air conditioner and press the godly button. At a distance of 2 – 2.5m, the app can still control the air conditioner easily. Really like the belly.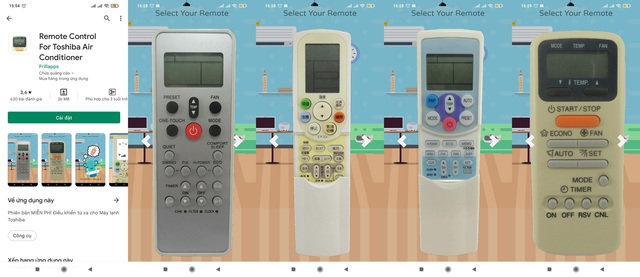 In addition, you can use the control apps available on some phones, such as "Mi Remote" on Xiaomi, "Quick Remote" available on some Samsung/LG/HTC phones to control air conditioning.
Use the Mi Remote app available on Xiaomi to control the air conditioner. App can be compatible with most air conditioners on the current market.
Of course, over and over again, the iPhone can also download a remote app to control home electronic devices, but the premise is that these devices must all be of the smart system – that is, the device must have a connection via the Internet. wifi, bluetooth or via hub port.
Xiaomi's infrared sensor can control common devices in Vietnamese families, from fans, air conditioners, televisions, etc. In fact, in Vietnam, many smart home appliances still belong to expensive form compared to the income of many families, not to mention how to use smart devices is not simple for those who are not tech-savvy, or users who are middle-aged or older.
So, when your home doesn't have smart electronic devices, Android phones like Xiaomi are sincere. Of course, in addition to Xiaomi, there are still a number of Android phones with infrared sensors for your reference such as phones from Samsung, Huawei… Quickly refer to the list below to see if your phone belongs to the infrared sensor system. no. If the remote control at home runs out of battery or is lost one day, just download the app, make sure to use it well and save money… battery money.
Xiaomi series
Xiaomi Mi 4/5/6/7/8/9/10/11
Xiaomi Mi 10 Ultra/11 Ultra
Xiaomi Mi 5s Plus
Xiaomi Mi 4s
Xiaomi Redmi 3s
Xiaomi Redmi 3s Prime
Xiaomi Redmi Note 3 Pro
Xiaomi Redmi Note 4
Xiaomi Max
Xiaomi Redmi Note 3
Xiaomi Redmi 3
Xiaomi Mi 4C
Xiaomi Redmi Note 2/ Xiaomi Redmi Note 2 Prime
Samsung series (phones)
Samsung Galaxy Note 3
Samsung Galaxy S4
Samsung Galaxy S4 Mini
Samsung Galaxy S4 Active
Samsung Galaxy Mega
Samsung Galaxy J
Samsung ATIV SE
Samsung Galaxy Note 3 Neo
Samsung Galaxy Note 4
Samsung Galaxy Note Edge
Samsung Galaxy S5
Samsung Galaxy S5 Active
Samsung Galaxy S5 Duos
Samsung Galaxy S5 Mini
Samsung Galaxy S5 Duos
Samsung Galaxy S6
Samsung Galaxy S6 Edge
Samsung Galaxy S6
Samsung Galaxy S6 Active
Samsung series (tablets)
Samsung Galaxy Note 10.1″
Samsung Galaxy Tab 2 7.0
Samsung Galaxy Tab 2 10.1″
Samsung Galaxy Note 8.0
Samsung Galaxy Note 10.1 2014 Edition
Samsung Galaxy Tab 3 8.0
Samsung Galaxy Tab 3 10.1″
Samsung Galaxy Tab Pro 8.4
Samsung Galaxy Tab Pro 10.1″
Samsung Galaxy Tab S 8.4
Samsung Galaxy Tab S 10.5
Samsung Galaxy Tab 4 7.0
Samsung Galaxy Note Pro 12.1 2014 Edition
LG phone
LG G2/G2 Mini
LG G Flex
LG G Pro Lite
LG Spirit HOUSE
LG Optimus F6
LG Optimus G Pro
LG Optimus L9 II
LG G Pro 2
LG G3/G3 S (Vigor)
LG L90
LG G Vista
LG Volt
LG G Flex 2
LG G4
LG V10
LG G5
LG V20
LG tablets
LG G Pad 7
LG G Pad 8.3″
LG G Pad 10.1″
LG G Pad F 8.0
LG G Pad X 8.0
HTC series
HTC One (M7)
HTC One Max
HTC One (M8)
HTC One (M9)
HTC One M9+
HTC One Me
Sony series
Sony Ericsson P900 and P910
Sony Tablet WILL
Sony Xperia Tablet Z
Sony Xperia Z2 Tablet
Huawei
Huawei Honor 6
Huawei Honor 7
Huawei Honor V8
Huawei Honor 8
Huawei P9 Plus
Huawei Honor 6 Plus
Oppo series
Oppo Mirror 5
Oppo Mirror 5s

https://genk.vn/chuc-nang-nay-o-xiaomi-la-ly-do-toi-van-cam-re-android-ma-khong-sang-ios-20220415184855497.chn