Today's computers are already much more compact than their predecessors, but the researchers wanted to make them even smaller, to the point of being smaller than a grain of rice.
However, one of the main challenges with microcomputers is creating batteries that can fit in them. Given their very small size, the smallest computers have to rely on ultrasonic waves or light to continuously power the batteries with energy from vibrations or sunlight.
These solutions have their weaknesses, as they will not work without an uninterruptible power source or in dark places such as in the human body, in which case they are used as medical devices.
Therefore, scientists in Europe are studying a battery structure'micro', which is based on folding layers of microscopically thin components. For now, it's just a prototype, but early results are encouraging.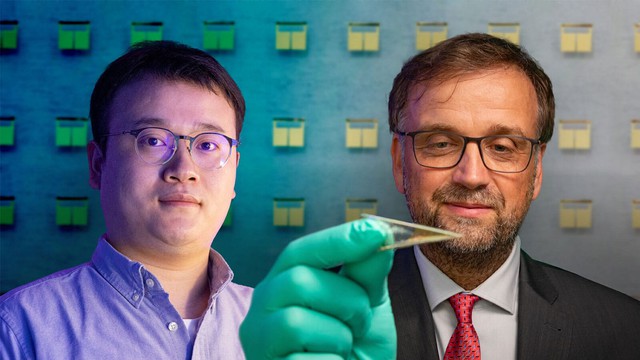 Normal computer batteries work on 'wet chemical method', that is, conductive metal foils are placed in contact with a liquid electrolyte to induce an energy flow. However, microscale batteries cannot use liquid electrolytes.
This new type of micro-battery was created by the inventors by squeezing a solid electrolyte between two microchips covered with an ultra-thin film of electrodes, one positive and one negative. However, solid electrolytes are not nearly as efficient as using liquid electrolytes, so they have to adopt a coiled construction.

By rolling a stack of flat components into a cylinder in a pattern like 'sponge cake roll', scientists can add a lot of surface area into a tight space. This is also how the battery cell on Tesla's electric car works.
At the microscopic size, it is difficult to roll thin materials together. However, there is a way for the material to roll up on its own.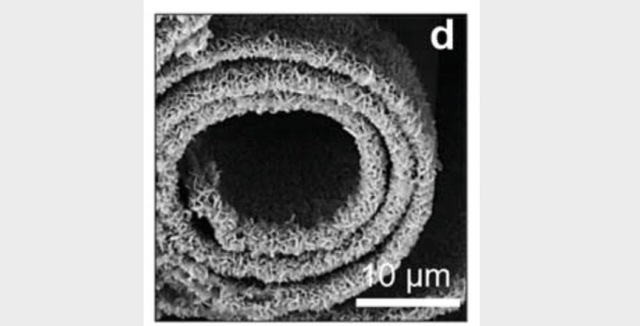 The scientists layered a current collector and electrode strips made of polymeric, metallic and dielectric materials onto the surface of a stretched wafer. The released tension causes the materials to contract, coiling together for an architecture resembling a rolled sponge cake, creating a 'self-winding cylindrical micro-battery'.
This type of battery has a size of 1.1 × 1.69 mm2, a volume of only 0.04 mm3, smaller than a grain of salt. The minimum energy density is 100 microwatt hours/cm2. It can provide 8 times more capacity than a flat battery of similar size.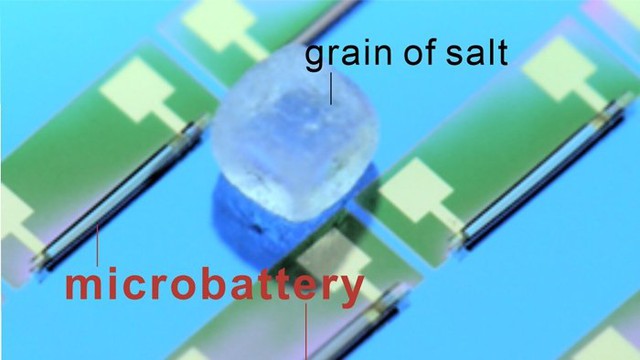 Not only is it rechargeable, the researchers say the battery could power the smallest computers we have for about 10 hours and could be used in some cases like robots and medical devices, flexible electronics and even sensors in the human body.
We've seen these types of devices that can be used from monitoring oxygen levels, monitoring recovery from surgery, to monitoring vital organs. But many types of sensors rely on methods of collecting current, such as converting mechanical vibrations or capturing heat into energy, which will not be able to work reliably in some cases.
The scientists think their rechargeable micro-battery is a solution to this problem.
Physicist Oliver Schmidt from the Chemnitz University of Technology in Germany said: "There is still huge optimization potential for this technology and we can expect much more powerful micro-batteries in the future."
Reference: Sciencealert

https://genk.vn/vien-pin-nho-nhat-the-gioi-co-kich-thuoc-be-hon-hat-muoi-20220302185231587.chn