Do you remember the iPhone X with USB-C port that caused fever before? As it turns out, not only iPhone X but now iPhone 12 Pro Max also ditched Lightning but switched to USB-C, of ​​course not in the official way from Apple.
Slovak company DEEP has successfully modified the Apple iPhone 12 Pro Max, so that it can fully work with a USB-C port. The company has even posted a video of the iPhone modding process.
First iPhone 12 Pro Max with USB-C
After disassembling the phone and removing the Lightning port cable assembly, the company will measure the USB-C connector so that it can be installed on the iPhone 12 Pro Max. Meanwhile, a cable designed for a USB-C port can use the original MFi chip, taken from another device. They are then returned to the machine with a new 3D printed shell. The USB-C end almost perfectly fits where the Lightning port used to be.
In order for the new location of the MFi chip to fit properly, the speaker module must be slightly lowered. After carefully reassembled and inserted a new battery, the iPhone 12 Pro Max USB-C is ready to power on again. According to the company's test, the machine works all functions.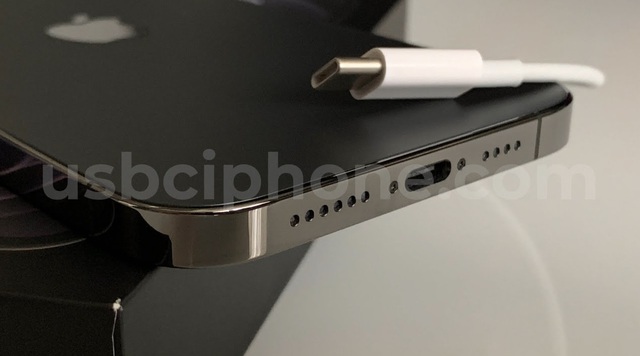 It works with iTunes, connects to Mac, and charges normally with an original Apple charger, using a USB-C to C cable (or USB-A to C cable), all through the USB-C port.
This device is currently being auctioned on eBay. The auction began on Thursday and will end on March 6, at 3 a.m. ET, which is about 15 p.m. local time. The current price is 1,350 USD, about 30.6 million VND.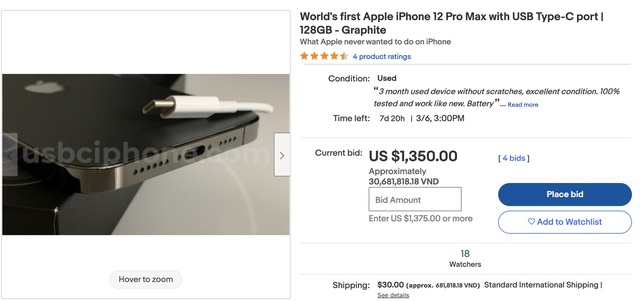 In November last year, Robotics student Ken Pillonel in Switzerland succeeded in getting a USB-C port on the iPhone X and the device was sold on eBay to an auctioneer for $86,001 (nearly 2 billion). VND). It should be noted that USB-C iPhone X by Pillonel is not updateable, nor can it be restored or reinstalled.
DEEP's iPhone will probably have better support because it contains an MFi chip. However, it is still not clear if it can be reinstalled or updated.
Reference: GSMArena

https://genk.vn/chiec-iphone-12-pro-max-dau-tien-the-gioi-co-cong-usb-c-dang-duoc-ban-dau-gia-tren-ebay-20220226190238786. chn