A company called Flowcopter is building the world's first hydraulic drone that, instead of using batteries and electric motors like conventional drones, uses a pump and gasoline fuel, providing range. hundreds of kilometers and flight times lasting hours.
One day, batteries and electric motors will take over the task of powering all the vehicles we use: from cars to giant container ships, even airplanes, but reality today Now gasoline and other fossil fuels can provide power for longer than batteries, with significantly lighter weight.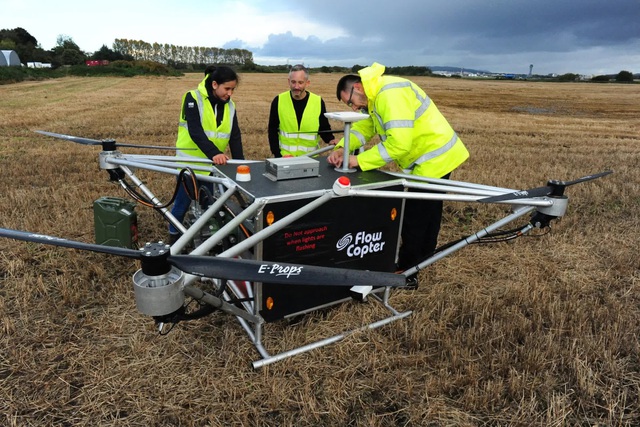 So why don't drones use gasoline instead of electricity? The problem is that the gasoline engine cannot react as precisely as the electric motor, while being able to instantly and accurately adjust the rotational speed of each propeller on the drone is essential for stable control. flight.
The lack of precise control is not an issue on a conventional aircraft where the sole job of the engine is to provide thrust in one direction, but on a quadcopter (4 propellers), each propeller need to be constantly adjusted to resist winds and gravity.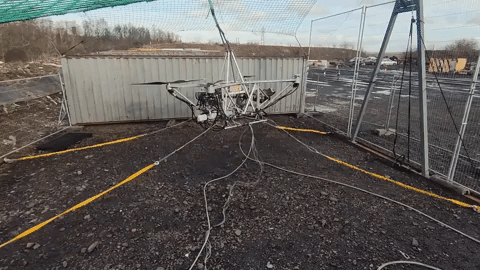 Flowcopter is testing something completely new. Instead of an electric motor powering each propeller, the system uses a hydraulic motor from the endless flow of hydraulic fluid through the tubes and causes the blades to rotate.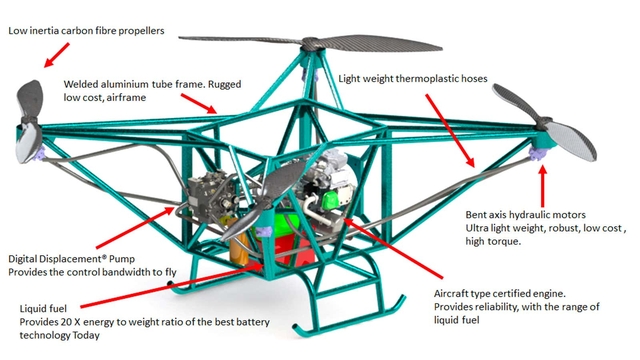 The internal combustion engine on this drone is certified for light aircraft and is connected to a digital metering pump to control hydraulic flow to the engines. According to the developers, this gives it an accuracy comparable to that of an electric motor while delivering significantly more power.
Each hydraulic motor weighs less than 5.5 kg and costs less than $1,000, but can produce up to 129 horsepower.
The world's first hydraulic drone
The company admits that the weight of the hydraulic drone is not light, but when compared to the weight of the lithium battery and the limited range of the electric drone, the hydraulic drone is a promising design.
Flowcopter claims its drone can stay in flight without refueling for up to six hours and operating distances up to 900 kilometers. In short flights, it can carry cargo up to 150 kg.
Flowcopter has been working on working prototypes of hydraulic drones. While test flights still depend on seat belts and aren't ready for cargo, it's an impressive demonstration of the design's capabilities.
Reference: Gizmodo

https://genk.vn/drone-thuy-luc-dau-tien-tren-the-gioi-co-the-bay-6-tieng-tam-hoat-dong-900-km-20220227124530587.chn