The Witcher officially returned on December 17 with the second season after nearly 2 years of absence due to the impact of the pandemic. And immediately, this franchise proved its strong appeal and showed why Netflix has a plan of 7 seasons with so many spin-off projects.
In the ranking of the Top 10 most watched English series of the past week (from December 13 to December 19), the two seasons of The Witcher have taken the first place, with season 2 being watched 142.43 million hours on the internet. worldwide, and season 1 is 49.18 million hours. Notably, The Witcher was only re-aired on December 17. That means this series only needs exactly 3 weekends to climb to the top.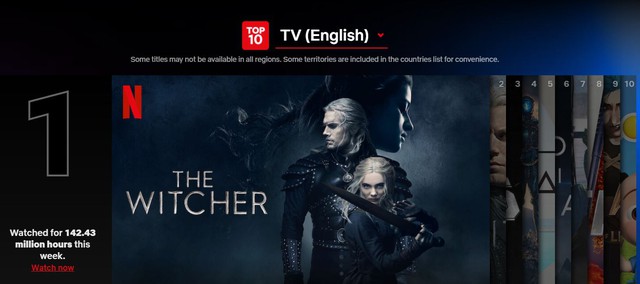 This number certainly won't stop there, because right from its debut in 2019, The Witcher has been rated as one of Netflix's most attractive series. The first season also set many impressive records just a few days after airing. According to statistics from Parrot Analytics, The Witcher is the most popular series in 2019, ranking 2nd in the US and has no competitors in major markets such as the UK or Australia. Therefore, it will not be surprising if the second season will continue to receive more support and more followers in the near future. Besides, Netflix has also officially announced that it will continue to produce The Witcher season 3 since before season 2 aired.
The remaining names on Netflix's list include Titans season 3 (23.81 million hours), Lost in Space season 3 (19.01 million hours), Selling Tampa (14.23 million hours), Lost in Space season 1 (11.96 million hours), Maid (10.62 million hours), Titans season 1 (10.34 million hours), Arcane season 1 (10.01 million hours) and Cocomelon (10 million hours).
According to ScreenRant
.