Forrest Li, co-founder and CEO, is currently the richest person in Lion Island with a fortune of $18.5 billion. Along with Mr. Li, two other co-founders, Gang Ye and David Chen, also recorded a strong increase in assets as Sea shares are up 67% this year.
From China to Singapore
The three founders of Sea are all from China. Chen and Ye came to Singapore as teenagers under the Singapore government's scholarship program to attract foreign talent. Chen studied computer engineering at the National University of Singapore, while Ye studied at Hwa Chong Academy and Raffles Junior College. Then, he earned a bachelor's degree in computer science and economics from Carnegie Mellon University (USA).
On the other hand, Li has an engineering degree from Shanghai Jiaotong University. After that, he worked at Motorola and Corning China campuses, and studied MBA at Stanford. His girlfriend (now wife) also attended the same school. When attending his girlfriend's graduation in 2005, the late Apple founder Steve Jobs was a speaker and made his mark with a very famous speech, urging people to "always be hungry, always be foolish". . These words are deeply imprinted in Li's mind and inspire him to pursue his dream.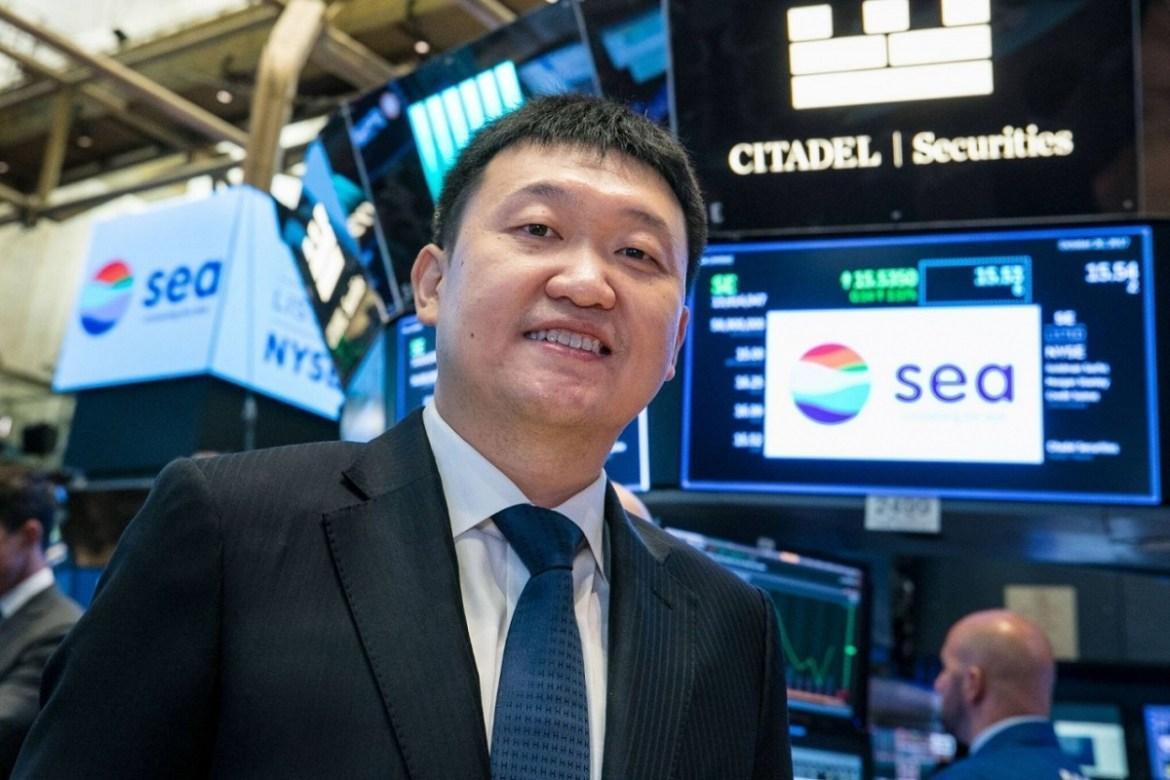 After completing his MBA, Li and his wife moved to Singapore. He worked for the digital division of MTV Network for nine months before starting GG Game, a startup that develops single-player games. Although GG Game didn't last long, it helped Li raise about 1 million USD to redeem the error. He founded Garena in 2009 with Chen and Ye. Garena is a leading online game developer with a footprint in over 130 markets. One of Garena's most popular games is Free Fire, which hit 100 million daily players in the second quarter of 2020. In addition, Garena also exclusively publishes games from global partners, organizes esport events, from national to international tournaments.
In a 2009 interview with TechInAsia, Li described Garena as simply "a community for global gamers". At that time – the first year of operation – Garena had 23 million gamers from 210 countries registered. They quickly expanded their user base through the game platform garena.com. "The most attractive point is that every time you log in, gamers will instantly connect with 400,000 other gamers at the same time. They come from every corner of the world but share the same passion for games," he shared on TechInAsia.
According to Li, their big breakthrough came in 2010 when they signed a publishing contract in Southeast Asia with Riot Games, the unit behind League of Legends. It made Garena profitable for the next 2 years and opened the door to other titles. In this way, they also attract the attention of Tencent, who holds a majority stake in Riot Games.
In November 2018, Garena partnered with Tencent, acquiring the rights to publish Tencent's mobile and computer games in Southeast Asia and Taiwan. As a result, Garena's game portfolio like "tiger grows more wings", continues to strengthen its position as the leading game company in the region.
From games to payments and e-commerce
Garena didn't want to be just an ordinary company, they thought about the way to expand their business. They see a pressing need in serving Southeast Asia's middle class due to exceptionally low banking access. Many adults don't have a bank account, let alone a credit card, so their next platform is payments.
Born in 2014, SeaMoney is a digital payment and financial service provider with a mission to improve the lives of individuals and organizations in the region through financial services powered by technology. SeaMoney's services include e-wallets, transaction processing, credit, digital finance… such as AirPay, ShopeePay, ShopeePayLater…
Garena quickly became Singapore's first tech unicorn and was valued at $1.2 billion in 2014. Currently, the market capitalization of Sea (Garena's parent company) is over $171 billion.
According to the Financial Times, Li decided to introduce the Shopee e-commerce platform in 2015 after his daughter expressed interest in Taobao, Alibaba's (China) e-commerce platform. In 2019, Shopee was one of the two most used e-commerce apps in Southeast Asia, based on monthly users. They are also the most visited e-commerce website, according to iPrice.
Despite being a few years behind competitors Lazada and Tokopedia, Shopee has still made rapid progress. Interestingly, Sea is not yet profitable when Shopee is responsible for most of the group's losses. In the third quarter of 2021, Sea posted a net loss of $450.1 million, up sharply from a loss of $340.8 million a year earlier, despite a 121.8 percent increase in revenue to $2.7 billion.
However, Li sees the loss of Shopee as just a stepping stone to expand the platform. He said, in the company, they do not consider this as a loss because Shopee is not a developed business. "In order to grow at such a high rate, you have to invest first or you will fail. Scale is important to e-commerce," CEO Sea shared in a 2019 interview with the Financial Times.
He also affirmed that Shopee will immediately profit if it reduces sales and marketing costs and increases commissions for sellers. However, increasing market share and floor size is a bigger priority than making money.
In 2017, Garena changed its name to Sea after a $550 million funding round. The new name is inspired by the Southeast Asia region where the company is operating. It is also synonymous with "ocean", which symbolizes their motto "connect the dots". In October of the same year, Sea went public for an initial public offering (IPO) on the New York Stock Exchange, the first Singaporean tech unicorn to do so. The deal immediately raised Sea's valuation to $4.58 billion, making it the most valuable technology company in Southeast Asia. At one time, Sea was the best performing stock on the floor when it increased by 880% in value in just 18 months, surpassing even the "big guys" in the US.
When the Covid-19 epidemic broke out, CEO Sea revealed that he worked at the office 7 days a week from April 2020 to run the company in the most pivotal year. Demand for mobile games and online shopping has increased sharply during the pandemic, while Sea has just been licensed by Singapore to set up a digital bank. Sea also looks for potential deals in gaming, logistics and e-commerce.
Many people call Sea the fusion of Tencent and Alibaba, but founder Forrest Li insists: "We learn a lot from the pioneers. However, in the end, we don't need to be a stripped down version of them. We can be ourselves."