Spen with low latency, close to the lifelike writing experience

With a large screen device, Samsung tablet is not only used for simple web surfing, watching movies, but also a work support device. Since its launch, the Spen has been one of our favorite technology devices for its usefulness, gradually upgrading to the lowest latency writing experience on a 120Hz display.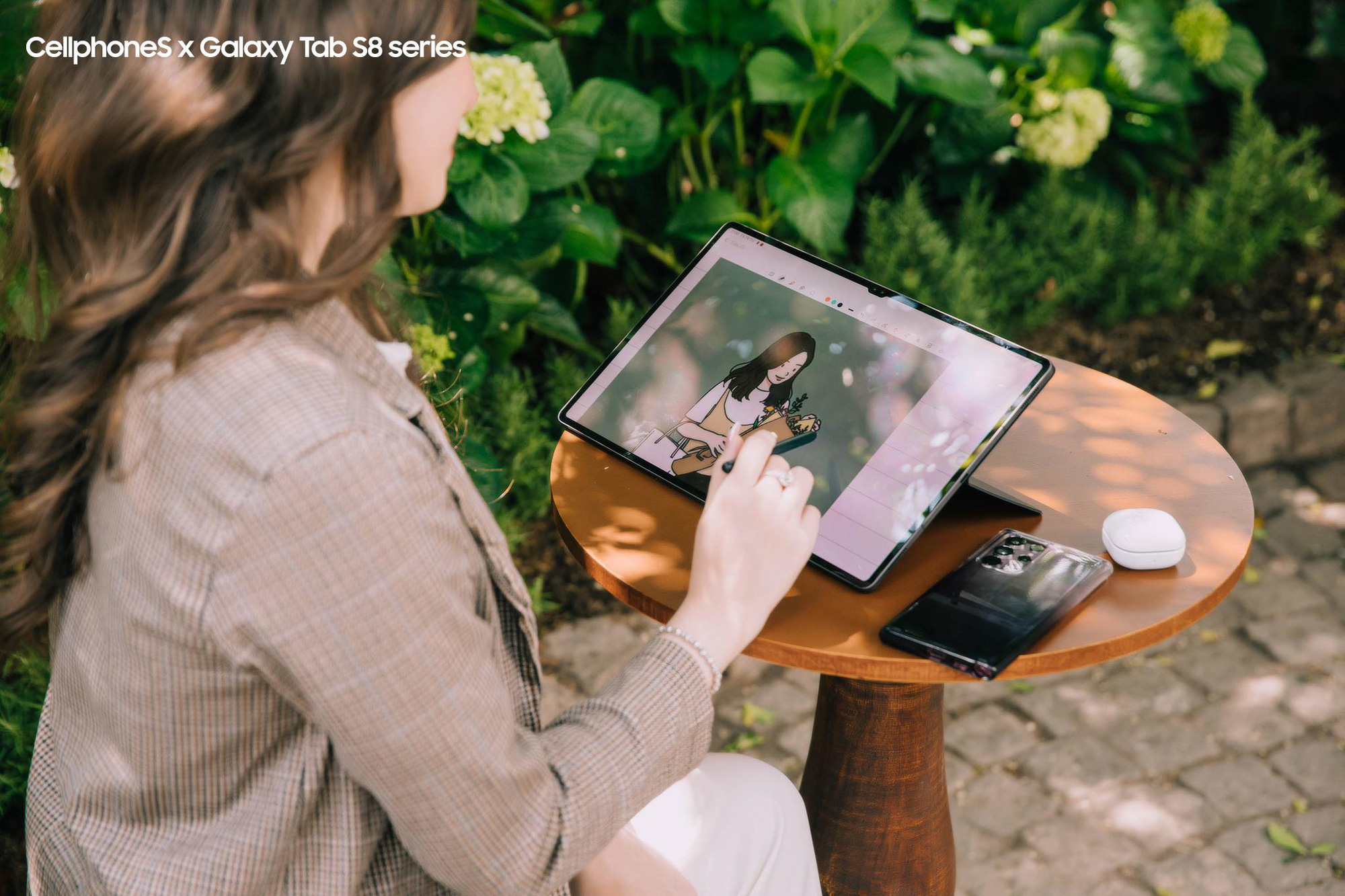 The experience of writing and drawing with the Spen far surpasses that of other competitors
Samsung also focuses on optimizing the Notes application combined with SPen to take notes, draw images, sketch ideas, color, convert text to text, write on the screen off… Based on feedback from users , adds many upgrades such as displaying two pages side-by-side, annotating image files, and faster syncing notes across devices…
Work efficiently with the keyboard cover
Samsung Galaxy Tab S8 series combined with a keyboard cover for an experience similar to working on a computer, typing and editing are faster. Users can also place the tablet at different angles depending on the purpose of use. The device also features Wireless Keyboard Share that helps link the connected keyboard to a Galaxy smartphone, making it easy to type on many different devices.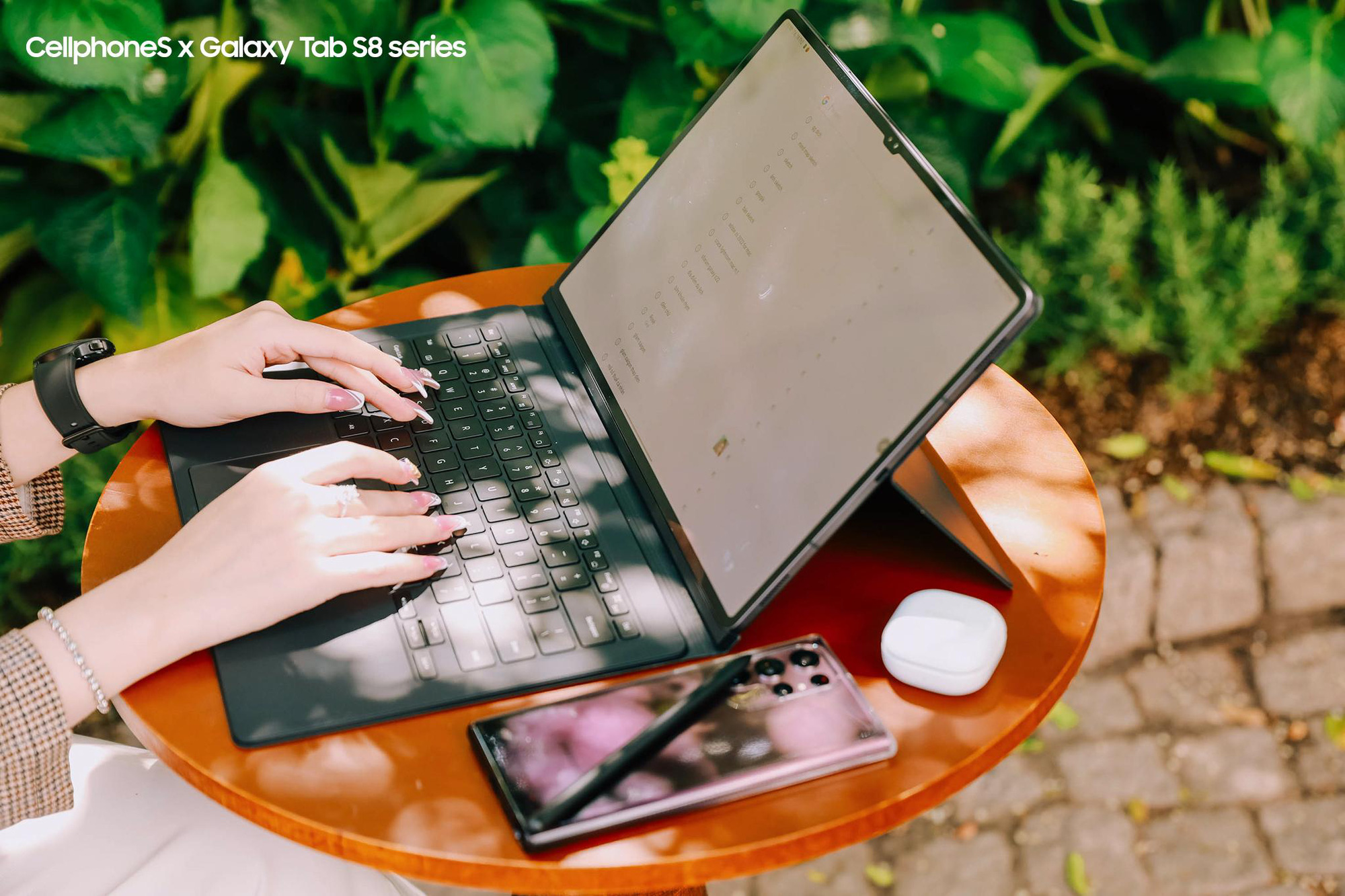 With keyboard cover, Galaxy Tab S8 series becomes flexible in text input.
Keyboard cover with integrated track pad for Samsung Galaxy Tab S8 Ultra helps to expand the keypress wider with backlight, can customize shortcut settings and stand angle easily.
Samsung DeX makes the tablet multi-tasking with many real applications
With many DeX enhancements, support for converting devices from tablet to desktop mode, making multitasking with multiple application windows easy. The Galaxy Tab S8 Series can even be turned into a second portable display to work side-by-side with a PC thanks to the touchscreen.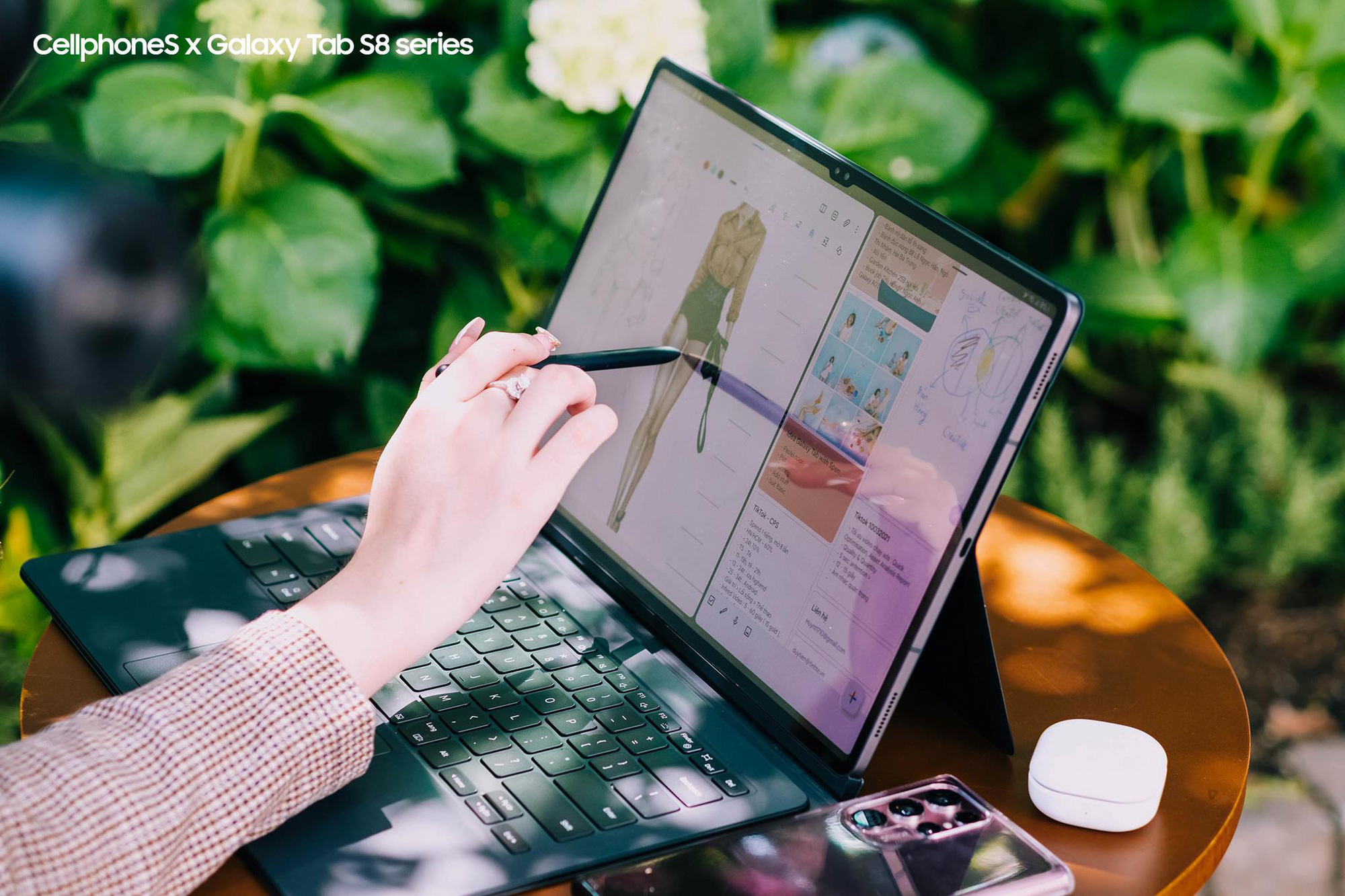 Samsung DeX makes multitasking a tablet screen with multiple application windows easy.
The newly launched tablet line is also the pioneer generation to support Wi-Fi 6E, providing twice the bandwidth and maximum speed; 5G enables fast and secure content sharing. The company also cooperates with LumaTouch – a professional video editing tool like a desktop computer.
Big size in a slim body
For people who are often on the move, a compact working device that still has a large display space will be a priority. This desire is met by Samsung by increasing the screen width while treating the screen bezels thinner. Armor Aluminum material helps limit warping, scratches, and increases durability when used.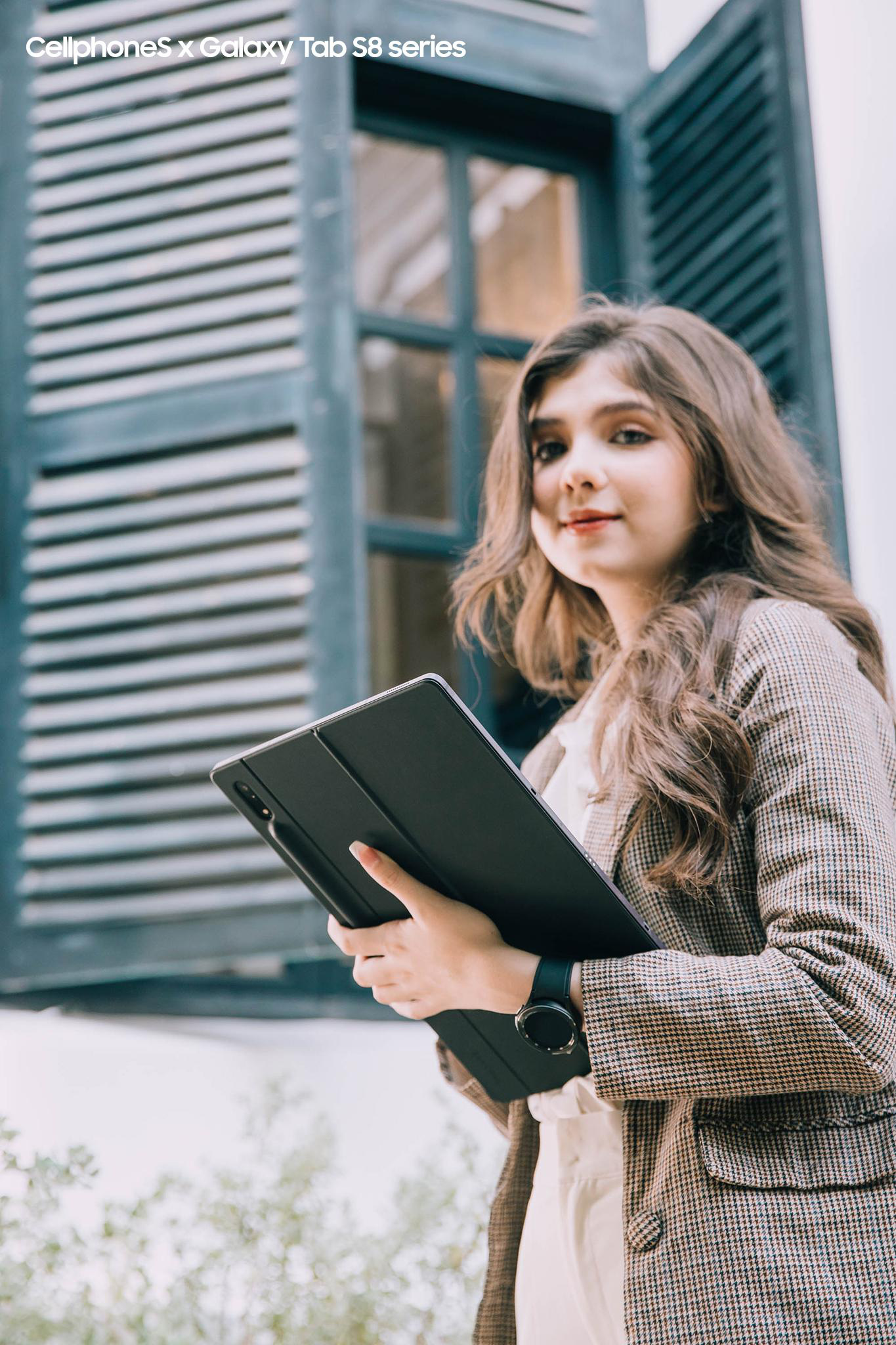 Galaxy Tab S8 Ultra owns a screen up to 14.6 inches.
From now until the end of March 3, customers who pre-order Galaxy Tab S8, S8+ and Tab S8 Ultra will receive attractive offers:
– Cover cum keyboard worth 4 million, accessory shopping voucher up to 2 million discount for Galaxy Tab S8 and Galaxy Tab S8 Plus.
– Cover cum keyboard (version with trackpad) worth 7 million, accessory shopping voucher down to 4 million for Galaxy Tab S8 Ultra exclusively at CellphoneS.
– Additional 4 million discount when buying with Galaxy S22 series phones.
– Additional 2 million discount when selling used machines to life.
– Direct reduction of 1 million when paying VNPAY.
– Additional 50% off when buying with Samsung accessories (applicable to PMH accessories).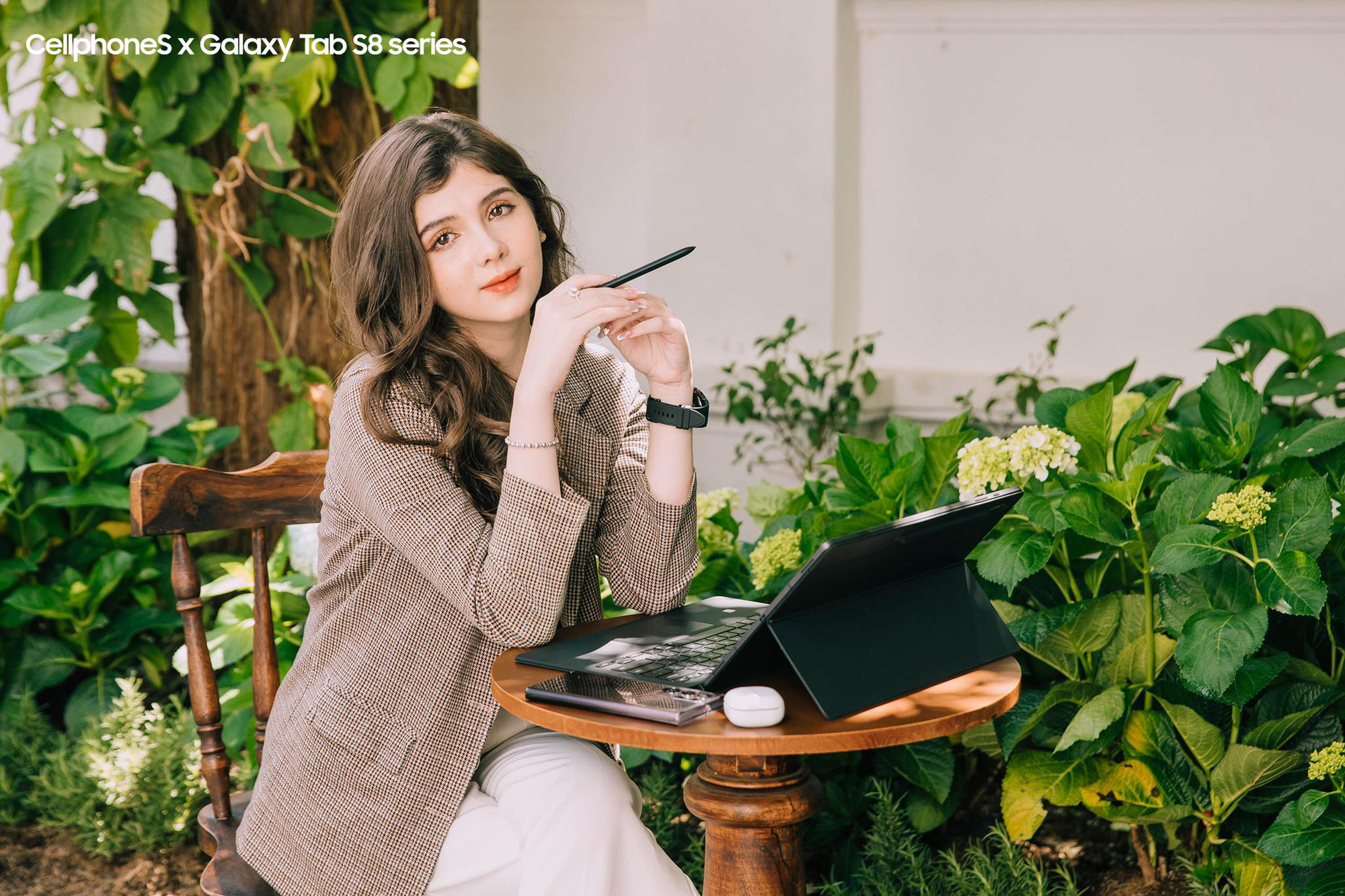 Customers interested in how much the three Samsung Tab S8 series products cost can refer to more details about the best price offer at the CellphoneS website. Please contact the hotline for free advice on product information, selling prices, order via the free call center 18002097 or go directly to more than 70 stores of the CellphoneS chain.

https://genk.vn/ly-do-khien-galaxy-tab-s8-series-chiem-linh-may-tinh-bang-cao-cap-20220225163936752.chn