Managing and exploiting big data (Big Data) on the basis of data science and artificial intelligence is becoming a trend and a core factor in business development in the 4.0 era. Based on the results of multi-dimensional data analysis from many different sources, businesses can not only evaluate the efficiency of investment, management, business and better understand customers, but also predict fluctuations. market in the future for effective investment strategies and appropriate operations.
Big Data is promoted in many fields, including real estate. Photo: freepik
Big data is constantly changing the way Vietnam's real estate industry operates in both quantity and quality. All activities from market research, investment support, valuation… are more or less affected by Big Data. Facing the challenge of the times, old-style database management systems are forced to upgrade and increase data knowledge mining capabilities. Therefore, investing in Big Data technology can help businesses generate the growth they need. In addition to integrating the ability to effectively store information, enterprises now need to improve their data knowledge mining capacity to find undiscovered "market touchpoints", creating new trends, Anticipate factors that can influence and increase your chances of success.
In an era where the world economy is shifting from being overly dependent on mother nature's limited resources to an economy of information and intelligence, data in the not-so-distant future will become the most valuable resource. Precious oil needs to have a plan for exploitation, good use, and conservation activities.
TopenLand real estate platform and DataFirst M&A deal exploit data knowledge towards solutions serving the real estate community in the sharing economy.
Showing the spirit of always applying the innovation and speed of science and technology to solve problems, TopenLand – a key real estate platform invested by Hung Thinh Corporation was born with the aim of empowering people all to connect, share, create value for everyone. TopenLand wishes to make transactions transparent, expand cooperation opportunities and bring benefits to all investors, real estate product distributors, brokers, plus service providers such as: : Financial consulting services, legal advice, valuation, notarization on request, interior design and construction consulting and many other services.
With a young population structure and a passion for technology, the application of Artificial Intelligence (AI) and Big Data in the real estate sector is only available at TopenLand, which is expected to improve many limitations. in traditional real estate such as shortening all transaction processes, simplifying procedures, saving time, optimizing costs… in order to satisfy the tastes of customers with real estate business needs. legitimate real estate.
Targeting for the market and for the market, TopenLand M&A DataFirst – a real estate deep data company with over 10 years of industry data. With this deal, TopenLand officially becomes a pioneer in exploring data-driven real estate investment culture. In addition, TopenLand also prioritizes the application of artificial intelligence to perfect the technology real estate ecosystem (Proptech) combined with finance technology (Fintech), affirming its challenging leadership position in Vietnam. .
After the M&A deal, DataFirst will play an important role in analyzing and researching the large database accumulated over many years of Hung Thinh Corporation – TopenLand's strategic shareholder, in order to provide technical solutions. , quality products and services, propose forecasts, analyze the real estate market in depth.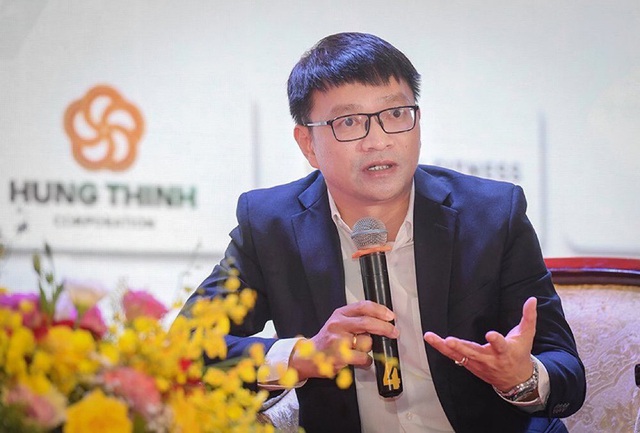 Mr. Vo Van Khang – Deputy General Director of Hung Thinh Corporation at the M&A signing ceremony. Photo: Hung Thinh Corporation
TopenLand is aiming to prioritize the application of knowledge mining based on big data into the sharing economy, towards fairness and transparency of information for everyone.
According to Mr. Vo Van Khang – Chairman of TopenLand and Deputy General Director of Hung Thinh Corporation, 2021 marks an important milestone for Hung Thinh Corporation on the technology front.
"We have continuously invested methodically in building a Proptech and Fintech platform, in which the application of artificial intelligence (AI), big data exploitation (Big Data) to create utilities are the the important goal that we aim for", Mr. Khang said.
The TopenLand real estate platform will be the place to provide full information about products and customers, make smart connections, clearly demonstrate the features of the sharing economy platform, get transparency, safety, and convenience as the motto of operation, where everyone can participate and succeed with real estate.
"Through the M&A DataFirst, we have gradually improved the ecosystem and consolidated the deep database of Real Estate. TopenLand was able to provide a 360-degree picture around real estate products serving customers. products," said a representative of the group.
.