The famous movie "The Terminal" played by actor Tom Hanks tells the story of a man trapped for many years at the airport due to a coup happening in his hometown. For many years, the man had to live at the airport and in his heart always wanted to return to reunite with his family.
Contrary to Tom Hanks' movie character, a real-life Chinese man has also lived inside the airport for 14 years, but this is a completely free decision on his own.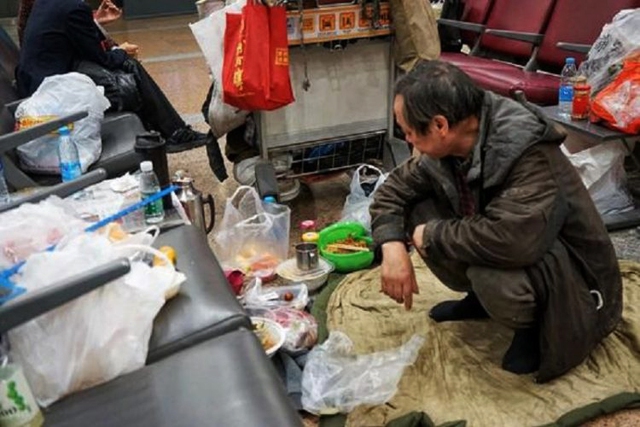 After losing his job at the age of 40, Wei Jianguo became depressed and was often in the company of alcohol and cigarettes. His family did not like this and said he had to give up these two hobbies if he wanted to continue living in the family home.
Wei could not fulfill this condition, so he took the initiative to leave home to find Beijing airport and choose life as a homeless person.
Wei Jianguo shared: "I couldn't return home because I didn't have the freedom there. My family told me that if I wanted to stay, I had to quit smoking and drinking. If I couldn't do that, I had to give it to them. they all have a monthly government allowance of 1000 yuan (US$157.) But then how will I buy cigarettes and alcohol?"
Wei said that he could always come home whenever he wanted, but he really didn't want to. In fact, Wei has been arrested by the police to his home in Beijing's Wangjing neighborhood several times over the years, but he always runs away from home to return to the airport.
The man chooses to live at the airport instead of at home.
The airport's modern amenities and facilities provide Wei with everything he needs, and he can do what he likes without being nagged by his family.
The unemployed man, now in his late 60s, uses a rice cooker to prepare his food in the airport terminal, but he sometimes buys groceries from one of the many restaurants there, which offer a wide variety of dishes. Delicious food with reasonable prices.
Wei Jianguo stores his kitchen utensils, blankets and clothes in several suitcases. He insists that just that is enough. Wei feels happy because he has the freedom to do whatever he wants.

https://genk.vn/nguoi-dan-ong-song-14-nam-o-san-bay-de-tranh-bi-gia-dinh-can-nhan-20220404162207088.chn