American scientists have just created the first living robotic system and named it xenobot. They say the new life form was able to reproduce in a way that does not exist in both plants and animals.
Made up of stem cells from the African clawed frog (Xenopus laevis), the xenobot measures less than a millimeter across. They were first announced in 2020, in an experiment demonstrating their ability to move on their own, cooperate with other individuals and heal themselves.
In a new research report, scientists at the University of Vermont, Tufts University and Harvard University's research institute have discovered a type of biological reproduction that has never existed in any known life form. Biology professor and new study co-author Michael Levin was surprised by the new discovery.
"Frogs have their own way of reproduction, but when you … separate cells from the embryo, you give them the opportunity to find a way to grow in a new environment. Not only have they figured out how to move on their own, but they also seem to have found a new way to breed".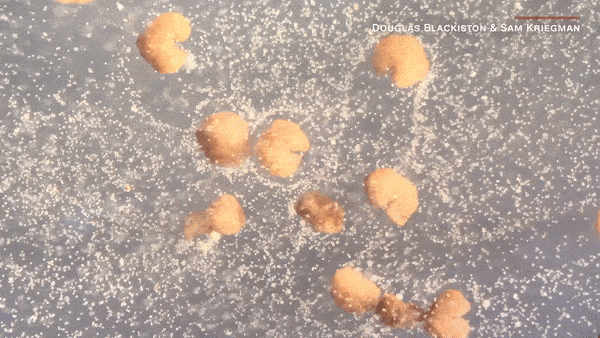 Robot, or life form?
Stem cells are cells with no specific function that have the ability to develop into another type of cell. To build the xenobot, the researchers scraped live stem cells from frog fetuses and let them grow on their own. Genes are kept in their original state.
"Most of us think robots are made of metal and ceramic, but the definition of a robot comes from its action, which is to operate instead of a human.', said Josh Bongard, professor of computer science and robotics expert at the University of Vermont.
"In that sense, it's both a robot and clearly a life-form made up of frog cells with no genetic modification.".
According to Bongard, the team discovered the cloning ability of xenobots, spherical creatures made of 3,000 cells. However, the reproduction process only takes place under certain conditions. The xenobots use the "kinetic replication" (roughly translated as dynamic regeneration), a process that takes place at the molecular level but has never been seen at the cellular scale, in life.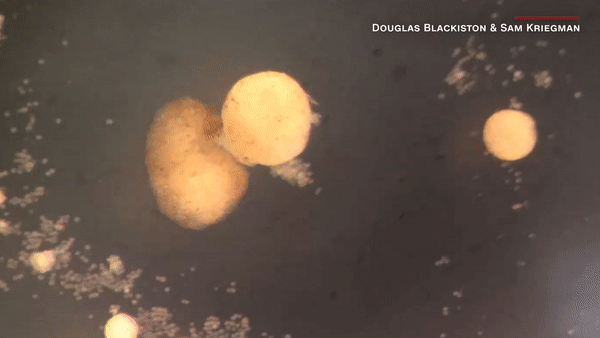 With the help of artificial intelligence, the researchers tested the xenobot's billions of different body structures, in order to find out which shape would most effectively replicate the dynamics. The supercomputer inferred a C-shaped figure similar to that of Pac-Man (:v), a popular character from the video game of the same name. In a petri dish, tiny stem cells collect hundreds of cells in its "mouth" into a mass, which then forms a new xenobot after a few days.
"Artificial intelligence does not program these tiny machines the way we write programming languages. It shapes, creates, and finds this form of Pac-Man," said Mr. Bongard. "Basically, this shape is the computer program. Its shape influences the xenobot's behavior, while amplifying its development surprisingly".
This xenobot technology is still very new, comparable to a computer in the 40s context, when there was no real application. However, the way biomolecules are linked to artificial intelligence can be applied to many models and research environments. Scientists are thinking about collecting microplastics in the ocean or recovery drugs.
To assuage concerns surrounding the concept of self-replicating technology, the researchers assert that these life forms are strictly controlled in the laboratory and easily destroyed. They are all biodegradable, and all the processes involved are overseen by humane experts.
"There are thousands of possibilities if we take advantage of the flexibility, as well as the ability of the new cell to solve problems.", said Mr. Bongard.
The study was funded in part by the Defense Advanced Research Projects Agency (DARPA), and was published in the scientific journal PNAS earlier this week.
According to CNN
.