In the internet sector, Sequoia Capital is one of the leading global investment funds and moreover, the leading investor in the internet industry in China. Receiving investment from Sequoia Capital often means they will have the potential to be an industry leader. Recently, the company started to increase its investment in the crypto space.
But yesterday, this world's leading investment fund surprised the world when it changed the form of its operation. Now, their profile on Twitter is no longer a "company" (or company), instead it is a "DAO" (or decentralized autonomous organization).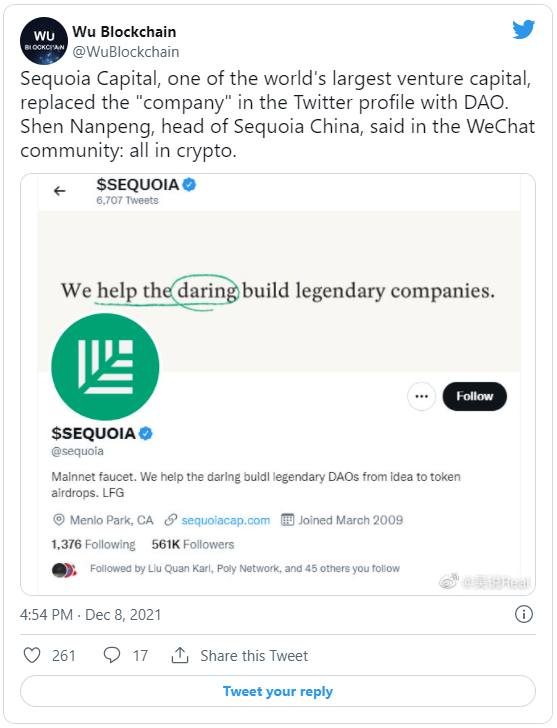 Not only that, but Shen Nanpeng, the head of Sequoia China also announced on WeChat: "All hands on cryptocurrencies".
Sequoia India's Twitter account followed suit by changing its position to "metaverse" with the statement:Sequoia India helps super-developers hiding across India and Southeast Asia build legendary DAOs from Discord to the metaverse and beyond."
Sequoia has recently begun to increase investment in the crypto space, but the recent change on Twitter shows that the fund is looking to go a step further in reinforcing its commitment to the community. cryptocurrency.
Since 2017, Sequoia Capital has been involved in the 3 largest Chinese crypto projects at the time, including the Binance exchange, bitcoin mining equipment manufacturers Bitmain and Huobi Global, as well as many public blockchains. is different.
As the crypto market crashed in 2018, Sequoia Capital and many other traditional hedge funds began to lose interest in the industry. However, as the market recovered in 2021, Sequoia quickly re-entered the cryptocurrency market.
In January of this year, Sequoia said it had just completed an investment in Dragonfly Capital and became a strategic partner of this fund. In May of this year, Sequoia China also participated in a $50 million Series A funding round for Babel Finance, a cryptocurrency financial services provider.
Since 1972, Sequoia Capital has been the investment fund behind most of the success of many of the world's tech giants including Apple, Google, Oracle, Nvidia, GitHub, PayPal, LinkedIn, Stripe, Bird, YouTube, Instagram, Yahoo, Cisco Systems, WhatsApp and Zoom.
.