According to the latest space news, the US space agency (NASA) will be broadcasting the unique mission of the Double Asteroid Redirection Test (DART) mission live on the agency's Youtube.
DART is expected to begin its journey at 1:20 a.m. ET on Wednesday, November 24, 2021.
DART will be launched by SpaceX's two-stage, 70-meter Falcon 9 rocket from Vandenberg Space Force Base, California, USA. If all goes according to plan, it should reach its destination in September 2022.
DART's nearly 10-month journey is a unique 11 million km journey of self-destruction by NASA. To date, no spacecraft has crashed into an asteroid to self-destruct. Why is DART a 'suicide' mission?
DART – A MISSION OF CONFIDENTIALITY
The mission that NASA is about to livestream is called the Double Asteroid Redirection Test (DART) Mission.
DART is a planetary defense-oriented test to prevent a destructive impact on Earth by a dangerous asteroid. More broadly, DART is the first demonstration of a kinematics technique to alter the motion of an asteroid in space, NASA said.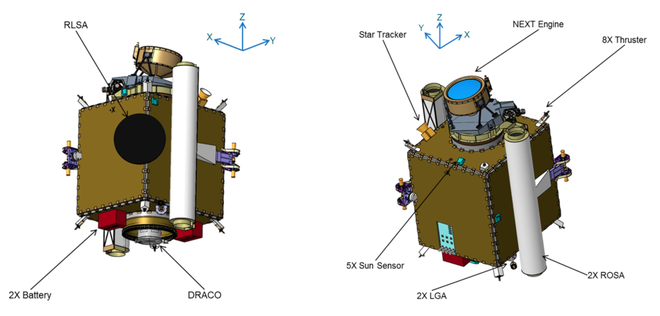 Two different views of the DART spacecraft with different specialized equipment for observing and crashing into asteroids. Photo: NASA
In the framework of DART, NASA will launch a spacecraft nearly 7 million miles (equivalent to 11,265,408 km) to crash itself into an asteroid.
The box-shaped spacecraft is 1.22 meters wide, 19 meters long, compared to the Colosseum-sized asteroid that it is about to destroy, it is only a Pebble vs Colosseum – Large Colosseum in Rome.
This asteroid is called Dimorphos, 163 meters wide.
Although small, but according to NASA calculations, the spacecraft performing DART will make a collision with enough thrust to cause the asteroid to change its path.
NASA is testing whether such a nudge could one day redirect a rogue space rock toward Earth.
Scientists do not currently know of any dangerous asteroids that border the Earth, but NASA estimates that they have detected only about 40% of near-Earth asteroids with a radius of 140 meters or more. Such an asteroid could flatten an entire city.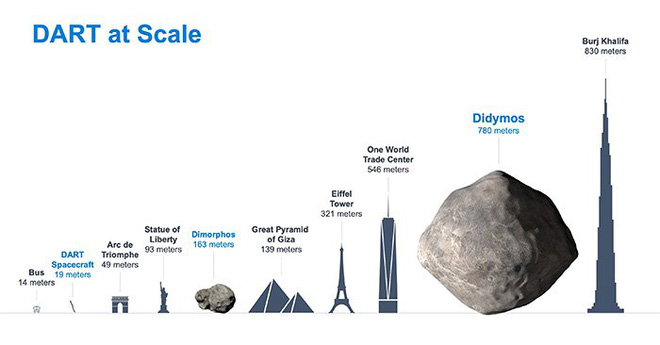 Compare the sizes of objects on Earth and meteorites. Source: European Space Agency (ESA) Office of Science
According to Tom Statler, a NASA astrophysicist working on the mission, DART is a two-pronged test of how to protect the planet.
"The first test is to test our technological ability to hit an asteroid. And the second test is to check the reaction of a real asteroid when hit. The first test ends and the second begins at the moment the spacecraft is smashed to pieces", he said.
The asteroid's response to impact will help NASA determine the size of future probes to move their targets.
NASA IS FINDING EVERYWAY TO SAVING THE EARTH
NASA could save Earth from an asteroid capable of flattening a city – with 5 to 10 years' notice.
Over the course of 10 consecutive months, DART will accelerate towards a pair of asteroids. The first is a small moon called Dimorphos. Dimorphos orbits Didymos. DART is aiming for the moon Dimorphos. At 163 meters wide, Dimorphos is much smaller than its 780 meter wide companion Didymos.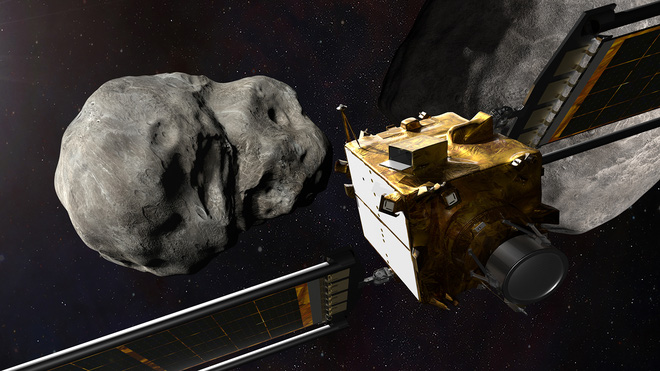 An illustration of NASA's Double Asteroid Redirection Test (DART) Mission, or DART, as it approaches the target moon around the asteroid Didymos. Photo: NASA / Johns Hopkins APL
Neither Didymos nor Dimorphos pose a threat to Earth, but they are ideal for testing what NASA calls a "kinetic impact" approach – crashing a spacecraft into an asteroid at high speed. high to push it in another direction.
It's a complicated feat, as DART won't be able to see the asteroid Dimorphos until an hour before impact. But NASA engineers programmed the spacecraft to quickly calculate the asteroid's center and strike it head-on.
The spacecraft will slam into the center of Dimorphos at 24,140 km/h (6,000 m/s), transferring its kinetic energy to the asteroid and pushing it closer to Didymos.
NASA estimates that the impact will cause an explosion of rock material between 90,000 and 99,790 kilograms, which could generate a greater thrust than the DART itself. As a final expected result, the asteroid Dimorphos will orbit the large rock Didymos at least 73 seconds faster than before.
Although the collision will happen about 11,265,408 kilometers (more than 11 million kilometers) from Earth, scientists will make meticulous observations with their telescopes to see how the asteroid's orbit changes. . This is equally important.
If this method works, it could one day save the Earth from a vast asteroid, capable of flattening an entire city on Earth.
Experts had previously suggested that to use a DART-like mission to deflect such a threat, NASA would probably need about five to 10 years of notice of a near-Earth asteroid. soil.
That's because it takes years to design and build a spacecraft, then months or years to travel to the asteroid. Furthermore, the probe may need to hit an asteroid a year or two before its orbit intersects with Earth. The slight nudge of the spacecraft's impact would initially only cause the rock to deflect slightly, but over time that shift would sweep it away from Earth.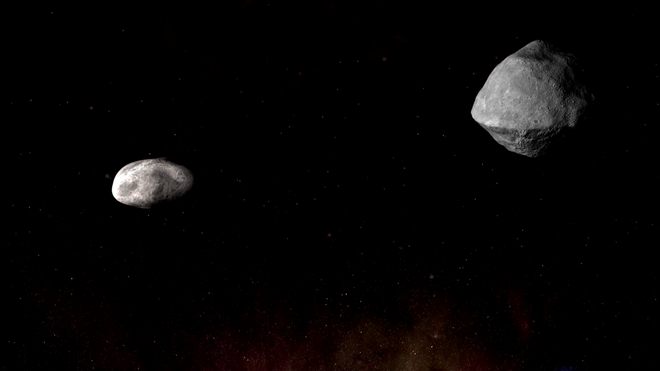 A pair of Dimorphos (small) asteroids orbiting Didymos. In which, Dimorphos is the destination of DART. Photo: ESA
To identify dangerous asteroids and give Earth enough time to prepare, NASA is building a space telescope called the Near-Earth Object Surveyor to track asteroids. Glass 140mm or larger.
Currently, astronomers estimate that about 40% of such asteroids orbit the Sun close to Earth, but NASA hopes the telescope will bring that category up to 90%.
Astronomers on Earth will soon be able to see if DART is working. After that, the European Space Agency (ESA) plans to launch a follow-up mission, called HERA, to examine Didymos and Dimorphos in 2026. HERA will study the aftermath of the collision.
HERE is set up to map the asteroid Dimorphos, accurately measure its mass, and examine the crater that DART caused there.
NASA ACTIVITIES ABOUT DART
The NASA-directed Double Asteroid Redirection Test (DART) Mission to the Johns Hopkins Applied Physics Laboratory (APL) with support from several NASA centers: the Jet Propulsion Laboratory ( JPL), Goddard Space Flight Center (GSFC), Johnson Space Center (JSC), Glenn Research Center (GRC) and Langley Research Center (LaRC).
Before and during the DART mission, NASA has a number of activities for the public to participate in. The public can register to attend the virtual launch to access information, watch videos.
The agency will have a virtual NASA Social Network on Facebook, where you can interact with NASA and DART team members and watch the launch.
Alternatively, you can follow the mission on social media using hashtags that start with #DARTMission. On Twitter, go to @NASA, @AsteroidWatch, @NASASocial and @NASA_LSP. On Facebook, visit NASA's page here and NASA LSP (NASA's Launch Services Program).
NASA also has a series of live press conferences that the public can view and ask questions on social media, Space.com information.
Articles using the source: Business Insider, Space.com, NASA
.