Now, the dishwasher is considered a "savior" item for many families, making the process of cleaning dishes and pots easier after use. However, their prices are not cheap either. You will have to spend several million or even tens of millions of dong to own a quality and guaranteed dishwasher.
To solve this, recently on the market appeared devices just as small as the palm of the hand, capable of cleaning dishes with ultrasonic waves. With the mechanism of using electricity through the usb cord, you can use them anywhere. The device can be in direct contact with water, clinging to pots and sinks with rubber feet.
According to the instructions of distribution stores, after placing the device in the sink/sink, you only need to drain the water, add dishwashing liquid, and plug in the power to start. The device will use vibration mode, creating ultrasonic waves, thereby removing all stains on dishes.
The device is advertised as capable of cleaning dishes with ultrasonic waves generated by vibration and rotation.(Video Tiktok)
On e-commerce platforms, products are sold at a much cheaper price than traditional dishwashers, only from 300,000 to 600,000 VND. So do they really work?
The ending is upside down
KOC* Kien Review – one of the reputable KOCs, followed by many people is also not on the list of people who have bought and experienced this ultrasonic dishwasher.
However, the results show that… life is not like a dream.
The results fell back when trying an ultrasonic dishwasher. (Video Kien Review)
As can be seen, in the experience video, the ultrasonic dishwashing device is really not divine, even the cleaning effect is almost zero.
When turning on the machine, the vibration or rotation modes of the device still work, still generating ultrasonic waves under water, but they are not strong enough to remove stains and grease on dishes.
On e-commerce platforms, this device also received negative reviews from users, with only 3 stars on average. Users with an account named Krynhoang leave comments on Shopee after purchasing a product: "Can't do anything but wash vegetables, not worth the money."
In addition, in some experience videos of other users, after handling with this device, they still have to rinse the bowl again with clean water, causing inconvenience during use.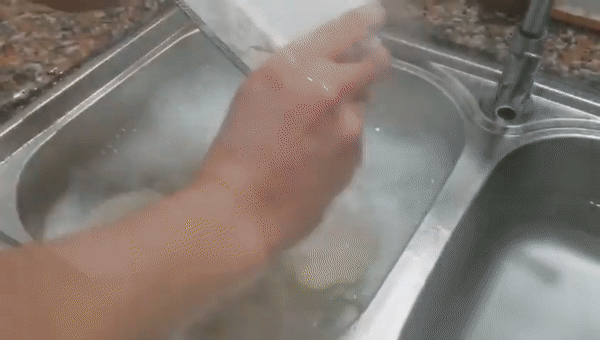 Users still have to rinse dishes after using with the sonic washing device. (Photo Youtube Thach My Nuong)
Through the video as well as the comments of those who have directly experienced it, it can be seen that this ultrasonic device is not effective in cleaning dishes.
In fact, this device has the main use of washing clothes, like a mini washing machine, not a dishwasher. In addition, with a cheap price of only 1/10, 1/20 compared to a conventional dishwasher, you should not expect too much from this device. Please consider carefully before buying to avoid "unjustly losing money".
*KOC refers to highly influential consumers in the market, specializing in testing products and services and making comments and assessments.
https://kenh14.vn/thiet-bi-dung-song-sieu-am-de-rua-bat-chi-tu-300000-dong-hoa-ra-lai-la-mot-cu-lua-2022052121553292. chn