In the valley that follows Germany's Black Forest lies a potential solution to one of Europe's most pressing problems with its transition to sustainable transport.
High demand for lithium
About 3.2km underground is a lithium mine enough to power at least 1 million electric vehicles a year. One mining company says it can extract that reserve at less than half the cost of rival companies without emitting greenhouse gases.
Lithium is an important resource for electric cars, but they come from remote areas and are mined using methods that leave a "scar" for the environment. The $2 billion project of Vulcan Energy Resources Ltd. could be the key to Europe's ambition to become the world's first carbon-neutral continent.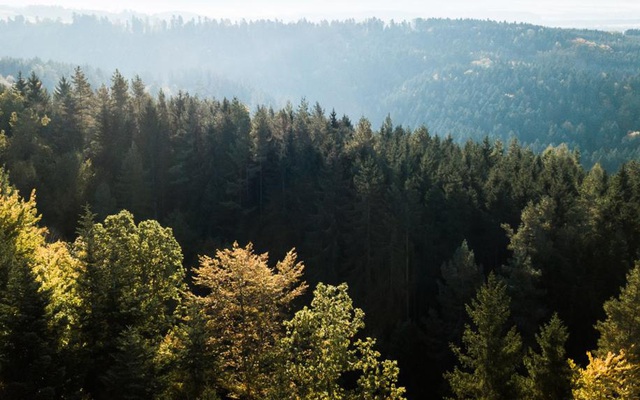 "We will produce a product locally that is not only cheaper but also greener than elsewhere," Horst Kreuter, managing director of Vulcan in Germany, said in an interview.
However, doubts arose. The technology-based project has not yet been deployed on a large scale and there have been signs of local resistance because pumping lithium-containing brine into the ground could cause tremors.
Despite the above issues, the project is being pushed forward as it addresses growing concerns about the environmental impact of building battery-powered cars.
From lithium to cobalt, producing a "clean" car requires more resources that are harder to find than conventional cars. That is having a big impact on the environment.
Amid global competition for dominance in the electric vehicle sector, the International Energy Agency (IEA) in May recommended that Western governments consider stockpiling important minerals such as cobalt, nickel and lithium.
Now, automakers are stepping up efforts to recycle batteries and take a position in the mining sector to gain greater control over the resources needed to make electric cars.
Volkswagen has set up a facility in Germany to eventually reuse 90% of battery components. Mercedes-Benz manufacturer Daimler AG is backing an initiative for more sustainable cobalt production, which has previously been linked to human rights abuses. Tesla Inc. signed a nickel deal with BHP Group Plc in July and agreed to sign a cobalt deal with Glencore Plc in June.
But the key resource is lithium. This is a metal that no one cares about in an oil-based economy. But a modern electric car needs at least 8kg of this metal.
Currently, this "white gold" is mined from open-pit mines in Australia or South America, raising concerns about toxic waste. The raw materials are then shipped to Asia for processing. By the time the electric car is completed in Europe or America, a lot of CO2 has already been released into the environment.
As the transition to electric vehicles accelerates, BloombergNEF projects demand for the mineral for lithium-ion batteries will increase fivefold by 2030. The global index of lithium prices has tripled this year. , boosted by soaring sales of electric cars in China, the US and Europe.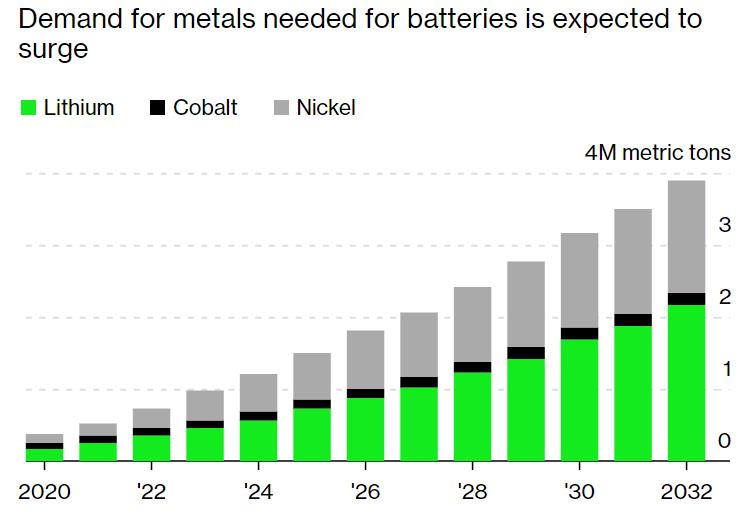 The demand for metals required for batteries is expected to increase. Source: Bloomberg
Germany's Black Forest reveals a new solution
Automakers are under pressure to "clean up" their supply chains to meet sustainability goals. Vulcan says that German lithium could play a role.
For decades, geothermal plants in the Upper Rhine Valley have pumped hot liquids from below the earth's surface to generate electricity, a form of renewable energy. The plants don't mind the lithium in the brine, but Vulcan plans to extract them before the liquid seeps back into the soil.
About half of the electricity generated in this process will power the production of lithium, while the other half can be sold. Vulcan has set up a small test plant and produced its first batch of lithium batteries at the end of September. Kreuter said it plans to begin production on a larger scale in 2024.
There are challenges to the Vulcan company's methodology. Brine is a complex liquid composed of potassium, iron, manganese, and sodium. These are impurities that need to be filtered out before lithium is put into the battery.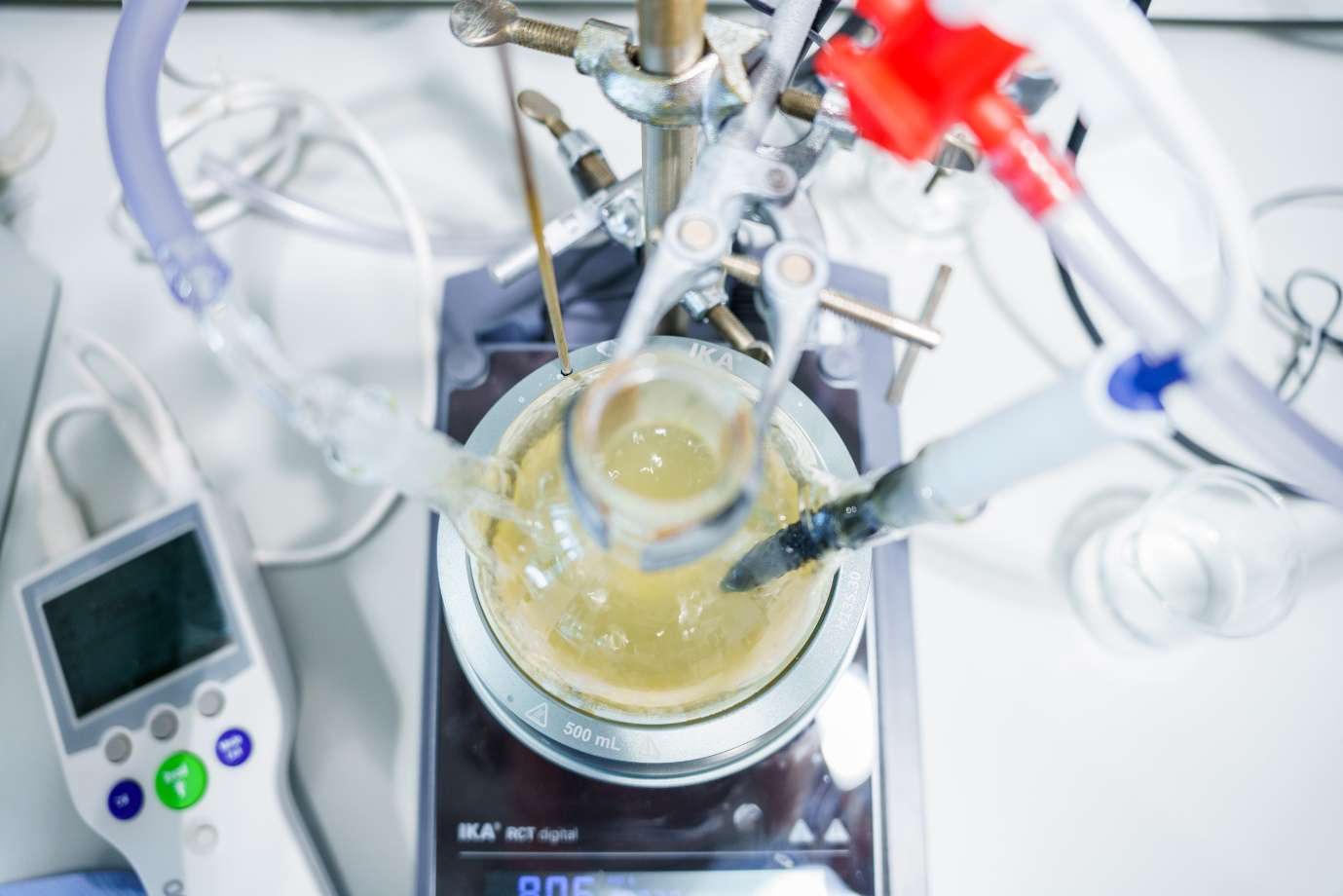 Lithium brine is treated in a laboratory at the ZEISS Innovation Center in Karlsruh. Photo: Bloomberg
Public outcry has also kept new geothermal projects from going as planned. Locals remain vigilant after past incidents. In the town of Staufen in the Black Forest, dozens of buildings cracked after geothermal drilling in the early 2000s. Just a few kilometers from the Rhine in France, authorities last year shut down a geothermal plant nearby. Strasbourg after production activities caused small earthquakes.
Commercial production of lithium from groundwater has never been done before, and Vulcan still has to prove it has enough money to build the plants. To date, the company has raised around 200 million euros.
However, with demand for lithium exploding, Vulcan's method is gaining attention. BMW has invested in Lilac Solutions, an American startup backed by Bill Gates that aims to extract lithium through a similar method from California's Salton Sea. The German company EnBW is also studying the feasibility of lithium production in the Rhine valley.
Kreuter said he's confident Vulcan can convince regulators and the public that its project will help make lithium production more sustainable. For the company, the economics of the plan are similarly appealing.
Refer to Bloomberg
.