On April 14, billionaire Elon Musk is said to have submitted an offer to buy Twitter company for $ 43 billion. This information has made waves on social networks, even making football fans unable to stay out.
While insisting that this is the last and best offer, Elon Musk admits that he is not sure if he can buy Twitter or not. Because of this, the fans of the Manchester United club begged the richest billionaire on the team to change his mind and buy the club into Manchester.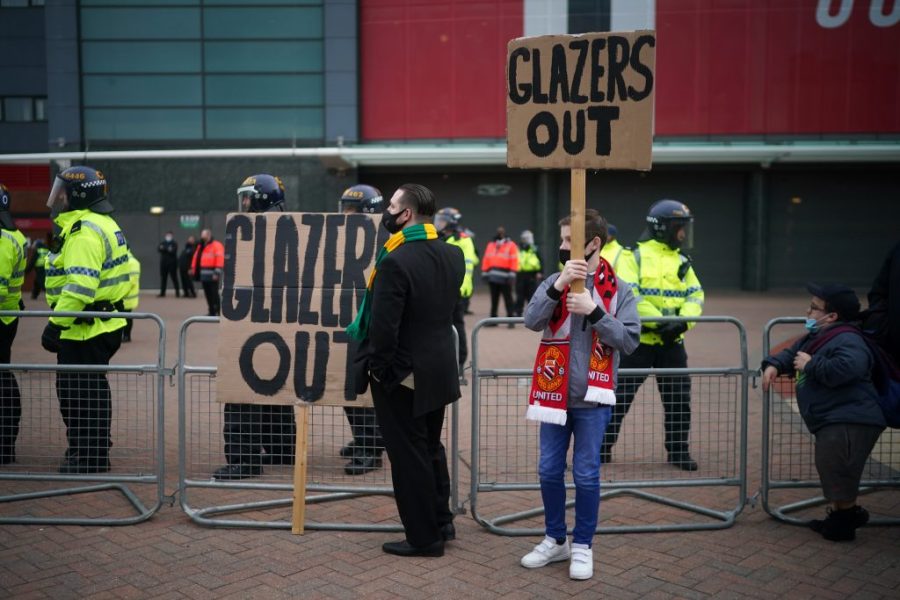 Over the weekend, before the match between Manchester United and Norwich City took place, long lines of fans poured into the club's Carrington training ground to protest the ownership of the Glazer family in the context of a season. Another total failure is coming.
Banners reading "Glazer out" and "Disgrace – Not fit to wear the shirt" were hung outside the entrance to the complex. Manchester United then had to increase security and report the incident to local police.
Manchester United fans lit red smoke flares as they marched in front of Carrington gates before holding up banners as security officers watched closely.
The Glazer family, the American owners, bought Manchester United in 2005 in a heavily leveraged deal, leaving the club with huge debts.
Manchester United has stagnated and gone downhill in recent years. They have not been able to win the Premier League any time since Sir Alex Ferguson retired in 2013. This season, the Manchester club also failed in all competitions that they attended, marking the season. 5th consecutive award without winning any title.
The Glazers previously said they would invest both on and off the pitch, and set up a plan to share control with fans to give them voting rights on the board.
However, no promises were made. After the last round, Manchester United rose to 5th place, but everything was still very unclear and the Red Devils were completely eliminated from all competitions.
Most Manchester United fans wish their team could be sold now, and many were quick to name billionaire Elon Musk.
TalkSPORT host and Manchester United fan Andy Goldstein has urged Elon Musk to withdraw his offer to buy Twitter and instead buy the Old Trafford team.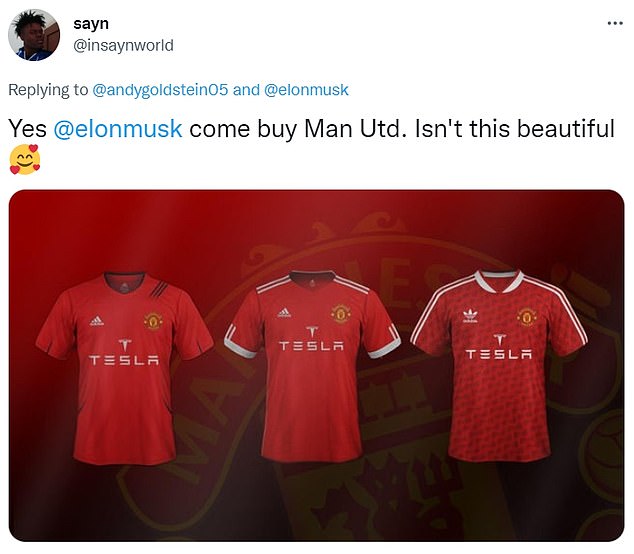 One fan even went to great lengths to create Manchester United jerseys that mimic the Tesla logo on the front.
"Elon, Elon withdraw your offer to buy Twitter. You can buy Manchester United, spend £2 billion on the best players in the world, win every tournament and then you can go on Twitter and be free 'crowing' about her success", the talkSPORT host shared.
Another fan said: "Buy Manchester United Elon Musk. All Man Utd fans will love this. Our club is currently being destroyed by the Glazer family. Please act now. #GlazersOut".
"He is a top businessman in the world who can fix' businesses. Can he buy Manchester United? This club needs a repairman and only you can do it." , another fan said.
"Elon Musk, buy Manchester United and invest $2 billion to sign all the best young players in the world. Believe me, he will soon make a lot of money and create a big buzz on social media. Don't buy Twitter!", one fan wrote on Twitter.
Thinking with the same fan, another wittily commented: "Hey Elon Musk, don't waste 40 billion USD to buy Twitter. Buy Man United and you only need to spend up to 4 billion."
https://cafef.vn/thuong-vu-mua-lai-twitter-co-le-khong-thanh-cac-fan-cua-manchester-united-cau-xin-ty-phu-elon-musk-chuyen- Huong-sang-mua-doi-bong-nay-20220418112122717.chn
https://cafef.vn/thuong-vu-mua-lai-twitter-co-le-khong-thanh-cac-fan-cua-manchester-united-cau-xin-ty-phu-elon-musk-chuyen- huong-sang-mua-doi-bong-nay-20220418112122717.chn?fbclid=IwAR31HUEddn2VXzviyGBpT1a6pExQVs75u7cS–shGmJGuWnv4h-ovWvgv18