CNN reports that Rivian – a 12-year-old startup with no revenue is now the third most valuable car manufacturer in the world.
The electric-car maker has been on the IPO for a week, but its stock price has more than doubled, valuing Rivian at more than $140 billion. More than Volkswagen ($139 billion) and in third place behind Toyota ($306 billion) and Tesla ($1 trillion).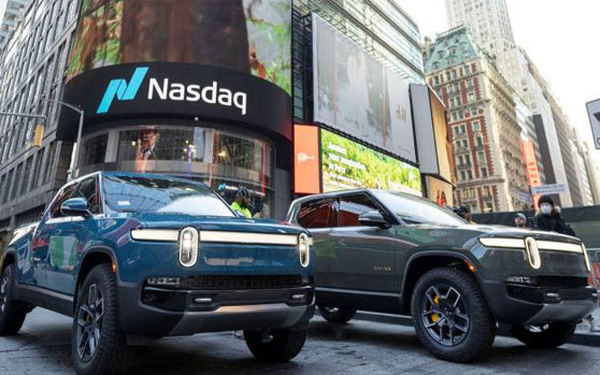 On Tuesday, Rivian stock opened more than 6% higher, about $159 a share. When the company went public last week, it valued its stock at $78.
According to SEC filings, Rivian only made its first truck deliveries two months ago, and most of those deliveries were to Rivian employees. This year, the company plans to produce only about 1,200 vehicles at its Normal, Illinois plant. Rivian lost about $1 billion in the first half of this year, and plans to hit an annual output of 150,000 vehicles by the end of 2023.
Still, the company has attracted major investor interest, with prominent backing from Amazon, which bought a 20% stake in Rivian in 2019, and Ford. Jeff Bezos is a huge fan of Rivian. He was seen taking his space exploration companions to and from Blue Origin's launch site in West Texas in Rivian's signature van.
In fact, hype for electric car companies is nothing new. Many analysts, and even Tesla founder Elon Musk, have argued that Tesla's valuation is overstated. But its shares continued to climb as Wall Street envisioned a future in which all-electric vehicles were the norm. Under President Joe Biden's $1.2 trillion infrastructure plan, signed into law Monday, about $7.5 billion is being earmarked to build a nationwide network of electric vehicle chargers. .
Investors may have missed out on Tesla stock a decade ago so it doesn't seem like they want to miss out on another hot EV pioneer like Rivian.
Rivian also boasts a potential advantage over Tesla in the US market.
Rivian's main product isn't just any EV – it's a pickup truck. According to Edmunds research, this is very important in the US market, because the three most popular vehicles in the US are the Ford F-150, Chevy Silverado and Ram according to Edmunds research.
Rivian founder and CEO RJ Scaringe said the company's biggest challenge was supply chain issues. Currently, they are ambitious to ramp up production, but the entire auto industry is being affected by a severe chip shortage.
According to Scaringe, Rivian's impressive capitalization demonstrates its ability to rapidly increase production, as well as its plans to develop commercial vehicles. It is expected that Rivian will launch with an order of 100,000 electric trucks from Amazon, used for delivery.
The CEO added that, in addition to electric vehicles, Rivian also intends to develop other businesses like Tesla, such as solar batteries, energy storage devices in the home and commercial scale.
.