The November 11 shopping event has become an opportunity for e-commerce platforms to encourage users to access and experience the benefits of online shopping, especially for customers who are not located in cities. big. Especially, this year's event showed a great success when the number of users accessing this new online shopping service increased to a record high.
Lazada recorded a 2x increase in sales of the entire floor and the number of orders, and the number of customers accessing the website increased by 1.5 times compared to this occasion last year. Meanwhile, Tiki is not inferior with sales increasing 9 times compared to the same period last year, and the number of customers visiting and shopping is also 2 times higher than usual.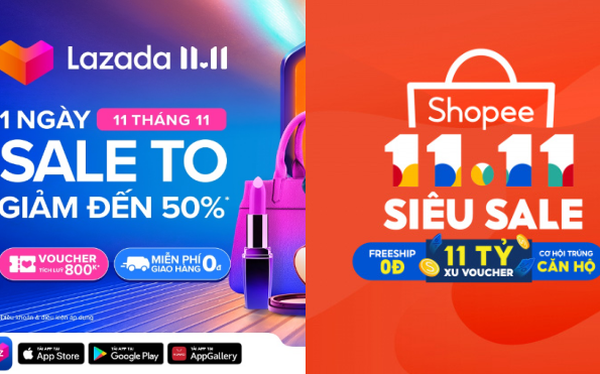 Most notably, Shopee's 11.11 Super Sale event witnessed 2 records: With a series of attractive offers, more than 2 billion items were sold during the festival period and broke the record. set up in 2020. At the same time, Shopee also created a new miracle on 11/11 with the number of users accessing the platform increased by 5.5 times compared to normal days.
Besides convenience, the 11.11 Super Sale event also contributes to helping consumers and businesses come closer together. Specifically, there were more than 3.5 billion messages exchanged via Shopee Chat feature of Shopee app throughout the 11.11 campaign. With this feature, consumers can interact directly with the seller and learn more information before placing an order.
ShopeePay, an e-wallet that offers a seamless and secure payment experience, continues to promote the adoption of digital payments in its 11.11 Super Sale. Across the region, more and more customers are choosing ShopeePay wallet as a payment method when shopping because of its seamlessness and convenience, especially outside of major cities, the number of orders paid via ShopeePay wallet is also 9 times higher than normal daily average.
For businesses in the region, the 11.11 Super Sale event can be seen as a springboard for growth and recovery. Local sellers benefited during the peak shopping season, during which first-time sellers in 11.11 Super Sale saw an 18-fold increase in orders on 11/11 compared to the local average. normal day.
Besides, Shopee Mall continues to attract more consumers to participate in attractive discounts and exclusive offers from their favorite brands on 11.11. Users also have the opportunity to enjoy a wide range of beauty care and high-end fashion products from Shopee Premium, where brands saw an average 50-fold increase in shopping demand on 11/11 compared to the previous week. during the program.
.