However, when choosing a washing machine, one of the most important factors is the long-term value of the washing machine. Join us to list technologies that even 10 years from now you will not regret choosing.Artificial intelligence – New trend from the future
Artificial intelligence – New trend from the future
The world has witnessed an explosion of artificial intelligence (AI) in recent times. Since its appearance, AI has gradually shaped the future for many different professions and fields. According to a global study by technology company Pega, 77% of the electrical devices that people use today have AI built in. This shows that artificial intelligence is an inevitable trend in consumers' lives.
Keeping pace with new technology trends, the consumer electronics industry is also asserting its position with breakthrough innovations of the times. In which, big brands also invest in smart washing machine products and are well received by consumers. What the manufacturer is most interested in is solving the problem "amount of water", "water temperature" and "mode" have been met. However, the use of many modern smart technologies such as the "vibration frequency of the washing tub" sensor to adjust the "rotation speed" while also "saving" is a very difficult problem to solve. Prominent in the current "smart washing machine village" is Panasonic's front-loading washing machine with AI Smart Wash technology, which integrates 4 high-tech smart sensors that have been present to significantly reduce the burden of laundry for customers. housewife.
The NA-V95FX2BVT washing machine has a washing capacity of 9.5kg, integrated AI Smart Wash and a unique design highlight with a large overflow front door border.
No more wondering and bewildered by the multitude of buttons to adjust from water level, temperature to washing mode, all washing thanks to Panasonic, now shrinks at the touch of a button. Integrating all four sensors including sensors for washing volume, water level, water temperature and vibration frequency of the washing tub to help change the operation to best suit the condition of clothes, Panasonic washing machines have the outstanding ability to actively protect the fabric for the user.
Clean clothes become the 'new normal'
In recent years, the need for comprehensive health care has been a top priority for consumers, especially in the face of unpredictable epidemics and climate change. According to a survey conducted by market research firm Toluna Greenfield in 2010, 72.2% of consumers agree that they want to buy products with built-in antibacterial properties.
For laundry needs, too, not only clean clothes, but also ensure the quality of fabrics as well as the health of the whole family. Therefore, wise consumers want to choose a washing machine that is valid for the next 10 years. One of the outstanding technologies is hot water washing technology, in which Panasonic's StainMaster+ is applied on both front- and top-loading machines capable of killing up to 99.99% of bacteria. No more time-consuming pre-wash, hot water washing mode makes taking care of your family's health much simpler.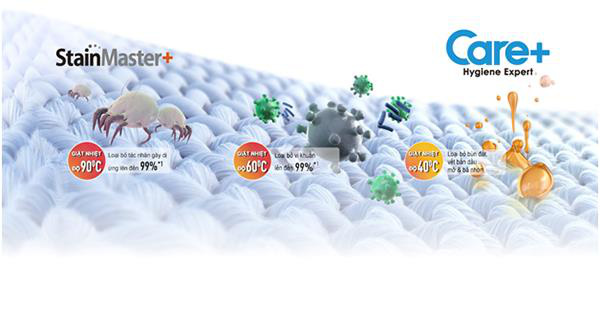 StainMaster+ hot water washing technology includes 90/60/40 degrees Celsius temperature adjustments, integrated in both Panasonic front- and top-loading washing machines.
For demanding customers, they want delicate, high-grade fabrics to be cared for more carefully without using hot water. The BlueAg+ cold water sterilization technology integrated in Panasonic's front-loading washing machine is the perfect solution. Combining silver ions and UV rays, this new exclusive technology works effectively in killing bacteria and allergens with a rate of up to 99.99%, while ensuring the health of your family, while keeping the fabric as durable as new.
Green living is smart living
In the 21st century, products with integrated green technology are "occupying" the market and becoming a new consumption trend. Joining hands to support products with green technologies is an inevitable trend, because they are useful to users and society. Therefore, owning an environmentally friendly washing machine and your family's electricity bill is a wise choice.
Featured with Inverter technology integrated in both front- and top-loading washing machines, Panasonic helps families save up to 40% of electricity and water consumption compared to older models. In addition, the intelligent ECONAVI sensor recognizes the washing load, temperature and water volume, thereby determining the most suitable cycle for each washing batch, contributing to optimizing power consumption by up to 30% and Save 35% water.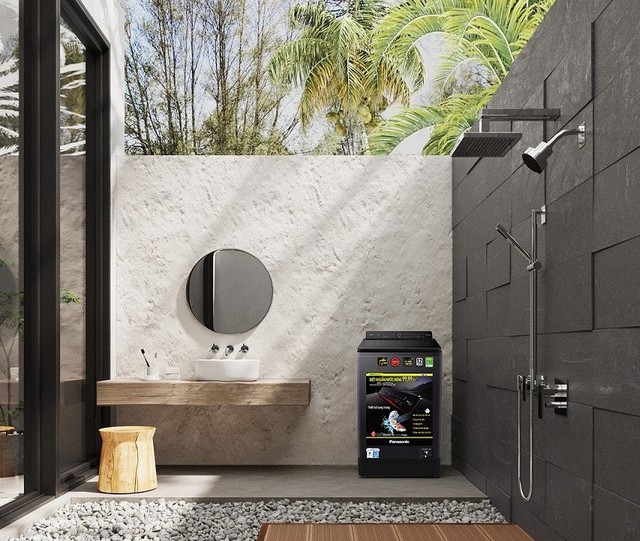 ECONAVI green technology is applied in the top-loading washing machine line NA-FD125V1BV, providing optimal energy efficiency for the family.
Washing machine is an appliance that will accompany your family for at least 10 years, integrating smart and modern leading technologies will be a wise investment choice for your family to have moments of leisure. Choose a companion instead of a regular machine, because health is a top priority, and your family deserves comprehensive care from clothes every day.
See more Panasonic washing machine products at:
https://www.panasonic.com/en/consumer/home-appliances/washing-machine.html
.