Recently, researchers at the University of Minnesota Twin Cities have successfully developed a flexible OLED screen using 3D printing technology. Theoretically, you will no longer have to depend on panels manufactured in large factories to assemble or repair your equipment. Or in a more understandable way, if you accidentally damage the screen of your phone or tablet, you do not need to send your device for warranty anymore, but can completely print a new screen conveniently. .
To do that, the researchers combined two different 3D printing methods to print out the six layers needed to make the screen work. Specifically, they use extruded 3D printing to create electrodes, housings, insulating layers and interconnecting circuits. Meanwhile, the active layers are printed by conventional room temperature spray painting.
3D printing of OLED screens by researchers at the University of Minnesota Twin Cities.
This is not the first time OLED screens have been experimentally produced using 3D printing. However, previous teams were unsuccessful and often encountered various problems, mainly in light uniformity (uneven distribution over the entire curtain), or the need for more advanced component assembly technology that 3D printing cannot meet.
The prototype by researchers at the University of Minnesota Twin Cities is only 1.5 inches in size and uses 64 pixels. Real screens, to work properly, need a much higher resolution (1080p screens also need more than 2 million pixels). In addition, they also want to further improve the brightness of their special OLED panel. And it will certainly take a very long time before this 3D printing technology can be widely applied.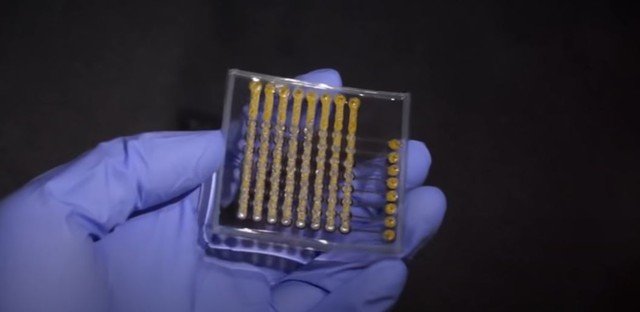 Besides, the 3D printer they use is also a customized version and has a high price, on par with a Tesla Model S electric car. The method they use also needs to be researched and modified. added before it can be applied to commercially available printer models today. Even high-end products like Form 3B+ by FormLabs have not been able to integrate this new printing method.
However, those scenarios are entirely possible given the nature of the technology they use. It can help realize the dream of producing OLED screens at home, as well as lead to many other promising applications, allowing us to create convenient screen-integrated tools and utilities.
Of course, this breakthrough will not allow you to be autonomous and independent in the printing and assembly of high-end devices, because they have many more complex parts than just the screen. However, it will also more or less help you reduce the dependence on pre-assembled components of technology companies.
According to engadget
.