In October 2019, Microsoft wowed the tech world with two new devices: Surface Duo and Surface Neo. Both are dual-screen devices but Surface Duo is an Android phone while Surface Neo is considered a new era of PC when running Windows 10X. It's a new operating system built with user experience in mind.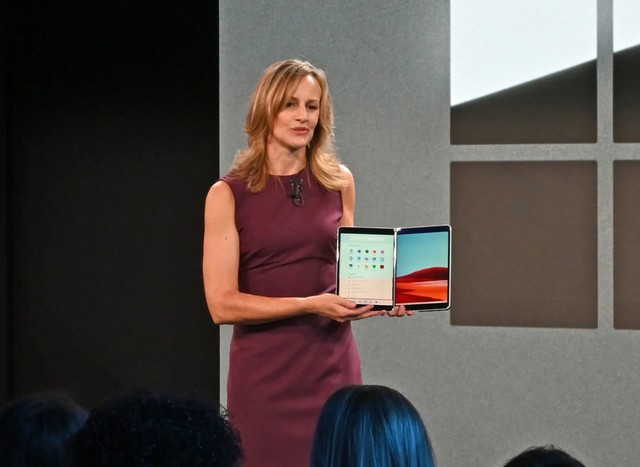 A lot has changed since that fall. Surface Duo has been out for nearly a year with many limitations but has been significantly improved on Surface Duo 2. But the Surface Neo that was promised to launch at the end of 2020 has not been seen yet.
The reason for the sudden disappearance of Surface Neo is attributed to the removal of Windows 10X. When the pandemic broke out, Microsoft focused its resources and consolidated the design of Windows 10X into a new operating system, Windows 11. This strategy worked when Windows 11 helped revive the PC market during the time past time.
But what happens to the Surface Neo's hardware? Should Microsoft put Android on this device? There are a number of reasons to do so and also a number of reasons why not.
Foldable PCs are so much bigger
The first foldable laptop was Lenovo's ThinkPad X1 Fold. It has a super impressive 13.3-inch QXGA OLED display, but it's too small to be used as a laptop. This machine weighs about 1kg, so it is difficult to bring comfort like holding a book in hand for a long time.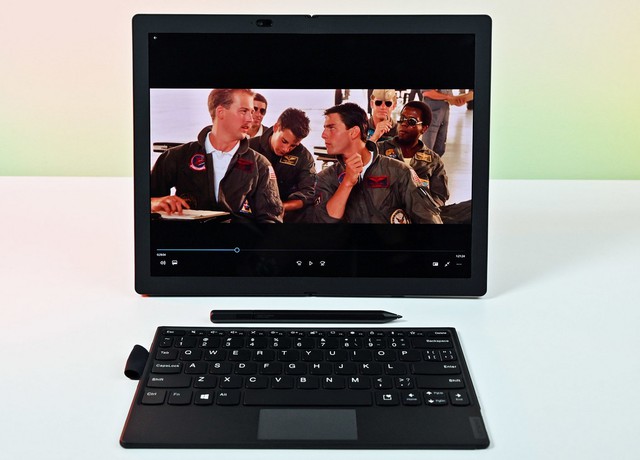 It is expected that from now until the end of the year, there will be many folding laptop products with screens from 16-17 inches. While you won't want to hold a 17-inch folding PC in one hand for long, having a portable 17-inch PC in a compact form is indeed quite appealing.
The Surface Neo, on the other hand, has two 9-inch screens that create one 13.1-inch screen when stretched to its full extent. It brings a new trend to folding laptops.
But there's a problem. Windows 11 is not an operating system for tablets. As of now, there are no features in Windows 11 that take advantage of dual or foldable displays.
Surface Neo runs Android brings a lot more meaningful
There will not be a Surface Neo running Windows 10X appearing as expected. But if you replace this operating system with Android on Surface Neo, the story may be very different.
Microsoft has experience in improving Android for dual screens on Surface Duo and Duo 2. In fact, the experience is quite good. With Google actively developing settings and Android apps for support for foldable or dual-screen devices, it would be better if it made it to Surface Neo.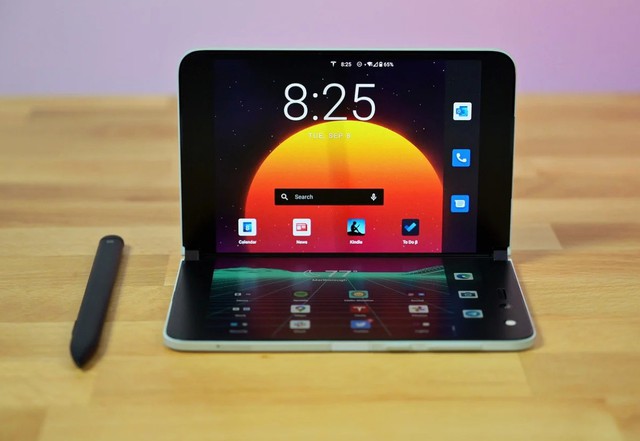 Microsoft can completely pre-install its Android applications on this device. This will ensure activities such as work and entertainment on Surface Neo are always guaranteed.
In fact, Microsoft is trying to incorporate more with Android. It makes Android development a core priority of the Microsoft Devices & Experiences team and is hiring multiple Android developers. Microsoft's ambitions in the Android world seem much bigger than imagined.
Dangerous game?
In an earlier interview in 2019 with The VergeMicrosoft vice president and product manager, Panos Panay asked: "… What is the right operating system for that product shape?" when it comes to Surface Duo.
He answered his question as follows: "…in this case, on mobile devices, Android is the obvious choice. But Windows is still everything."
Windows is still doing its job well. But a larger product between Neo and Duo would probably be very difficult to succeed.
Panay thinks Windows is the right choice for Surface Neo. But that sentiment came before Windows 10X fell out of favor, especially on 17-inch foldable PCs. Now the development of folding screen devices has changed many people's opinion about a folding device.
Of course, it will be difficult to tell if Microsoft intends to revive the Surface Neo but run Android or run a customized version of Windows 11 and better optimized.
But if Microsoft is really aiming for Android, the risk is obvious because Microsoft has no strength with Android devices. Microsoft itself has to admit that, Android is the dominant mobile operating system, while Windows is the best solution for desktops and laptops.
Before coming to a final conclusion, you need to ask the question: Is the Surface Neo a tablet or a laptop? Because how you answer will determine which operating system is more suitable.
Ideally, Microsoft has a great mobile version of Windows and is optimized for dual screens. But so far the tech world hasn't heard of that idea. While bringing Android to the Surface Neo will certainly turn this product into a true tablet or just a larger Surface Duo, not a laptop.
Refer to Windowscentral

https://genk.vn/microsoft-co-nen-dua-android-len-surface-neo-202204141907281.chn