In order to connect and bring people closer together after a period of separation due to COVID 19, the program "Share a little love with Tic Tac" of the famous candy brand from Italy has become a bridge to send the Messages containing love sent to everyone.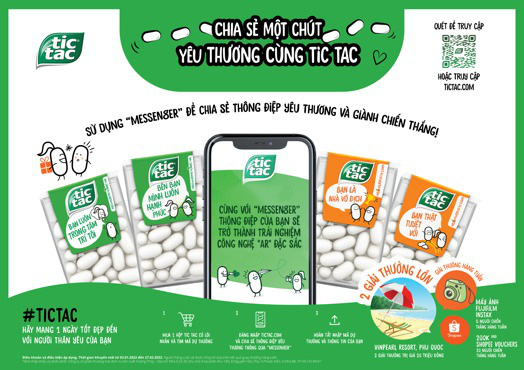 Understanding consumer psychology urges Tic Tac, the best-selling candy brand in Italy, to deploy augmented reality (AR) technology to spread close messages from Tic's customers. To their relatives and friends.
The way to send love to loved ones with Tic Tac candy is very simple. By accessing www.tictacmessage.vn, customers can create their own meaningful love messages and personalize that message with funny and lovely Tic Tac characters and symbols. The customer can then copy the generated link to share the message with loved ones.
Message recipients can access to view messages by turning on the camera to experience interacting with cartoon characters and Tic Tac icons through AR technology. These wishes can be sent through various platforms on social networks such as Facebook, Twitter, Email…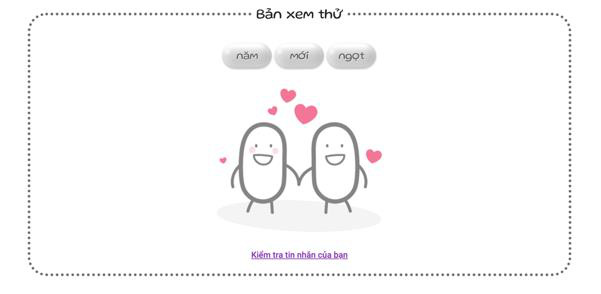 The meaningful campaign to spread love to promote an optimistic spirit for everyone was also enthusiastically responded and participated by many influencers such as Pham Thu Trang (Xoai's Family), Ta Quoc Ky Nam, Le Hong Hanh , Dong Anh Thu, Nguyen Thi Ngoc Lan and many other social community sites.
To encourage customers to share their love with their loved ones, Tic Tac offers attractive rewards to customers who participate in the program, including:
– | 02 Grand Prize | 02 luxury resorts at Vinpearl Phu Quoc worth up to 20 million VND
– | Weekly Prize |
+ 05 instant cameras FujiFilm Instax
+ 20 Shopee Vouchers (each voucher is worth 200K)
How to join the program:
1: Buy a pack of Tic Tac 'Love Message' Mint or Orange flavor and find the unique code inside.
2: Scan the QR code included in the promotional image or log in to www.tictacmessage.vn
3: Share loving messages via Gentle Messenger on www.tictacmessage.vn and copy the generated link.
4: Paste the generated link and enter the unique code included in the 'Love Message' packages on www.tictacmessage.vn. Don't forget to provide the required details on the website! After submitting your information, you will receive a link to verify your email.
The program 'Share a little love with Tic Tac' is applicable from January 3, 2022 to February 27, 2022 and is open to all citizens and foreigners aged 18 years and over who permanently reside in Vietnam. Offer is only for Tic Tac 'Love Message' Mint or Orange and does not include any other Tic Tac flavours. To participate in the program, customers can buy Tic Tac candy products at various points of sale such as supermarkets and convenience stores. Don't miss the chance to connect with your loved ones and win exciting prizes and experiences!
About Tic Tac
Tic Tac® is the flagship confectionery brand of the Ferrero Group. Tic Tac® was born in 1969 and became an instant success as a unique, aromatic candy with a snap-on lid and signature "click" sound. Tic Tac® with its original mint and orange flavors has conquered the world, establishing a presence in the worldwide market. With the goal of bringing surprise and delight to consumers with fresh taste sensations, Tic Tac® is now one of the world's leading brands of pocket confectionery with a variety of flavors such as silver ha and fruit. The brand has a long history in Vietnam, currently available in mint and orange flavors.
For more information about the program, visit Tic Tac Vietnam's website at www.tictacmessage.vn
.