Fully self-driving cars are expected to become the vehicle of the future, right now, there are already trials being carried out in cities around the world.
Cruise, a self-driving car company funded by General Motors and Honda, has been testing driverless taxis since two months ago in San Francisco. Recently, an awkward situation happened, when Cruise's self-driving taxi… collided with the police.
A video that went viral online on April 10 showed the irony and somewhat humorous situation, when police stopped a Cruise self-driving taxi because it did not have its headlights on.
The self-driving car was stopped by the police for not turning on the lights
After stopping the vehicle (a Chevrolet Bolt tram), a police officer went to the window, tried to open the door but failed, and returned to the patrol car. The self-driving car suddenly ran away, thinking a chase between humans and machines would take place, but then it turned on the emergency lights and pulled over. The police stopped behind the car again, then the officers appeared to be trying to turn on the car's lights.
As Cruise spokesman Aaron Mclear explained, the vehicle wasn't running away from police – it was trying to find a safer spot to pull over. Mclear also confirmed police stopped the vehicle because it didn't have its headlights on and said Cruise had fixed the problem.
"The car gave way to the police car, then pulled over to the nearest safe place to stop," Mclear said. "An officer contacted Cruise staff. We work closely with the San Francisco police force on how to interact with our vehicles and have a separate phone number for them to call in situations like these."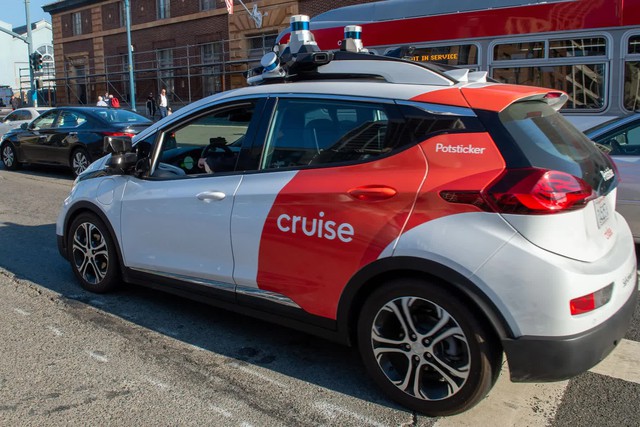 It is not yet known exactly what caused the Cruise car to run without lights. Perhaps the car's automatic light on has been turned off, or there is an error that the surrounding darkness cannot be detected. Cruise cars are only allowed to run between 10 pm and 6 am, clearly the lighting system is very important in this time frame.
Reference: TheVerge

https://genk.vn/taxi-tu-lai-khien-canh-sat-my-boi-roi-vi-vi-pham-Giao-thong-ma-khong-co-ai-ben-trong-20220411225121847. chn