European aristocrats of the past were very fond of silver, they had silver dishes, silver cutlery and spoons, silver ornaments and even silver door handles. Part of the reason silver is so popular is that it has strong antibacterial properties.
This metal can release ions that are toxic to cells, tearing bacterial membranes and thereby killing them within just 6 minutes.
A cheaper metal, copper, also has this property. However, copper ions take about 240 minutes, equivalent to 4 hours, to kill bacteria. This limits the applications of copper in everyday life, even though it is a much cheaper material than silver.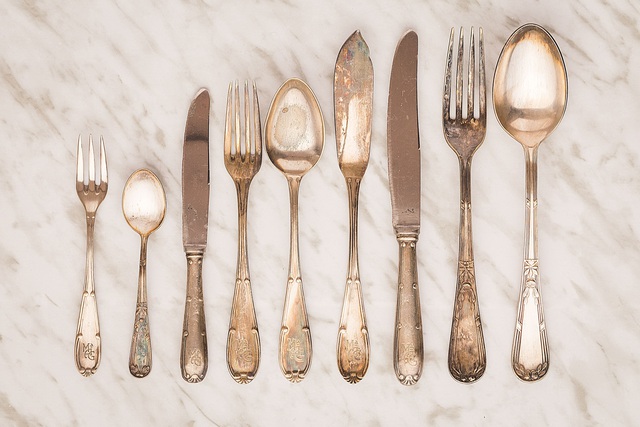 Now, a team of scientists from the Royal Melbourne Institute of Technology (RMIT) has solved the bottleneck. They created a form of copper material that kills 99.99% of bacteria in just 2 minutes, which is 3 times faster than silver and 120 times faster than conventional copper.
The main secret to the bactericidal speed of this copper is in its surface. When you look and touch it, you will feel it is a rough bronze, not a shiny one. Zooming in under the microscope, the surface of the new material appears like a tangled maze.
Scientists call it "porosity"of the material. They do so by producing an initial alloy between copper and manganese. Then a technique"handling" inexpensively can be applied to remove all the manganese atoms from their place, leaving voids in the surface of the material.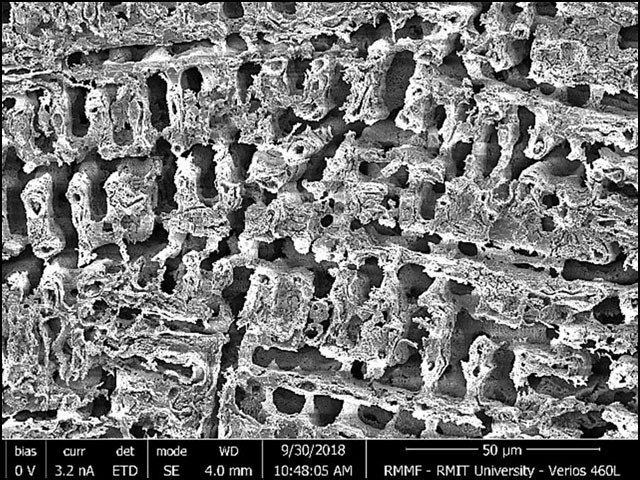 This morphology expands the surface area of ​​copper, giving it an increased ability to kill bacteria. Furthermore, below this nanoscale, strange effects also begin to appear. For example, water cannot be dropped on this surface, causing any bacteria that fall on it to either slide out, or it will form a thin film, which will then be destroyed by copper ions.
So bacteria can't proliferate on a porous surface like this, it's like trying to inflate a water balloon over a table full of spikes.
"These combined effects do not degrade the bacterial cell structure, but also make them more vulnerable to copper ions that are toxic to them.", said Jackson Leigh Smith, a researcher from RMIT.
"The combination of effects results in a much faster microbial removal rate for this copper material."
In one experiment, scientists applied new material to test the new material with staphylococcus aureus (Staphylococcus aureus), an antibiotic-resistant superbug. The results show that "standard copper surface takes 4 hours to kill 97% of staphylococcus", said Ma Qian, a materials engineer at RMIT.
"But amazingly, when we smeared staphylococcus aureus on the surface of the specially designed copper material, it killed more than 99.99% of bacteria within just 2 minutes. Our copper structure shows that a common material can be enhanced with antibacterial properties to be very strong."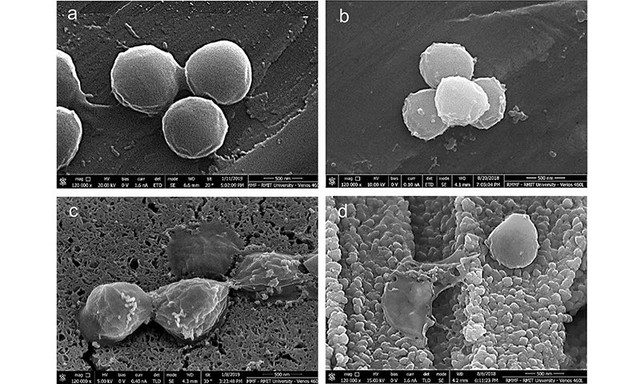 This finding is particularly significant in the context of a global pandemic. Because common copper also exhibits antiviral properties, researchers at RMIT are taking it a step further to see if the porous copper they created can kill the SARS-CoV-2 virus.
And because this sterilization comes from a physical effect, once the material kills the virus, it can also kill any current and future variants of COVID. In other words, this type of surface cannot be resisted.
Porous copper may also help people fight antibiotic-resistant superbugs. By coating common stainless steel surfaces in hospitals such as table tops, beds, door handles, railings… with this type of porous copper, we can limit the process of hospital infection, one of the The leading cause of death is caused by antibiotic-resistant bacteria.
Perhaps, in the future we will see more objects in schools, public transport such as buses, trains, even private houses decorated with copper.
Researcher Daniel Liang said:With antibiotic-resistant infections on the rise, with a limited number of new antibiotics on the market, the development of antimicrobial materials could play an important role in helping to address this."
The new study was published in the journal Biomaterials.
Refer to Sciencealert
.