Last Friday night, Ms. Thu Van (District 7) and 3 friends met to drink beer at a pretty famous bar in District 3. All 4 people took a motorbike taxi to the meeting point. That day was the first day after more than 4 months, Saigon people were able to move again by a two-wheeler service.
"Very happy feeling because there is more option to book an economical car. In addition, two-wheelers are also easier to call than 4-seater cars. Thu Van is excited.
In this group, there are people moving from the suburban district of Tan Phu, usually have to pay nearly 200,000 GrabCar money but that night only have to spend about 70,000 VND for GrabBike.
Another friend of Ms. Van booked a car through the Be app, got a promotion from an e-wallet, so she only paid 2,000 VND for a ride over 8km.
Around 9 pm, the group of friends ordered 4 two-wheeler drivers to drive home safely, without having to worry about driving when there was alcohol in them.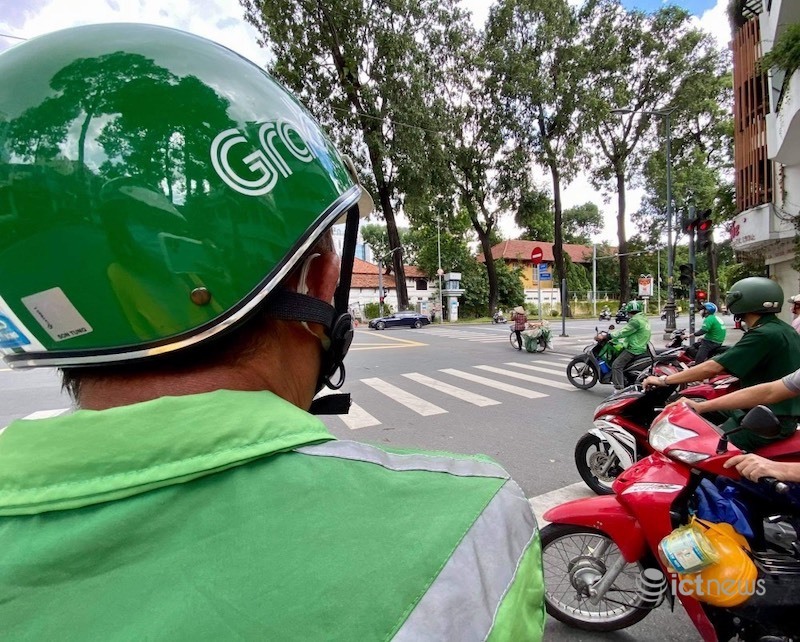 Two-wheeled passenger drivers have been operating in Ho Chi Minh City since November 18. (Photo: Hai Dang)
In fact, ride-hailing applications reopen very cautiously for two-wheeler hailing services. Some applications have not yet announced the motorbike taxi feature on the application homepage on the first day. It was not until yesterday morning on November 20 that these features were clearly visible.
Those who look forward to the reopening of motorbike taxis are the first to test this service in the newly reopened days.
Kim Cuc (Go Vap) for a few weeks now has to ride a motorbike or bike to the street to walk every weekend morning. Last Saturday morning, she booked a 2-wheeler for an outing from dawn.
"I feel very happy. The convenient life is back." Ms. Cuc said.
On the first trip, the driver carefully disinfected the helmet for Ms. Cuc before giving it to the customer. With the second driver, he said that day was the first trip he carried after the epidemic.
"The driver was very happy and said it had been a long time since he had carried passengers and talked with customers. The two brothers also talked about how they went through the epidemic season, which was very heartwarming.Cuc said.
When the motorbike taxi service reopens, female users are more excited than ever. This group does not want to have to drive at night, do not want to drive on their own when going away, or when having a date, have to drink alcohol.
Ms. Thai Tram (Thu Duc city) is also in the group looking forward to ordering a two-wheeler. Her house is far away, there are times when she has to book a 4-seat car for more than 200,000 VND/ride. There are appointments that are too far away, so I have to cancel.
"But now that I have a motorbike taxi, I have more options. Two-wheelers are both cheap and easy to navigate, going faster than four-wheelers during rush hour."Ms. Tram explained.
Not having a motorbike taxi technology makes the respondents above only feel uncomfortable, but for some others, it is a big difficulty. For example, some women do not know how to ride a motorbike, so they go to work every day by motorbike taxi. Or some others have weak limbs and cannot control traffic, often depending on technology drivers.
The My (Thu Duc city) had a traffic accident, so he couldn't ride a motorbike. For many months now, he has had to travel by taxi or 4-seater car. From his house to the company costs about 350,000 GrabCar, but if you go to GrabBike, it only costs about half.
The reopened motorbike taxi not only helps Saigon people move more conveniently, but also helps many drivers get jobs.
Nguyen Thanh Long, driver of Be, said that being able to carry passengers back made him feel happier and more excited. The job also helps him have an additional source of income after a long period of stagnation due to the epidemic.
Currently, due to the city's epidemic level at 2, each car-hailing company can only allow 50% of two-wheeler drivers to carry passengers. All drivers must comply with 5K and have had at least 1 dose of the vaccine after 14 days, or have recovered from Covid-19.
Under the aforementioned regulations, Gojek said it has thousands of qualified drivers. This company has been making a list of vehicles and vehicle drivers to send to the Department of Transport of Ho Chi Minh City for updating on the department's website.
.