A Russian man, who appears to be a civilian, smashes an iPad in front of his underage son, in a video that is going viral on social media. The act of breaking the iPad with a hammer is said to be symbolic, an act to prove that Russia will not be afraid of sanctions from the US government.
The man also had his finger cut by broken glass, causing it to bleed. The boy in the video also learned from his father and hit the tablet with a hammer. There's also the risk that hitting an iPad or any battery-powered electronic device with a hammer can break the battery and cause it to catch fire. Fortunately, this did not happen.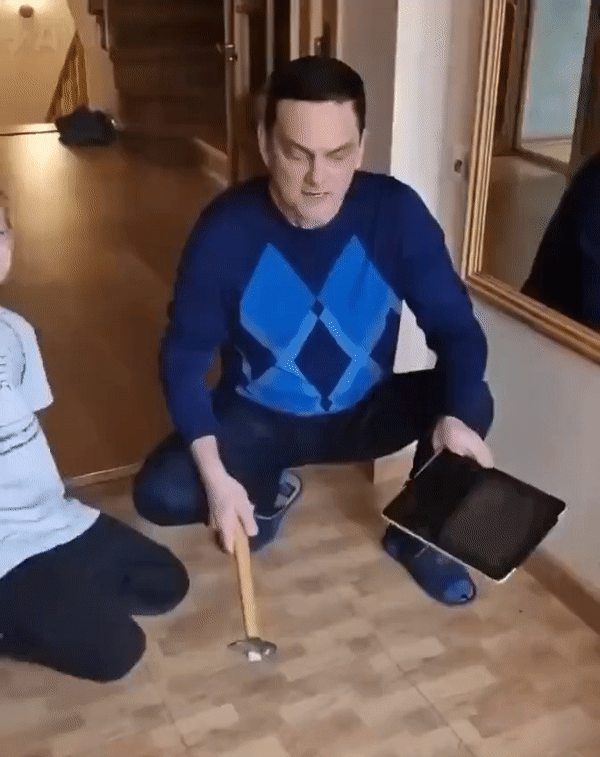 The video, believed to be taken from Russian state television, was retweeted on Twitter by staff from BBC Monitoring. The source of the clip and when it was first aired is unknown. It is also unclear whether the man did the act spontaneously or for propaganda purposes.
However, it apparently came about after Apple announced it would stop selling any hardware in Russia.
In the video, the man says he can live without "beautiful good things" Apple's. The unnamed man will likely face the same problem, if he also uses Dell equipment or subscribes to DirecTV, as these companies have also ceased operations in Russia.
However, in case you change your mind and want to buy a new iPad, it can be very difficult. Luxury goods, including technology, are skyrocketing in price in Russia because they are being bought by so many people. Apple dealers have also closed here.
Refer Apple Insider

https://genk.vn/ong-bo-nga-dap-vo-ipad-truoc-mat-con-trai-phan-doi-cach-hanh-xu-cua-apple-20220303175001897.chn