On March 1, Apple announced that it would stop selling products and services in Russia. Immediately afterwards, the National Assembly deputies of the Russian Federation urged their peers to use AYYA T1 developed by Smart Ecosystem company of Rostec State Corporation's Scale Research Institute.
The most special feature on the AYYA T1 is a separate hardware button to turn off the camera and microphone to avoid surveillance. The AYYA T1 phone is powered by the Russian operating system intended for law enforcement and Russian state agencies. In addition, AYYA T1 also has a version using Android 11, priced at 265 USD (nearly 6 million VND).
Founded in 2007, the Rostec group has developed a wide range of innovative products, including military technology. Rostec is expected to become one of the wealthiest Russian brands within the next 10 years.
In 2019, within the framework of military and technical cooperation, Rostec made the world public debut of the Tornado-S Multiple Launch Missile System (MLRS), the Pantsir-ME anti-aircraft artillery and missile system, and new AK-12 assault rifle. Its aviation products include the Irkut MC-21 aircraft, the Sukhoi Su-57 jet fighter and the Mil Mi-38 transport helicopter.
Russia used to have many famous phone models but could not find a long-term foothold. In the years 2014-2015, Russian phone company Yota Devices released a special phone model called YotaPhone II. This phone is likened to the "Russian iPhone" when it possesses technological breakthroughs that are most noticeable when it comes to owning two screens.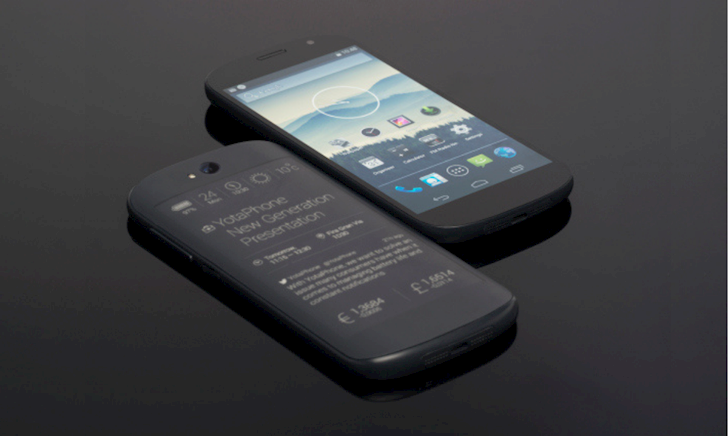 YotaPhone used to be the pride of Russia and Russian President Vladimir Putin, he even gave a YotaPhone II to Chinese President Xi Jinping. At that time, the device received high praise for creativity from experts, as well as owning the leading high-end configuration on the market at that time.
While on the way to market growth around 2015, YotaPhone encountered some troubles related to screen supplier Hi-P Singapore. The company sued for $126 million because Yotaphone refused to accept the minimum amount ordered. After that, the two sides negotiated and YotaPhone had to pay Hi-P Singapore 17 million USD.
With the business situation bleak, in 2016, Yota officially withdrew from Russia and Europe to shift to operations in China. It seems that this billion-people market will help Yota revive the business situation, perhaps this is where Yota's end is. After launching the YotaPhone III model in 2018, the company also officially declared bankruptcy.
It can be seen that the switch to using domestic phones is a very determined move from the Russian government when "rejected" by Apple, with the hope that people will use domestic phones to help corporations. domestic technology is more developed.
https://cafef.vn/nga-san-sang-thay-the-thay-the-iphone-bang-cac-mau-dien-thoai-noi-dia-20220307072705479.chn
https://cafef.vn/nga-san-sang-thay-the-thay-the-iphone-bang-cac-mau-dien-thoai-noi-dia-20220307072705479.chn