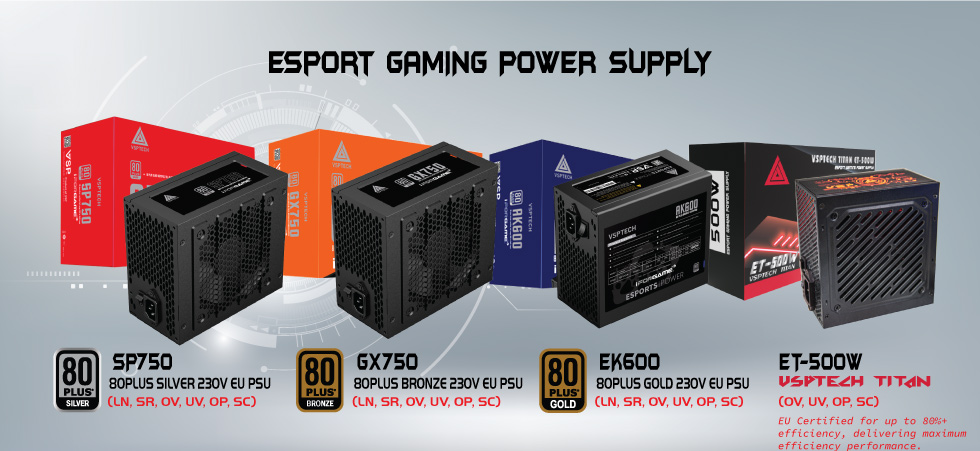 Computer source ecological range of Tech Vision IT Co., Ltd
Rated capacity 750W, with red outer box and inside includes power supply cord accessories + 4 screws to the case.
Packing VSPTECH iFogame SP750 power supply
With a thick and sturdy form, the SP750 has a standard ATX D150x R140x C85mm power supply,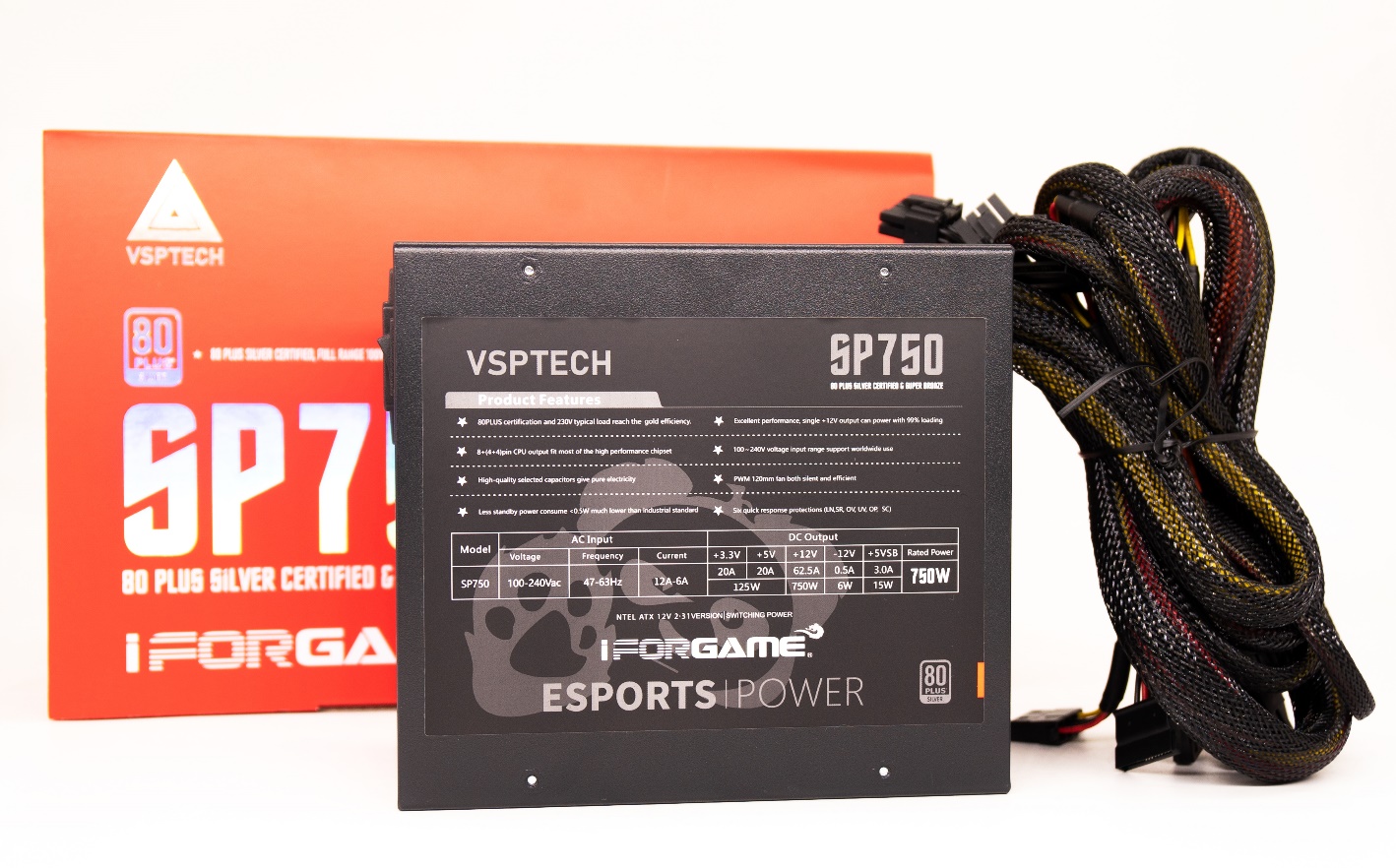 The long cable system is covered with anti-interference mesh. The power supply line for the CPU is 2 8pin headers and 2 supply lines for 2 VGA or more graphics cards with 4 8-pin (6+2 pin) outputs. Details are as follows: Mainboard 24pin x1; CPU with 2 heads 8 pin (4 + 4 pin) + 8 pin (4+2 pin); VGA with 4 8pin (6+2 pin) x2 line inputs; Sata/HDD: 2 Sata and 2 Molex ; Sata/HDD: 2 Sata and 2 Molex.
Wide input voltage range 100 – 240V AC, suitable for power grids in rural areas with low grid power or in industrial zones with high fluctuating voltage.
Nominal wattage table of SP 750 . power supply
SP750 is designed according to the latest Dual forward platform on the market today combining dual DC to DC combination. Integrated DC-to-DC converter circuitry for higher efficiency and tight voltage regulation even under heavy cross-load conditions.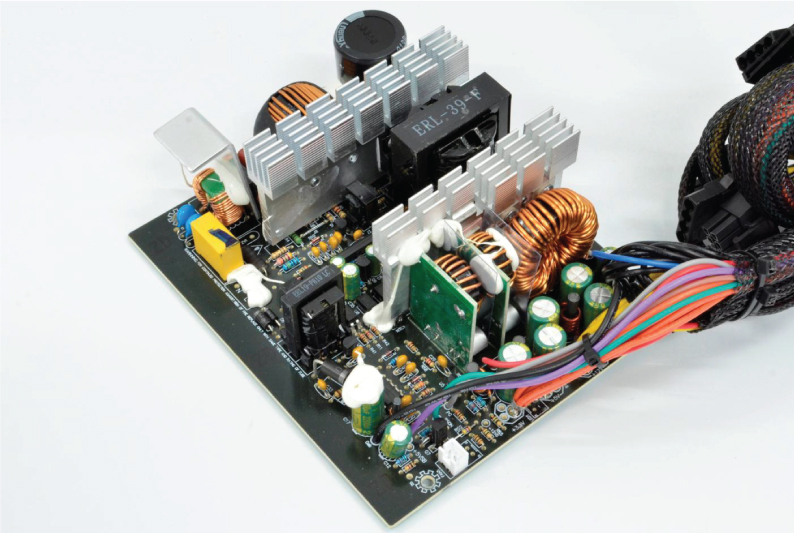 Platform Dual forward combines dual DC to DC
SP750 is equipped with 2 stages of noise filtering, anti-power interference and noise cancellation effectively and safely for the system.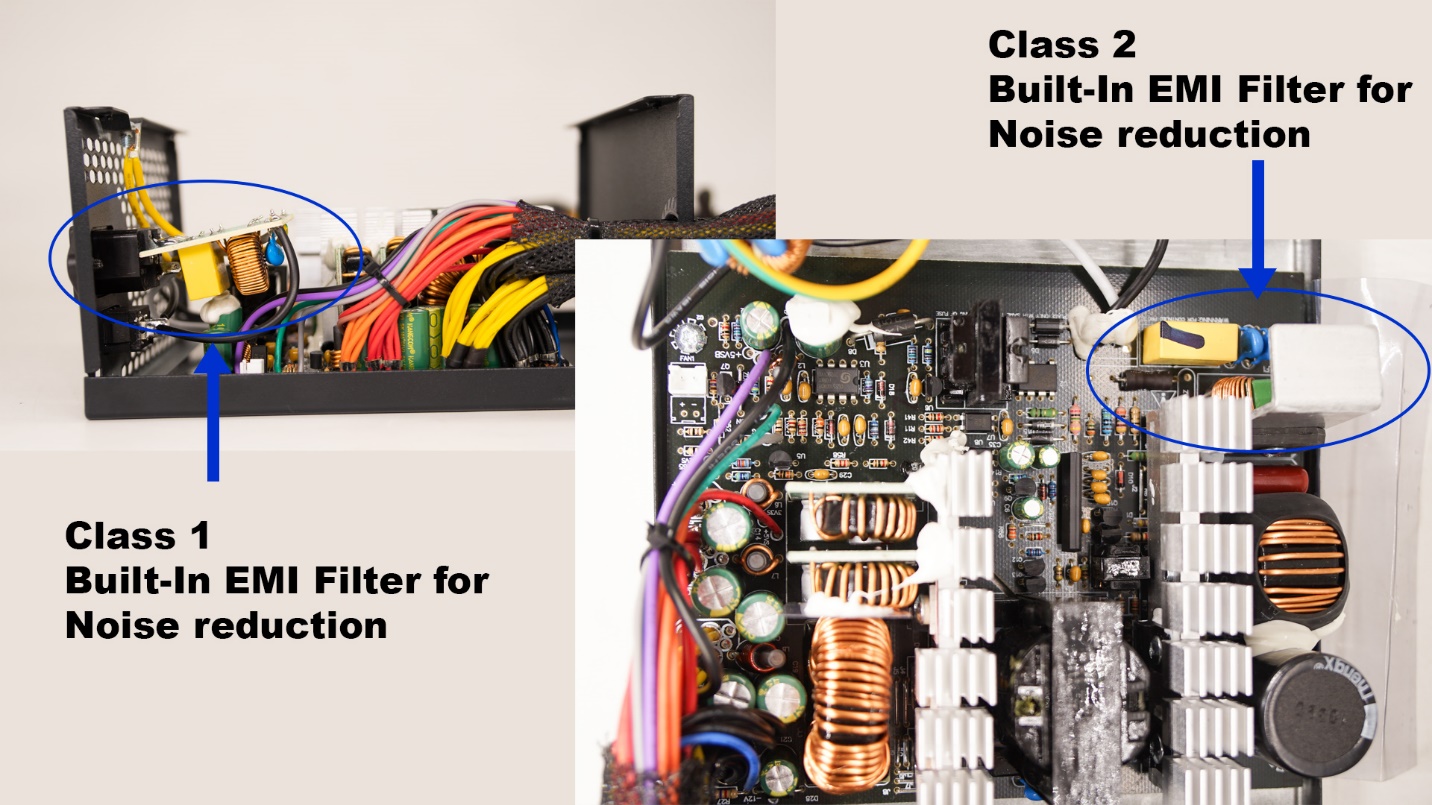 Class 1 and Class 2 . noise filters
As a PSU with Full Range PFC, the SP750 uses 1x Wuhan P$S CWS60R090AZ mosfet (600V, 40A, Rds(on): 0.092Ω) plus a boost diode 1x Champion CMPFCD86G(600V, 8A@140°C). The SP750's Supervisor IC is equipped with 1x ChipGoal CG8510, ensuring full protection for a high-end power supply including: OVP, UVP, SCP, PT, and VCC.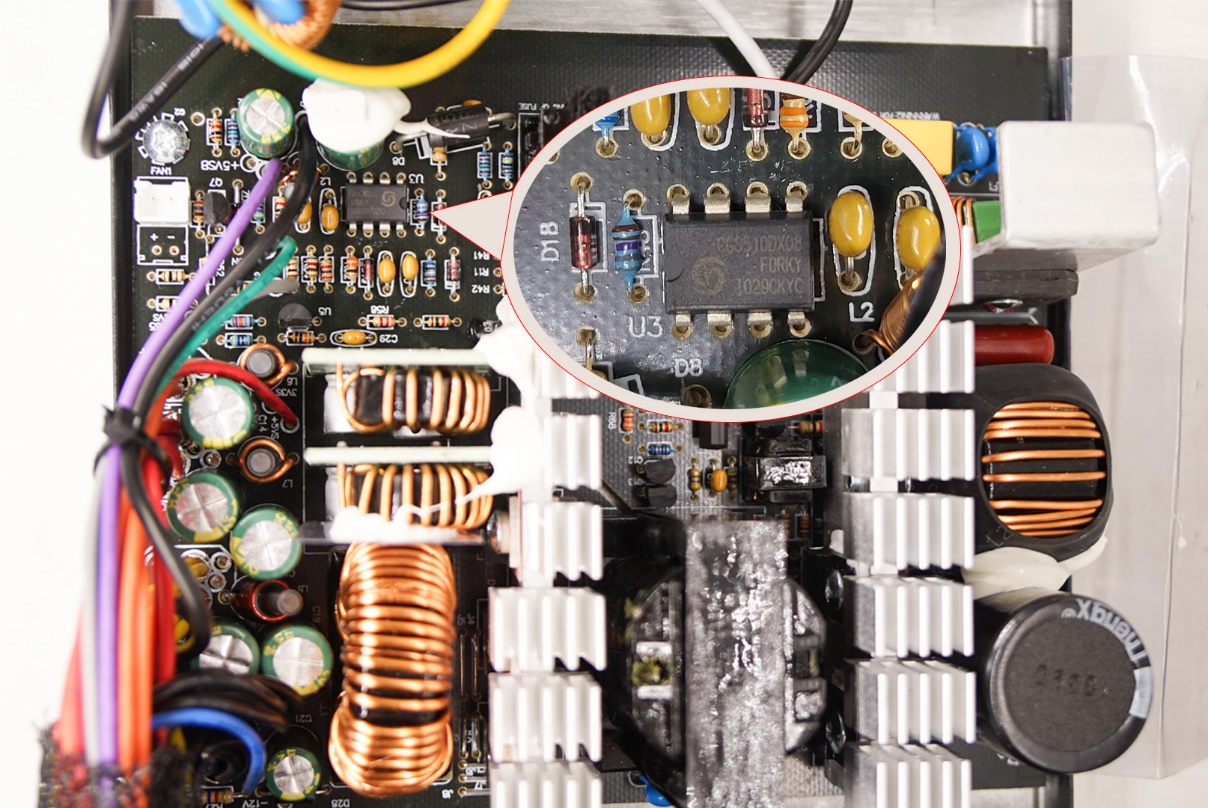 IC SP750 equipped with 1x ChipGoal CG8510 family (OVP/UVP/SCP/PT/VCC)
The DC-to-DC technology of the VSPTECH 80 PLUS series is designed on two separate modules to convert 12V to 3V and 5V voltage levels with minimal ripple interference, and minimize risk to the user's hardware.
SP750 is designed DC to DC circuit on 2 separate modules
SP750 completes loads with a performance level close to what VSPTECH commits, even at 2 special loads CL12 and CL35, the 12V line voltage is still within the ATX standard.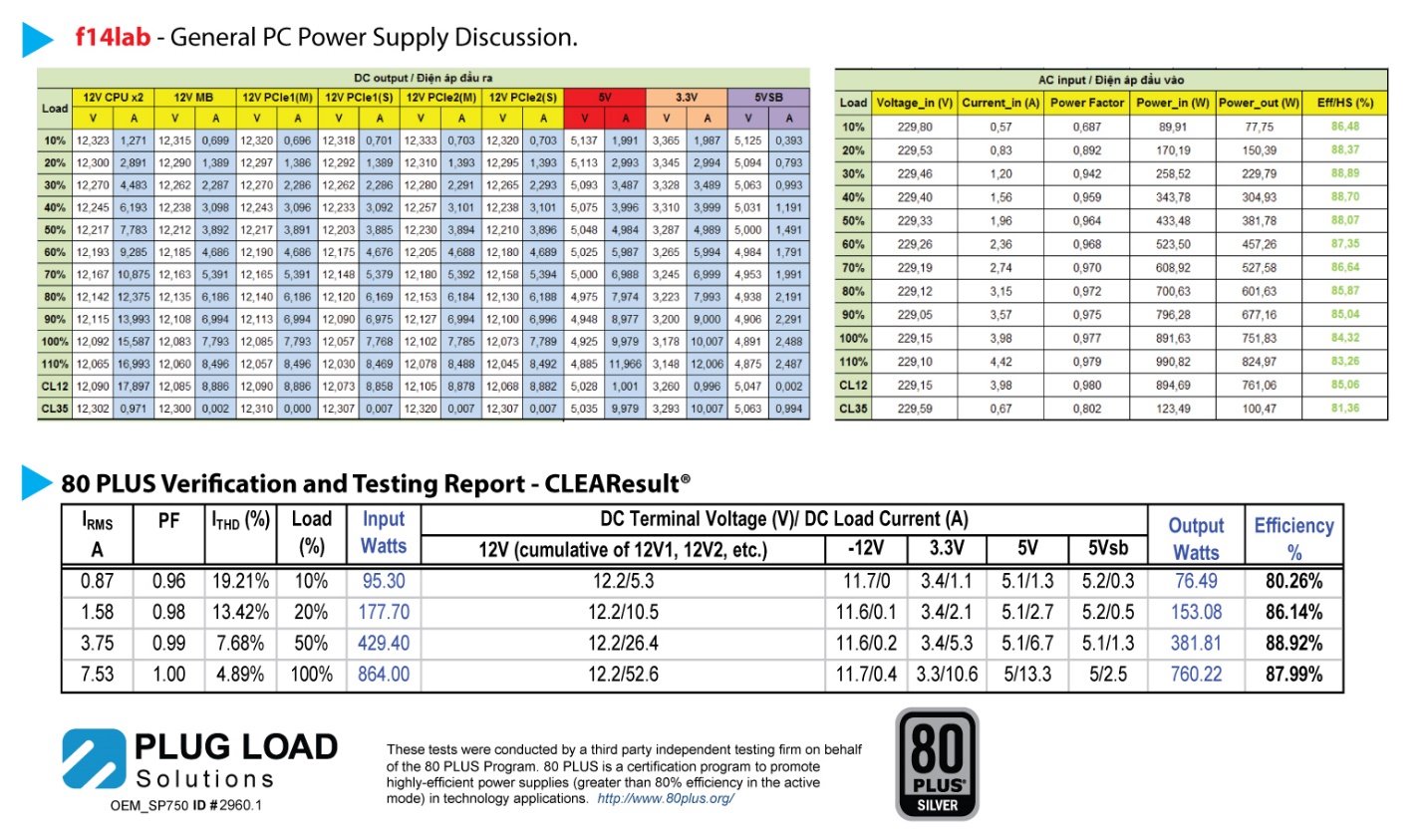 SP750 . output voltage meter DC board
VSPTECh iFogame SP750 achieves 80% efficiency as promised and passed mark by CLEAResult® . Randomly tested commercial samples distributed to the market by the Vietnamese f14Lab community, at the highest load of 100% of the system, the SP750 easily surpassed the 80% performance threshold and up to 84.3% Eff.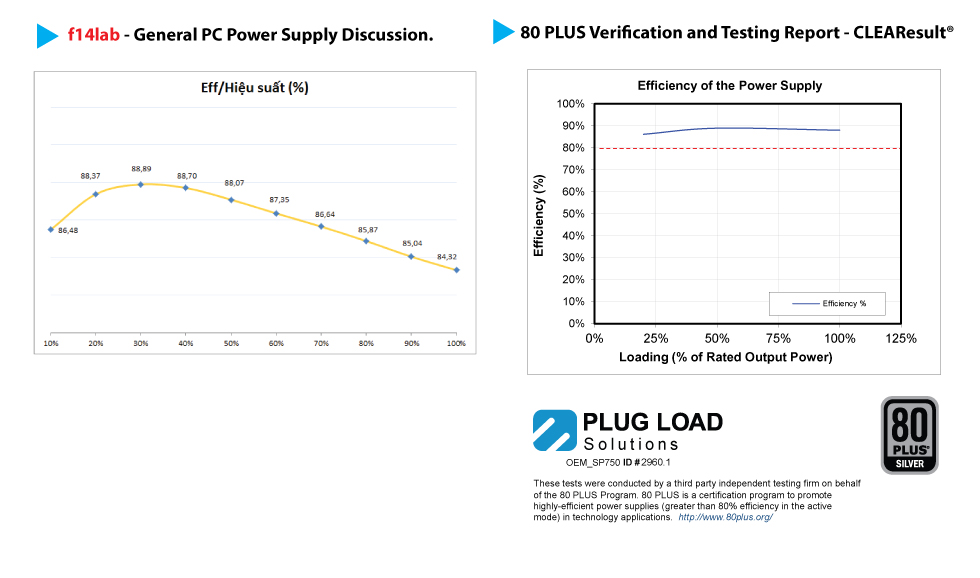 SP750 achieves 80% performance as promised and passed mark by CLEAResult® vs f14 TestLab
SP750 uses a 12V – 0.15A Rifle bearing cooling fan with a speed of 1800 – 2000RPM. With low power loss the system is maximally cooled by 120mm fan and low noise.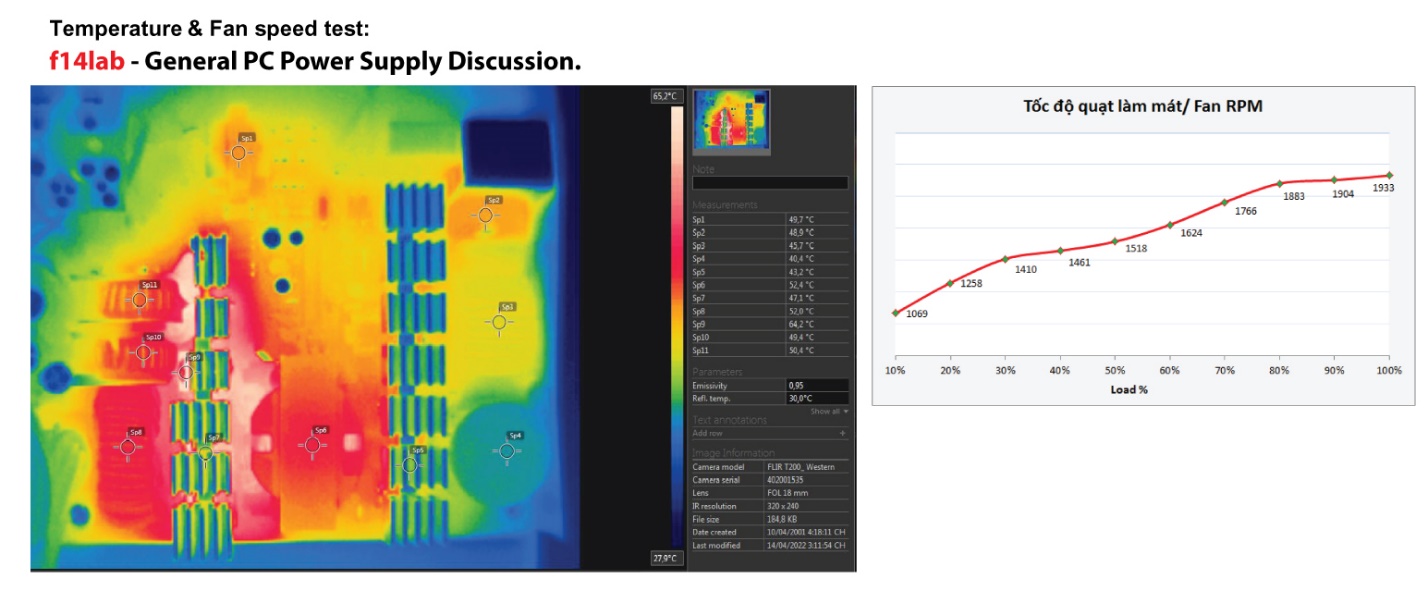 Temperature & Fan speed test
Thus, the VSPTECH iFogame SP750 power supply, with a nominal capacity of 750W, achieves 80% ~ 87% efficiency and is 80 Plus Silver certified by CLEAResult®. PSU is equipped with a full-length cable system, suitable for mid-range users who want to upgrade to a new stable, performance and durable power supply, then the SP750 power supply is an option not to be missed. For the following reasons:
Latest design on the market, full features DC to DC, Active PFC, UVP/ OVP/PT/ VCC up to 80 Plus standard, very competitive price for the segment.
Stability and performance suitable for demanding gaming, and graphics applications for low- to high-end GTX 30xx VGA systems.
Platform is co-developed and designed by a domestic company and has a genuine 3-year warranty policy or at VSP's sales distribution channel system.
Established in 2003, with the brand name VSP, is one of the domestic companies specializing in the field of designing and manufacturing computer hardware. The hardware product lines are designed and developed domestically by the company and are manufactured and processed in Taiwan, Japan and China such as computer motherboards, SSD storage devices, PSU power supplies, and computer cases. , Monitor, etc. with the eco-systems of VSP, VSPTECH, Bosston, ForGame FD, Mater Vision, .. have been familiar and trusted by domestic and foreign consumers.
Products are distributed at computer stores nationwide.
WARRANTY CENTER AND CUSTOMER SERVICE COMPANY TECH VISION IT CO., LTD
No. 27, Street 16, Lu Gia Residence, Ward 15, District 11, City. Ho Chi Minh City
Hotline: 1900 633 675 – www.vsptech.vn www.vsp.vn

https://genk.vn/danh-gia-bo-nguon-vsptech-ifogame-sp750w-80plus-bronze-silver-20220424152030028.chn