Flying car
The movie "Back to the Future 2" predicts the world will have flying cars in 2015, while "Blade Runner" predicts people will have flying cars in 2019. But so far, the world has not. saw cars appear in the sky.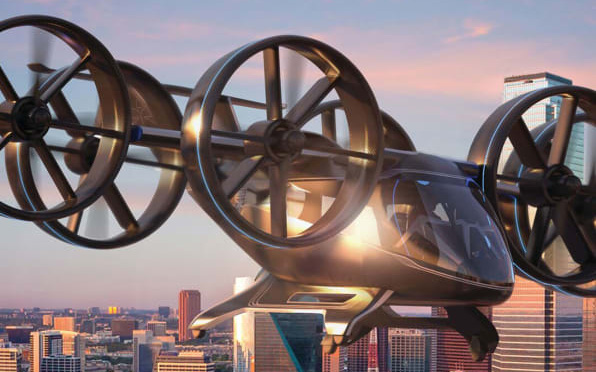 At the exhibition "Futures", a new concept was presented for the first time. The Bell Nexus Air Taxi, designed by aerospace manufacturer Bell Textron, is a self-flying hybrid vehicle designed for vertical take-off and landing.
Travelers who are excited about this flight will still have to wait patiently before being rewarded with an aerial taxi ride. But this futuristic vision is finally coming to fruition soon. Uber and Hyundai have teamed up and aim to create the first prototype by 2023.
Floating city
With the explosion of urban populations, humans will eventually move from land to sea. That is the idea behind the ambition of a floating city of architect Bjarke Ingels, who breaks all design rules. The Danish architect presented the concept to artist Olaffur Eliasson and the company Oceanix at the United Nations two years ago.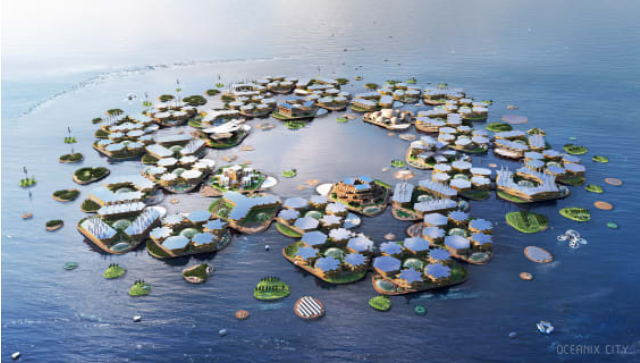 The architect's Bjake Ingels Group (BIG) has become known for its eye-catching, sustainable, modern designs across Denmark. What's more, the company is currently building a new Google campus in London.
Oceanix floating city is an idea of ​​no small scale. The ocean city with a hexagonal planning model is claimed to be fully adaptable to the needs of the city. The infrastructure is also designed to be sustainable and resistant to natural disasters.
New way to form a family
Can science help same-sex couples have children that share the same DNA from both parents? With stem cell research technology increasingly advanced, this is only a matter of time.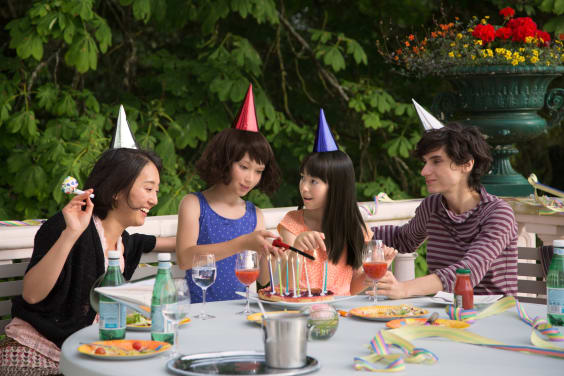 Artist and designer Hasegawa imagined such a future through the design project "Can I Have Children," created while Hasegawa worked at MIT.
Hasegawa worked with a couple who both biologically wanted to become mothers and used their DNA data to create a simulated image of their future baby.
Move as fast as lightning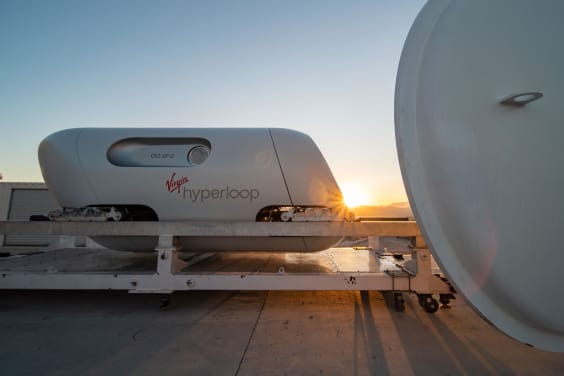 A hyperloop train in the US has been in the works for decades, and with Virgin completing a human-carrying test last November, this super-fast mode of transportation seems to be on the horizon.
Hyperloop trains running in vacuum tubes have long appeared in sci-fi movies. Tesla and SpaceX CEO Elon Musk and Silicon Valley investor Shervin Pishevar joined Virgin Group founder Richard Branson to promote the vehicle in 2012.
The Virgin Hyperloop Pegasus on display at the "Futures" exhibition is a super-speed train designed to travel at speeds of up to 1000km/h. The purpose of the hyperloop train is to travel between cities in just a few minutes.
Eco-friendly final resting place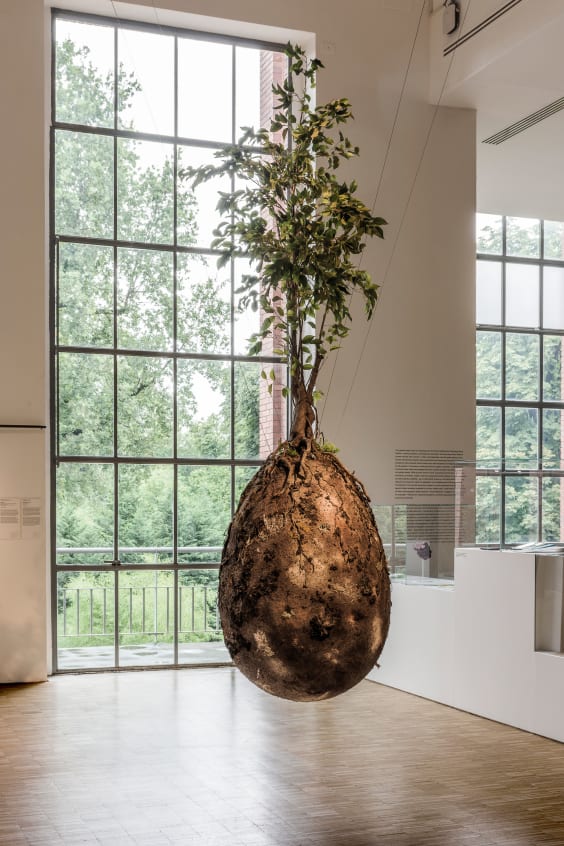 When you die, become a tree. That is the idea of ​​​​the Italian design team for an egg-shaped biodegradable vase placed under a tree. This idea made headlines on the internet when it was first introduced in 2017.
New water source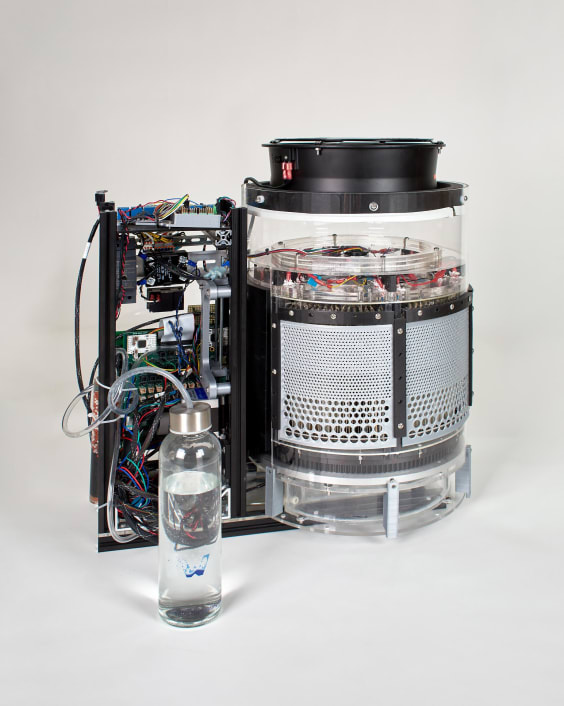 The Waha startup's Water Harvester can convert water vapor from the air, even in the driest of conditions. The machine runs on solar energy and was tested in the Mojave Desert in California.
Water Harvester can produce enough water for about 2-3 adults. This is an invention that has the potential to save lives for people facing drought. According to Berkeley News, Waha plans to design a machine with enough power to supply water to an entire village.
Farmer robot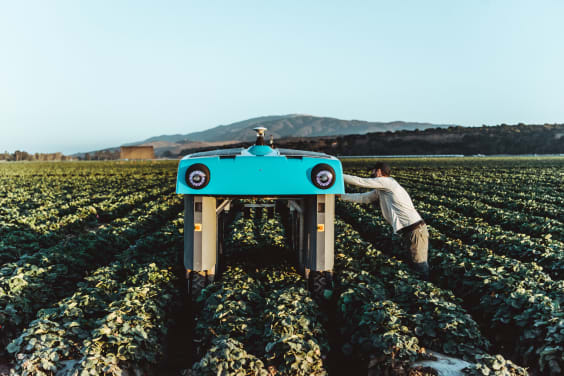 As the world's population continues to grow, food security has become a more pressing issue, especially as climate change threatens human agricultural stability.
That's an important area that Google's parent company – Alphabet – is exploring through X, the factory dedicated to solving the world's macro problems through technology. X's Mineral Rover prototype was a self-driving four-wheeler the size of a small car. The vehicle uses artificial intelligence to help farmers maximize crop yields and reduce the impact on the ecosystem.
Mineral Rover can assess the amount of water and minerals needed. Mineral Rover can even identify weeds, potential problems with crops, and assess fruit ripeness.
The city returns to nature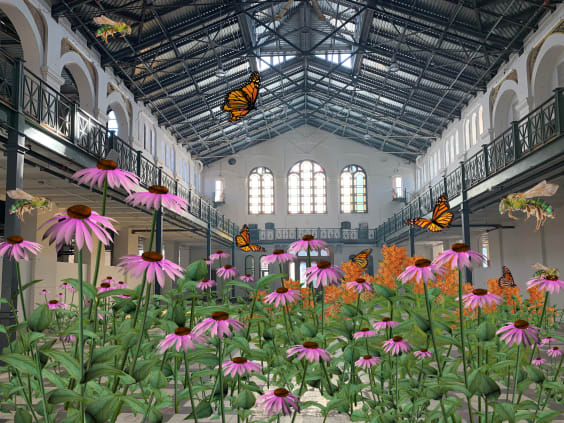 What if America's capital became a wild ecosystem? That question is the basis for the augmented reality (AR) project of artist Tamiko Thiel, who has turned one of the galleries into a wildflower habitat.
Thiel contributed the design to the first commercial AI supercomputer 35 years ago. Thiel worked with the Smithsonian horticulture expert to shape a greener future that attendees could experience through augmented reality technology.
According to CNN
.