At each project, JCT Vietnam always leaves a very good impression on its partners in terms of equipment quality and service attitude. With a flexible business strategy and reasonable investment, JCT has always maintained a stable growth rate over the past time. Forklift equipment at JCT company is always focused on new investment in both quantity and quality to ensure the best quality. In addition, ancillary factors such as technical personnel and spare parts are always taken care of, investment and development ensure the best service for rental equipment at JCT Vietnam. It can be said that JCT is a reliable partner for investors and contractors.
Contact us for a quote on forklift rental at JCT to receive a great deal
The end of the year is the period when project sites need to accelerate the completion of work, the demand for forklifts also increases accordingly. According to the inevitable law of supply and demand, when demand increases, rental prices will go up. However, at JCT Vietnam, we are always proactive and keep our reputation with our customers when keeping the rental price unchanged and have programs to support prices and services for customers, to ensure that customers are satisfied. Customers receive the best service with the most competitive price.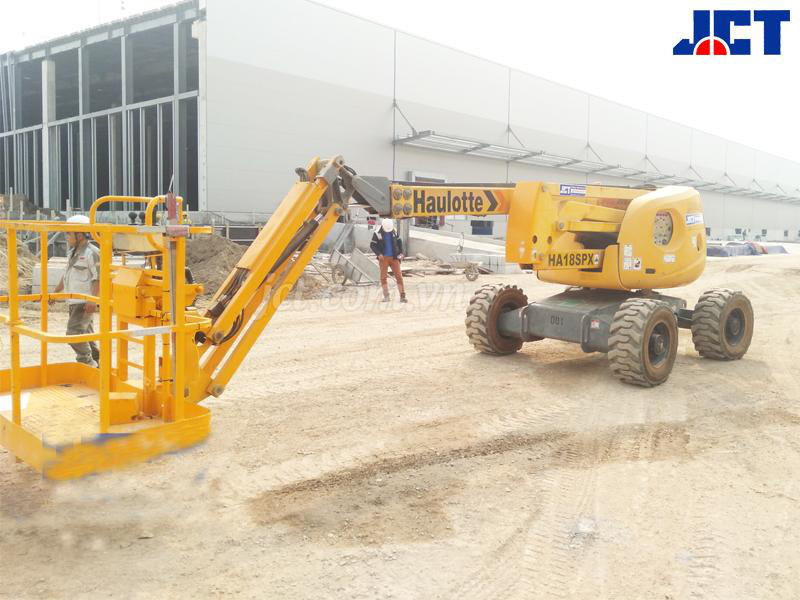 Forklift rental services at JCT Vietnam
Owning a number of more than a thousand equipment for lease with diverse types and branches spread throughout the North – Central – South, JCT confidently meets all the needs of forklift equipment rental. customer's person. We have a full range of forklift truck services such as:
Scissor lifts for rent from 6m to 18m.
Boomlift forklift for rent from 14m to 58m.
Forklift rental from 8m to 14m.
Forklift rental spider legs from 8m to 48m.
Details of the service can be found at: https://jct.com.vn/cho-thue-xe-nang-nguoi/
Forklift rental price list – JCT Vietnam
Forklift rental price depends on many factors such as: Working height of equipment; Equipment rental period; The quality of the equipment… Depending on the specific type of work, the working conditions and the different spaces will require different equipment. So how can we choose the right equipment to do our job? Coming to JCT, you will be consulted to choose equipment suitable for the actual conditions of the job. As mentioned above, the price of forklift rental depends on many factors, the price will change depending on the conditions and time, below is the price list for reference forklift rental at JCT Vietnam. :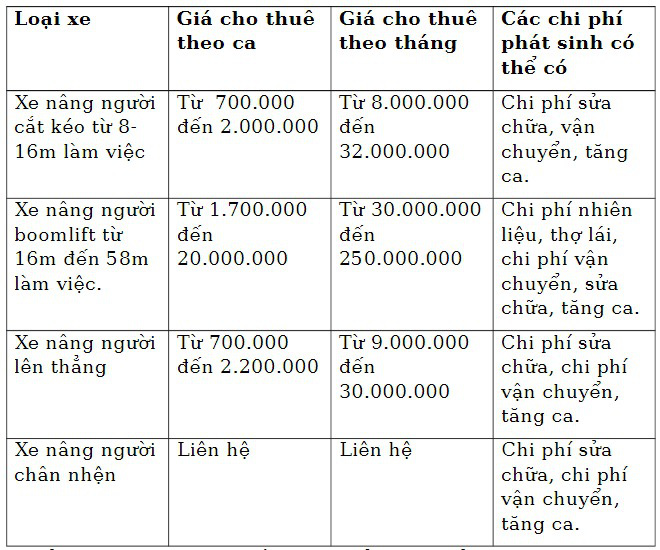 The price list is for reference only – Price depends on specific factors such as quality and age of the vehicle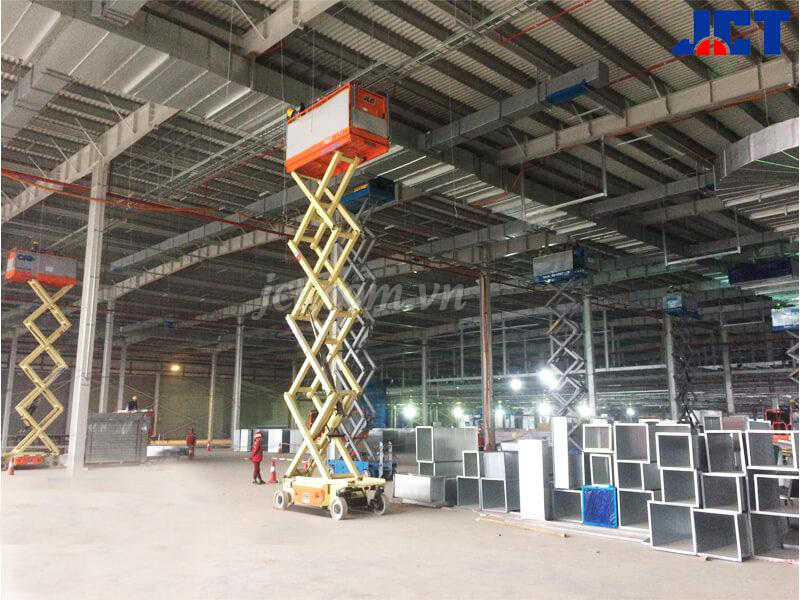 Why should you choose to rent a forklift at JCT Vietnam?
JCT Vietnam is a company with Japanese investment capital, the equipment is carefully selected from the input stage, checked and maintained periodically to maintain stable operation throughout the process of use. JCT With a team of well-trained technicians, professional working attitude will support you in your work to achieve the ultimate goal of creating a lot of value for customers. Please choose JCT Vietnam to provide the best quality products and services.
For a specific quote, please contact:
JCT Vietnam Co., Ltd
Address: 368 Nguyen Van Linh, Long Bien, Hanoi
Hotline: 0943579111
Website: https://jct.com.vn/
.