Although the epidemic situation cannot directly visit teachers, many students from far away still call to visit and congratulate their teachers on the occasion of Vietnam Teachers' Day this year. The occasion of November 20 this year for Mr. Minh Phuong is very special when students have stopped going to school since May 202. The school does not hold a Celebration, does not have a bustling meeting like every year, but it is indispensable for the loving congratulations of the students. One of the special gifts that the teacher received was a phone sim with the year of birth 79 and the ending number 2011 from a former student of Math class.
Ms. An Binh, a student of Mr. Minh Phuong said: "Instead of flowers and gifts like in previous years, this year I decided to participate in the digital sim auction of Reddi network as a gift for my teacher. In addition to choosing a meaningful phone number, the amount I auctioned to win. This sim card was also transferred to the teacher. Give a new carrier's sim with good quality, you can use it for a long time and it is more convenient for communication. I think the gratitude to the teacher is not only shown on the 20th/ 11 but whenever I think of him, I can always text or call him to ask and talk to him."
Unexpectedly receiving flowers and meaningful sim numbers from old students thanks to the Reddi network on a special day, Mr. Phuong was touched:"The teacher only wants the students to pass and achieve success, to grow up to be human, not to ask for words of gratitude or gifts. But knowing that the children still remember the teacher, what more joy than that. The heart of The student makes our teachers more warm."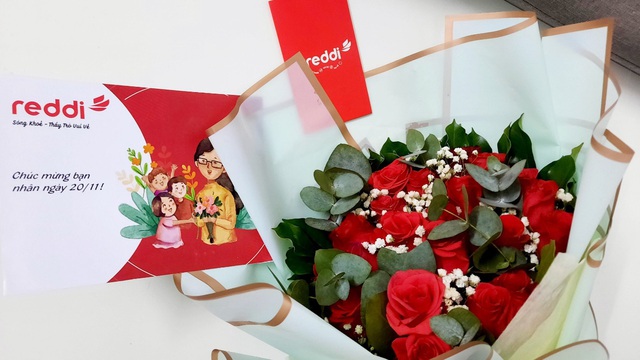 Thanks to the "messenger" Reddi, many teachers unexpectedly received precious gifts from their students
Through meaningful auction sim numbers, Reddi wishes to inspire the connection between teachers and students in particular and life in general. The program is completely non-profit when the successful auction amount and phone sim card have been transferred by Reddi to the teachers designated by the auction winner on the occasion of November 20.
Ms. Bui Bich Ngoc, Head of Customer Service Department of Reddi mobile network said: "Reddi is strong – Teachers are happy" is a fun auction program, to create a playground for participants to have the opportunity to thank and be grateful not only to teachers but also relatives and friends for their support. support, guide, and stand by us over the years in a new and exciting way. Although it took place in just a few short days, the program received a positive response from a large number of attendees who wanted to send their gratitude and congratulations to their wives, mothers, friends, and relatives who are teachers."
Mr. Kien Long lives in City. Ho Chi Minh also participated in the digital auction program "Reddi Song Khoe – Happy Teacher", choosing a phone number to give to a teacher very special to her. That was his mother. Anh Long shared: "I want to give this gift to my mother, who sacrificed everything for me, nurtured me and was the first teacher to teach me many lessons in life. I am most grateful for her decision to change her house for me. have a good living, learning and mature environment like today. A good and meaningful program like this needs to be known more widely, and even when my friends hear about it, they regret not having time to participate."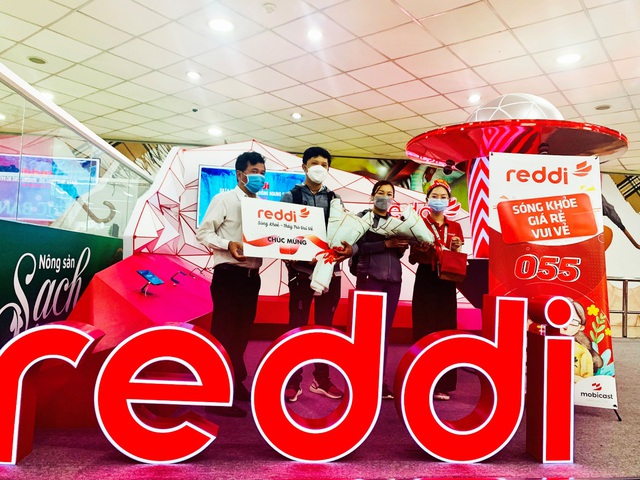 Mr. Kien Long was happy when he auctioned a meaningful sim for the special teacher in his life.
Not only paying attention to the emotions and connection of customers during the launch, Reddi promises many other attractive programs in the near future. This network operator will be widely available at VinMart and VinMart + supermarket systems (owned by Masan Group). Previously, on October 24, Reddi was piloted at a number of VinMart+ stores in Ho Chi Minh City. Ho Chi Minh City and Hanoi and officially launched on the occasion of November 20. With the increasing demand of modern consumers, consumers need to be satisfied not only with ordinary voice and data services, but also want new, highly interactive services. With the integration of multiple utilities into the retail chain, Masan aims to serve the essential needs of consumers on a single platform, integrating from offline to online. Currently, many VinMart+ mini-marts nationwide have been integrated with Phuc Long kiosk, Techcombank banking services, pharmacy counters and Redi telecommunications services.
Redi is the telecommunications network brand of Mobicast Joint Stock Company. Mobicast joined Masan Group's "Point of Life – All-in-One" retail and consumer ecosystem from September 2021. Reddi telecommunications network – number 055 has many outstanding advantages such as high-speed and stable internet access, unlimited capacity with the "Waterfall" package from only 99,000 VND/month; earn 1-3% points when shopping at VinMart/VinMart+. In addition, customers roaming with Reddi can also easily select the required phone number.
.