If you suffer from severe snoring, you must have heard of the following anti-snoring tools and devices. Which is the nose clip, nose mask or even nasal spray, throat spray … The prices of these dishes are high and low, from cheap just a few thousand to a few hundred thousand expensive. Any type is advertised as effective anti-snoring, improving airways at night… but the reality is not necessarily so. We've put together a bunch of user reviews online to see which ones to stay away from, and which ones to try.
Anti-snoring silicone nose clip – 6.5k/piece
This item is the most popular anti-snoring product because it is cheap, looks easy to use, just needs to be clamped on 2 nostrils to limit snoring.
The truth is that the goods being sold online in Vietnam are often very low quality, made of fake plastic and silicone, so they are judged to have a very strong smell, just wearing it for a while can't stand it, let alone overnight. The ability to resist is also almost nonexistent, only suitable for those who snore because of narrow nostrils, so most people criticize it.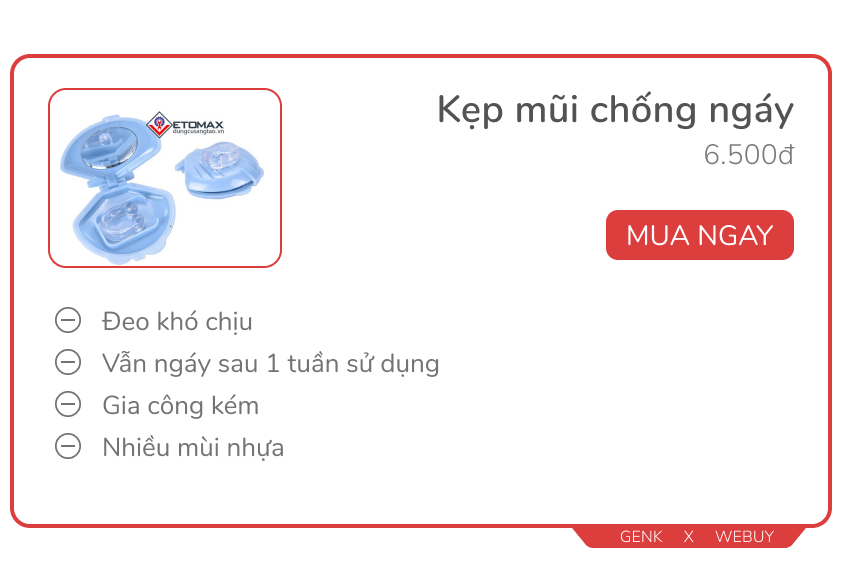 Anti-snoring nose mask – 24k/piece
This type looks better than a nose clip, but it is more annoying because of its large size, 2 breathing tubes blocking the nose and protruding 1 lump out, anyone lying on their side will definitely fall to the ground.
In dozens of reviews, most criticized it as having a very heavy plastic smell, no effect and not yet curing snoring. However, there are also people who consider it quite effective, but only for those with narrow sinuses because it helps the airways to open more.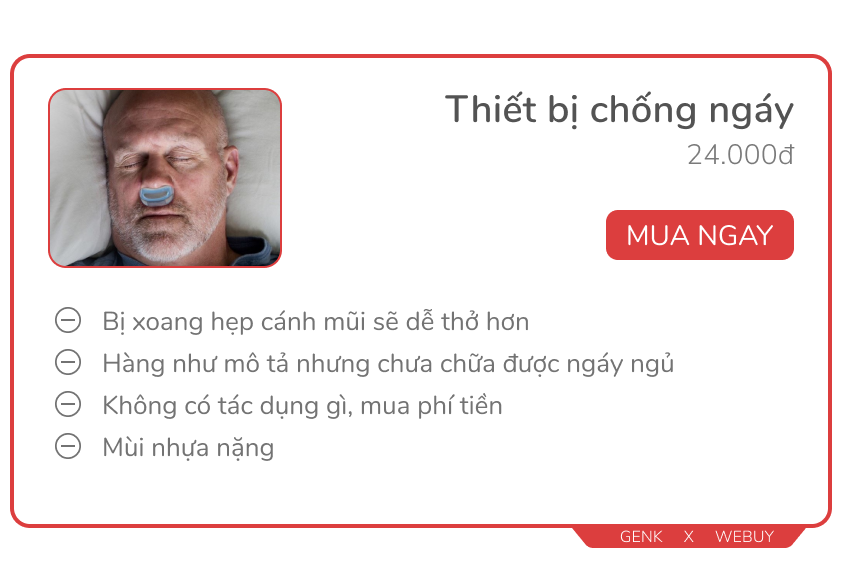 Anti-snoring machine with ventilation fan – 130k
This type looks exactly like the above anti-snoring nose plug, but has two more tiny fans inside, running a rechargeable battery to help push more air into the nose.
This type received many mixed reviews, some people criticized it bluntly, saying that after using it, it still snores as usual, with a lot of plastic smell, some people praised it because it had a fan so it was easier to breathe.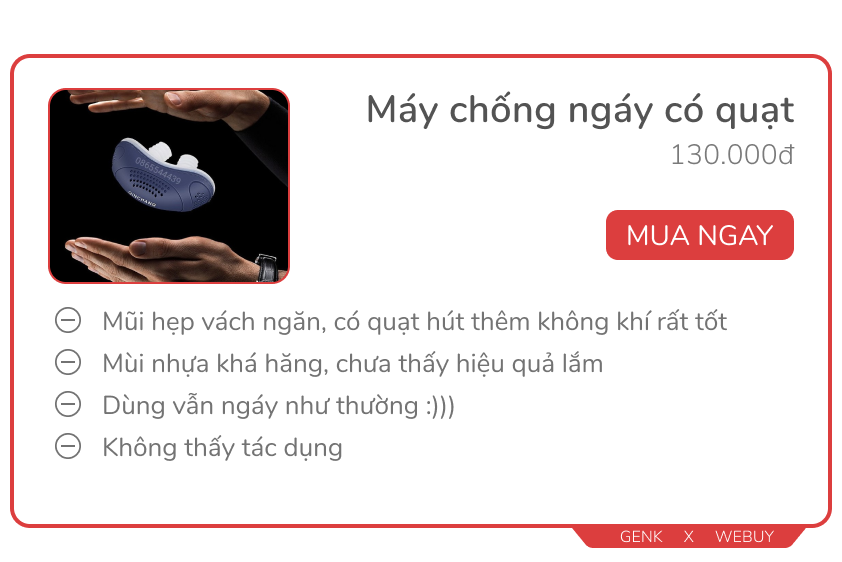 Anti-snoring patch – 85k/10 pieces
For those who snore because of a stuffy nose, this is a reasonable choice. This patch is rated to clear the nose quickly, smells good, makes breathing easier and makes snoring significantly quieter.
However, there are also people who criticize the uncomfortable sticky feeling, in the middle of the night, it peels off unconsciously and the effect is not long, and in the morning, the nose is blocked on one side as usual.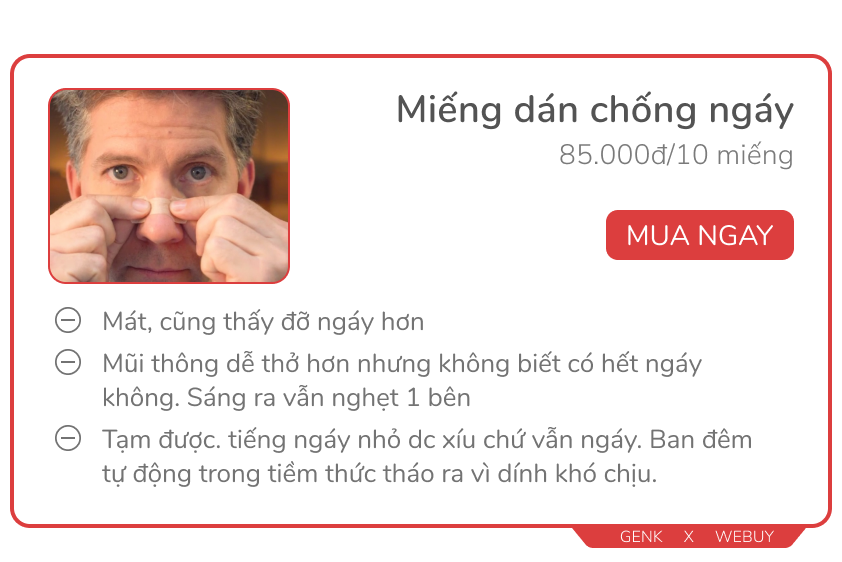 Anti-Spray snore – 369k/15ml
This type is imported from France, very expensive but still bought by many people. Under the review section, there are many positive comments such as suitable for people who snore because of sinus problems, good nasal ventilation, and effective snoring reduction. However, there are also people who criticize it bluntly, saying it has no effect at all.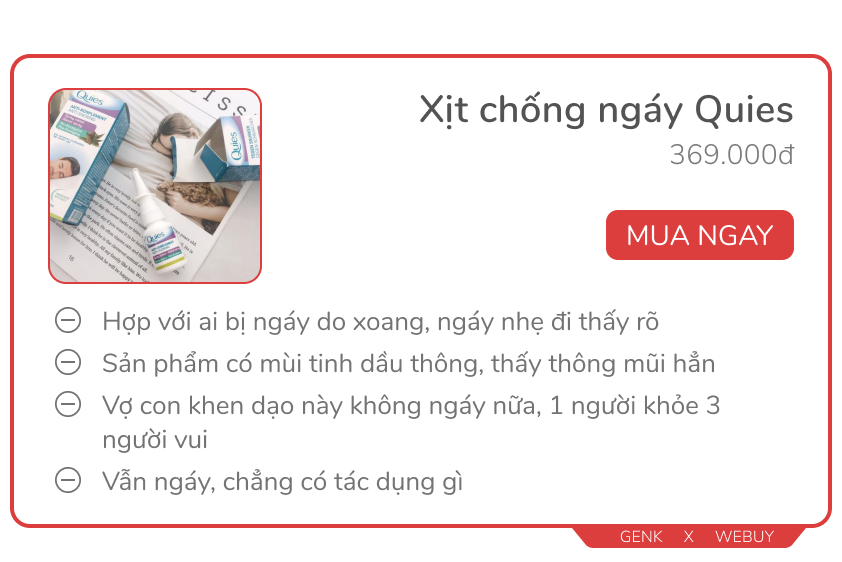 .