Elden Ring is receiving many positive reviews from both professionals and the gaming community, but that does not mean that this game is absolutely perfect. Some fans are quite upset, not because of the difficulty of the bossy bosses, but because of the difficulty in earning Runes – the main currency of the Elden Ring.
This problem has been complained by fans since FromSoftware launched the Dark Souls series. The "plowing" of Soul, the currency in these games, really takes a lot of time and easily makes fans feel frustrated. However, if they do not work hard to plow, they will not be able to upgrade weapons, armor or buy the necessary items to prepare for difficult battles. And the Elden Ring is going down that same path.
However, some gamers have taken advantage of this situation to make a profit for themselves by selling Runes on eBay, one of the largest e-commerce platforms in the world today. In other words, they are selling virtual currency in the game for real money, an action that is very risky and can expose them to the traps of scammers.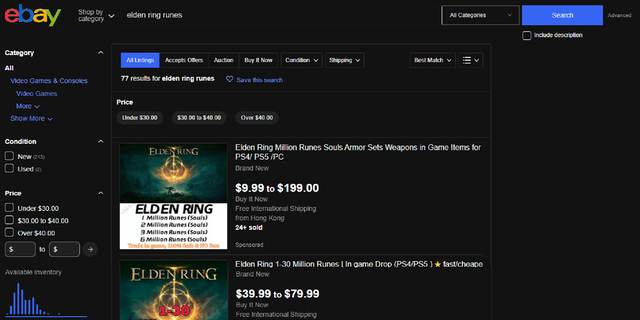 As mentioned above, Runes are used to upgrade equipment for characters in Elden Ring as well as used in many other necessary tasks. Objectively, plowing Runes is not difficult, and there are also many tutorials on the Internet to help players "farm" money more easily. However, like many other RPG games, gamers will have to spend a lot of time doing a few actions over and over to earn Runes, before having enough money needed to proceed with the upgrade.
Many players do not have the patience to do it. And they choose to buy Runes on eBay, for sale by other gamers. Currently, according to GameRant's statistics, there are millions of Runes sold on this site, with prices ranging from a few dozen to a few hundred dollars. GameRant also said that it is possible that they took advantage of the game bug and traded this virtual money through multiplayer servers.
However, not all transactions involving Runes on eBay are "real goods". There have been many cases of buyers being scammed without getting anything back. In addition, the TOS guidelines of Bandai Namco, the publisher of Elden Ring, clearly state: "Players are not allowed to buy/sell anything related to characters, items and save file data in this game.". In other words, buying and selling Runes on eBay goes against the Elden Ring's terms of service.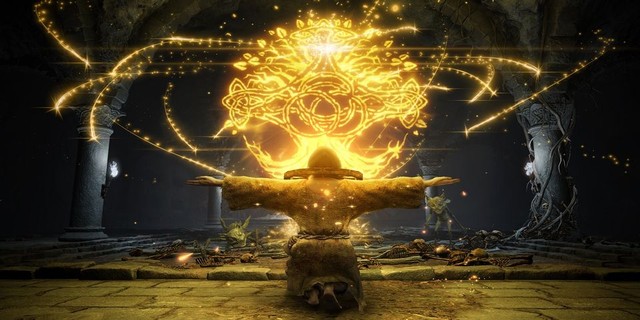 Previously, FromSoftware's CEO, Hidetaka Miyazaki, affirmed that Elden Ring is indeed very difficult, but not designed to be so difficult that players have to find a way to cheat or turn away from the game. He even had to publicly apologize to gamers who were struggling with the levels, the bosses of Elden Ring. Therefore, it is not difficult to understand that the act of buying and selling Runes on eBay is currently facing criticism from many players who have put in the effort and time to plow this game in a genuine way.
With a difficult game, it is the process of exploring and plowing to bring the most complete joy and satisfaction to gamers. And Elden Ring also always knows how to reward players' perseverance in the most generous way, showing that buying Runes from the outside is an unnecessary action and contains many uncontrollable risks.
According to GameRant

https://genk.vn/cay-cuoc-qua-mat-thoi-gian-nhieu-game-thu-bo-hang-tram-usd-de-mua-tien-ao-cua-elden-ring-tren- ebay-20220308095907072.chn