When people are under pressure and have nowhere to go, they may run to an open space and scream loudly, as if this could remove the lingering emotions and dissipate them into the air. atmosphere.
If a plant is under pressure to survive, it certainly cannot move to an open place like a human can. But they can scream, and the sound it makes can travel great distances through the air.
Normally, people can hardly hear these sounds with their ears, and they will think that plants are a silent living group. But scientists in the lab, with the help of equipment, collected sound waves when the plants "screamed".
Scream when hurt
Itzhak Khait from Tel Aviv University in Israel and his colleagues set up difficult conditions, and put pressure on plants: drought, pruning… To learn about the "voice" of plants they.
Test subjects are common plants such as tomatoes and tobacco. All of them thrived in moist soil before the experiment began. After the trial started, some plants would not be watered, some plants had their stems removed, and some plants continued to live under normal conditions as a control group.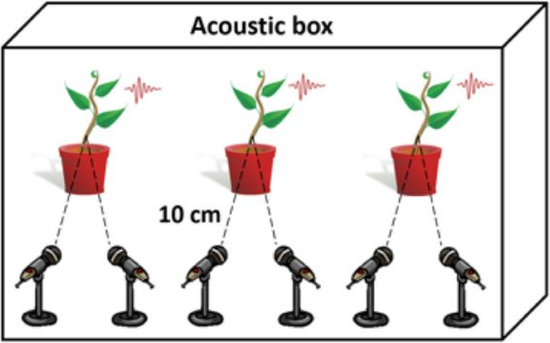 The experiment was carried out in a soundproof box, and the radio was placed 10 cm away from the plants to listen to the sounds the plants made when they were damaged in different ways.
As a result, both the dry tree and the cut tree produce a lot of noise. These screams come very often. Tomato plants under drought stress emitted an average of 35 beeps per hour, compared with 11 beeps for tobacco plants. And when the stem was cut, the tomato plants made an average of 25 beeps over the next hour and the tobacco plants 15 beeps. In contrast, trees that did not suffer from drought and were not cut down only made occasional noises.
So scientists believe that these ultrasonic waves are the response of plants when they are under pressure to survive. Of course, plants face many stresses other than water shortages and being cut down, and not all of them can produce chirping.
How are these sounds produced?
As early as the 1960s, scientists discovered the vibrations of plants during drought and believed that those vibrations were caused by the phenomenon of cavitation. When there is a lack of water, in the xylem of the plant, the air dissolved in the water will form air bubbles, then the air bubbles continue to expand, even burst.
Cavitation, also known as cavitation, is when the static pressure of a liquid falls below the vapor pressure of the liquid, resulting in the formation of small vapor-filled cavities in the liquid. When subjected to higher pressure, these cavities, known as "bubbles" or "gaps," collapse and can generate shock waves.
Cavitation will redistribute stress in the tree, when stress is concentrated in one part, it can quickly release a large amount of energy: mechanical energy is converted into acoustic energy, so this process is called is Acoustic Emission – Acoustic Emission.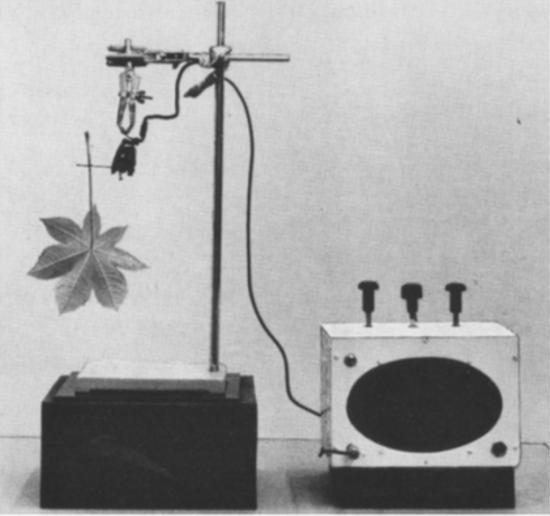 Today in industry, it is common to use the principle of negative emission to check whether a material is defective or not. If multiple sensors are used, the exact location of the fault can also be determined.
The Tel Aviv University team placed the radio 10 centimeters away, and demonstrated that the ultrasonic waves emitted by plants are indeed transmitted through the air under conditions of lack of water or shear. And this means that even if humans can't hear, other animals can.
The scientists say the sonars they have collected can be heard by many mammals (such as mice) and insects (such as moths) at a distance of 3 to 5 meters.
The team also found that when plants emit ultrasonic waves during drought and when tree trunks are cut down, the ultrasonic waves emitted by plants are somewhat different under two different pressures.
Specifically, they wrote a machine learning algorithm, or AI, that feeds the sound waves obtained in both cases to the AI ​​to help it train its ability to distinguish between dry and cut trees. After completing the training, the AI's accuracy rate to distinguish these two types of sounds is more than 70%.
Accordingly, if AI can tell the difference between these two species, other animals can certainly tell the difference as well.
Scientists say that if a plant parasitic insect can hear the difference in sound waves, it can use that information to prevent itself from laying eggs on dry plants.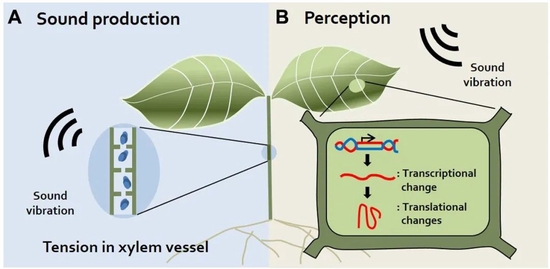 Plus, it's not just animals that can hear. Previous research has shown that plants also have strong sensory abilities, responding to a variety of stimuli, including sound, in addition to a tactile response (e.g., closed apricot). If one tree suffers from a drought and another hears its screams, it can also trigger a defense mechanism.

https://genk.vn/thuc-vat-cung-het-len-khi-cang-thang-20220228114751057.chn